We may earn a commission through products purchased using links on this page. Products or services advertised on this page may be offered by an entity that is affiliated with us. Learn more about our process here.
While some anglers build their passion from chasing a feeling, others pursue perfection. This is delivered by choosing the fishing tool. 
Since 1960, Lawrance has competed among the best fish finders to develop marine electronics. It's the technology era, and there are so many options it takes time to get the ideal tool for your job.
We searched for you and created this unbiased review of a few options. We will cover the best Lowrance fish finders to help you decide between the popular options. We'll highlight each unit's key features to help you narrow down to the best fish finder for your needs.
Lowrance Fish Finder For Advanced Anglers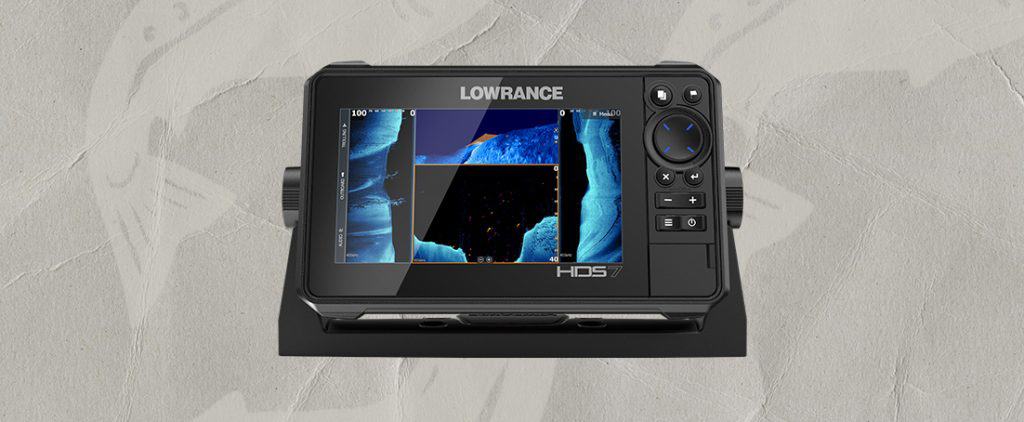 Best Choice For Touch Screen Lovers​
Friendly Budget Lowrance Fish Finder​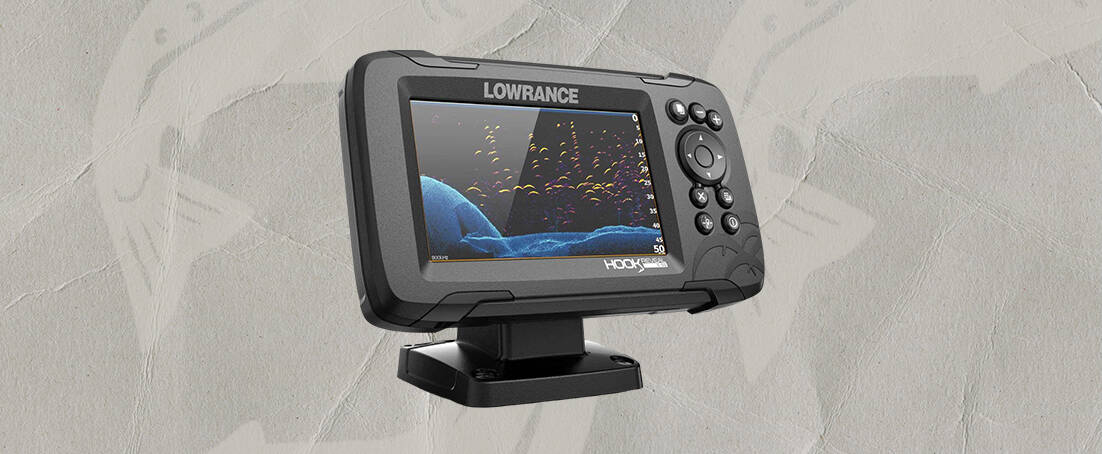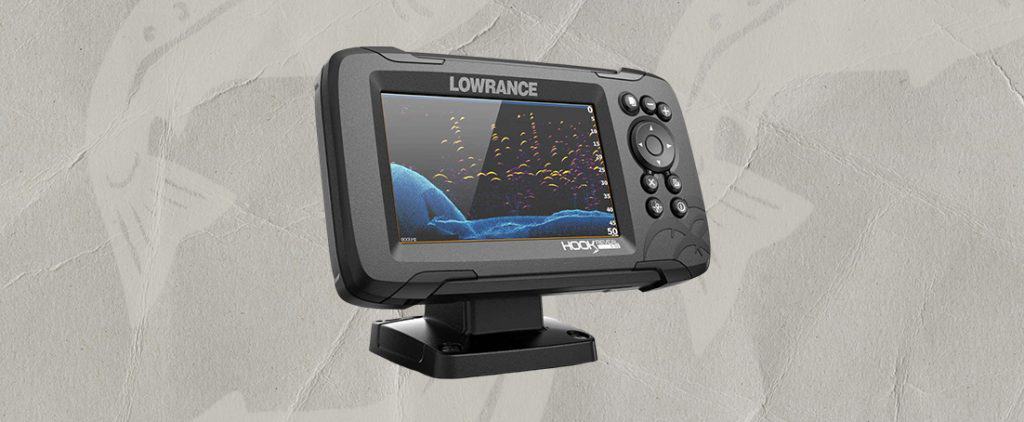 How We Choose The Best Lowrance Fish Finder
Lowrance has increased the number of models with quality features at a cheaper cost to remain competitive.
When determining our top Lowrance fish finder choices, we considered several factors. These include budget, fishing style, features, and vessel type.
Each option was intended to be the best in its category, whether a navigation device or a kayak. Here are our picks for the best Lowrance fish finders.
Best Lowrance Fish Finder: Reviews & Recommendations
Best Overall Lowrance Fish Finder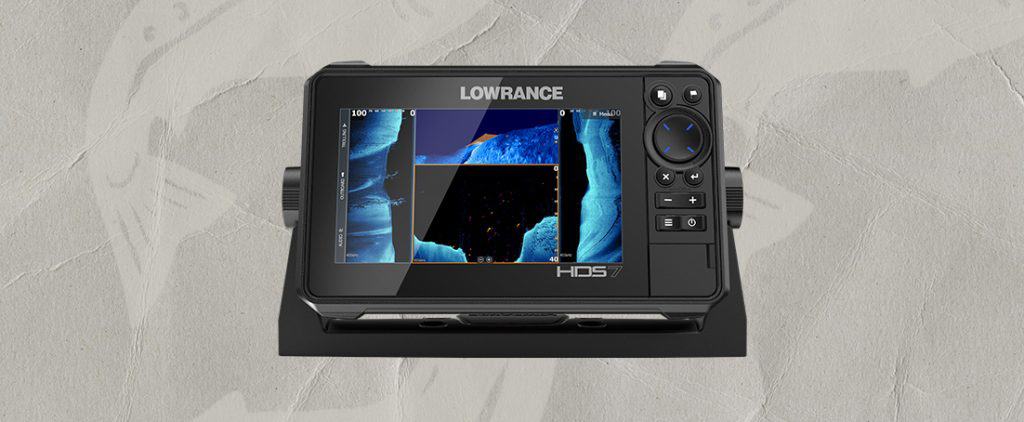 WHY WE LIKE IT: We liked the high-performance processors of this fish finder. As one of the 7-inch screen fish finding devices, the HDS 7 Live provides responsive and lag-free operation. This allows anglers of any skill level to pan charts, track sonar history, and create Genesis live maps.
Screen Size: 7 Inches
Product Dimensions: 9.21 x 5.73 x 3.06 inches
Display resolution: 1024 x 600 pixels
Weight: 3.04 pounds
Mounting Options: Gimbal Bracket, Front Dash, Flush Mount, Rear Dash, Flush Mount
Touchscreen: Yes
Display Type: Pure White LED
GPS: Yes
Wi-Fi: Yes
Waterproof: Yes (IPX7)
My Experience: If you want to upgrade your current fish finder, you will appreciate the array of features offered in Lowrance HDS live. For less than $1,000, it was easy to install enabling us to navigate the lakes for a perfect fishing trip in the shortest time.
Features: The Lowrance HDS 7 Live fish finder has high-definition SolarMAX HD multi-touch screens. They provide the most viewing angles, even when wearing polarized sunglasses. C-MAP US Enhanced charts with 1-foot contours on over 4,000 lakes and C-MAP Easy Routing and Navionics Autorouting capability are included.
Best Choice For Touch Screen Lovers
WHY WE LIKE IT: The notable collection of features and technical specifications of the makes it an ideal fish finder for avid anglers. The Elite FS 7 is compatible with Active Target which made it easy for us to see what was in front, and below the boat. We could view it clearly in split screen mode without exiting the chartplotter.
Screen Size: 7 Inches
Product Dimensions: 16 x 11.44 x 5.42 inches
Display resolution: 800×480 pixels
Weight: 1.9 pounds
Mounting Options: Gimbal Bracket or Dash Flush Mount
Touchscreen: Yes
Display Type: Pure White LED
GPS: Yes
Wi-Fi: Yes
Waterproof: Yes (IPX7)
My Experience: Lowrance's Elite FS 7 is the best bargain fish finder with both DownScan and SideScan imaging in my review. These quality fish finders offer 300 feet down and 150 feet per side. We were also able to use them with traditional sonar when charting the lake. The 800 kHz imaging sonar provided us with clear, crisp images which was enough to catch more fish in our excursion.
Features: One standout feature is its compatibility with Active Target, which lets you see what's in front and below your boat. But what really made it easy to use was the touchscreen interface. It allowed me to view this information on the screen without any complicated steps, making it simple for anyone to understand and use while out fishing.
Budget Friendly Lowrance Fish Finder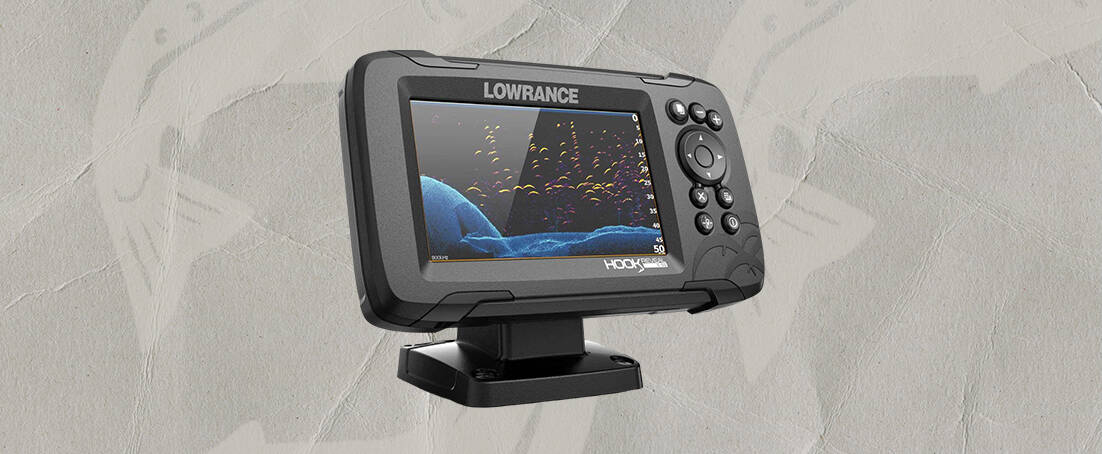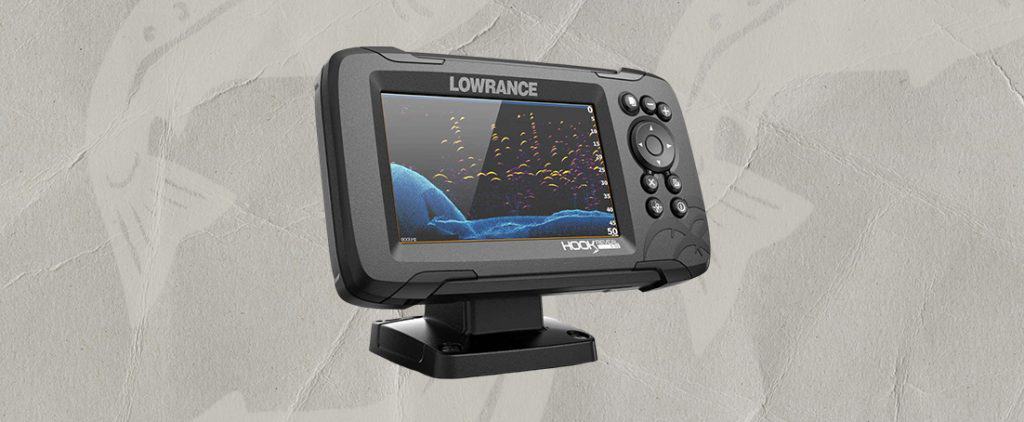 WHY WE LIKE IT: We liked the HOOK Reveal's autotuning sonar feature. The Hook Reveal 5 changes parameters automatically as fishing variables fluctuate. This ensured we got the best sonar signal each time.
Screen Size: 5 Inches
Product Dimensions: 7.31 x 4.32 x 4.53 inches
Display resolution: 800 x 480 pixels
Weight: 0.9 poundsac
Mounting Options: Gimbal BracketFront Dash Flush Mount
Touchscreen: No
Display Type: Pure White LED
GPS: Yes
Wi-Fi: No
Waterproof: Yes (IPX7)
My Experience: It goes on my list as one of the highly recommended fish finders under $400 offering premium depth finder capabilities. Lowrance HOOK Reveal 5-Inch Fish Finder uses FishReveal, SplitShot Transducer, and GPS Plotter. Its 5-inch display and Autotuning Sonar enabled us to get detailed images to ease my experience on the waters. You will also love the sonar image of the bottom structure. The maps showed us lake features, navigation aids, shorelines, and depth.
Features: The Hook Reveal 5 Lowrance fish finder uses a SplitShot transducer. It combines CHIRP sonar and DownScan Imaging to provide high-resolution images of fish-holding structures. Genesis Live allows users to create custom maps with greater detail than any map or GPS plotter, allowing them to quickly target fish.
Lowrance Fish Finder With a Large Display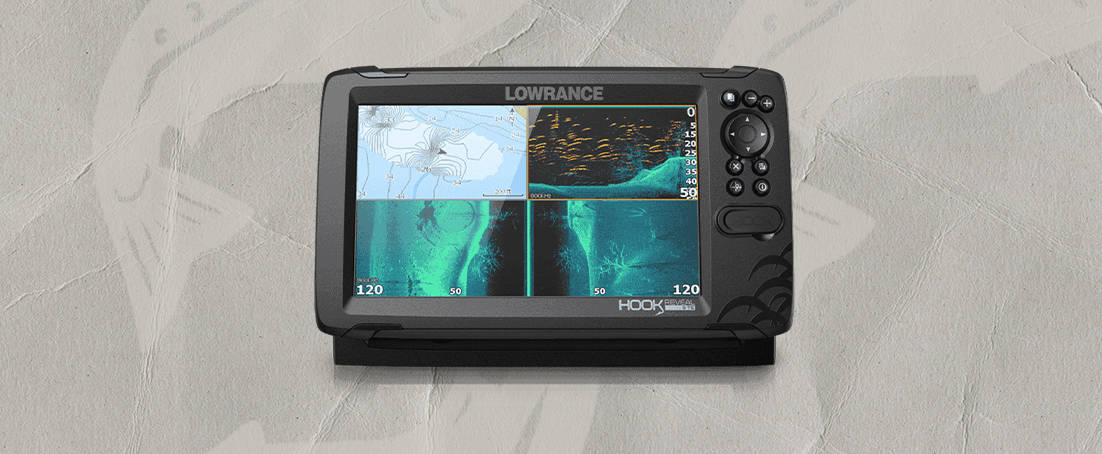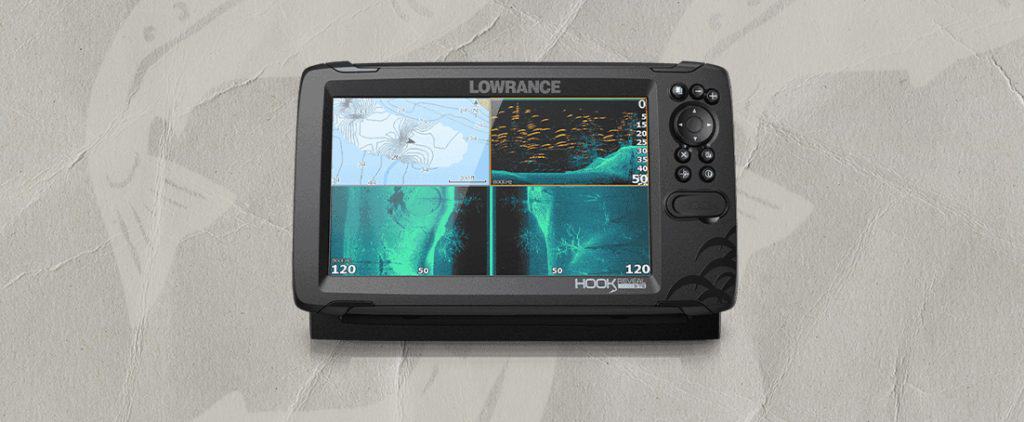 WHY WE LIKE IT: Lowrance Hook Reveal 9 features an impressive 9-inch high-resolution display that provides clear views of underwater details and fish. It also includes FishReveal™, a technology that combines CHIRP sonar and DownScan Imaging for improved target separation. With its user-friendly interface and GPS capabilities, the Hook Reveal 9 is an excellent choice for advanced anglers seeking enhanced performance.
Screen Size: 9 Inches
Product Dimensions: 10.92 x 6.90 x 4.42 inches
Display resolution: 800×480 pixels
Weight: 1.9 pounds
Mounting Options: Gimbal BracketFront Dash Flush Mount
Touchscreen: No
Display Type: Pure White LED
GPS: Yes
Wi-Fi: No
Waterproof: Yes (IPX7)
My Experience: If you're looking for the 9-inch size fish finders with user-friendly features and mapping capabilities, the Hook Reveal 9 is what you need. It was the simplest unit in my review to use and it offered enough reliability for under the low price of $900. It also has multiple transducers making this model stand out.
Features: The Hook Reveal 9 uses Hook Reveal sonar technology. This ensures the device adjusts its settings automatically as fishing conditions change. Additionally, its 9-inch display allows you to enjoy crisp and clear views even in direct sunlight.
Identifying the Top Lowrance Fish Finder for Your Needs
First-time buyers may find it difficult to understand the technical details of a fish finder, such as transducers, flashers, echoes, and sonars. Making sense of a fish finder's different features and functions can be difficult.
The guide demystifies terms for Lowrance fish finder, ensuring confident decision-making when purchasing. These criteria will assist you in focusing your search and selecting the fish finder that best suits how you fish.
Display 
When buying a fish finder, it is important to consider the display, resolution, and number of pixels. The larger the display, the easier it is to read and use, but bigger is not always better. 
In my experience, smaller screens offer greater resolution making them easier to read than large screens. If you are looking for a small screen, Lowrance offers the best 5-inch fish finders.
On the other hand, if you prefer more detail and crisp images you should choose Lowrance's 7-inch or 9-inch fish finders. They offer higher resolution display but are more expensive.
CHIRP Technology
Most manufacturers, including Lowrance, have replaced traditional sonar with CHIRP sonar technology. This modern technology emits longer and can be switched at varying frequencies.
If you want to cover more water in a shorter period choose Lowrance fish finders with Active Imaging. This is a 3-in-1 technology that brings Lowrance CHIRP, SideScan, and DownScan Imaging into one transducer.
On the other hand, if you value simplicity in detecting fish choose the FishReveal technology. It blends high-resolution images of DownScan Imaging with traditional sonar fish arches.
Transducer Type
The placement of transducers in a fish finder is key to performance in both trailer and launch boats. Transom mount transducers allow for ease of installation, while thru-hulls allow for low profile or fairing blocks.
Also, consider the transducer technology applied. For example, Lowrance's Hook Reveal fish finders allow you to choose between SplitShot and TripleShot transducers. Side imaging is only available with TripleShot transducers.
Frequencies
In my experience, frequency is the most important factor for transducers, with 200, 192, 83, or 50 kHz being the most popular. The transducer determines the frequencies that your sonar can generate. Because transducers are typically integrated with fish finders, compatibility is critical. Lower frequencies provide greater range and depth, whereas higher frequencies provide higher-quality images.
However, some Lowrance fish finders in my review can accommodate multiple frequencies. The more frequencies a fish finder and transducer can accommodate, the larger the spectrum of conceivable usage.
Lowrance fish finders with high frequencies display more detail, reaching up to 400 kHz or higher using various frequencies. This allows for switching between wider and narrower views.
Side and Down Imaging 
High-frequency waves provide detailed side images of shallow water on either boat side. Down images utilize high and low-frequency waves for detailed focus on boat underpinnings. Side and down imaging have their strengths and weaknesses, depending on your fishing needs and preferences.
Side imaging is better for quickly scanning large areas and identifying structures, while down imaging targets individual fish and deeper water.
However, in my experience, I advise anglers to choose Lowrance fish finders offering both technologies. This allows you to switch between them as needed. It is the most suitable option for anglers in diverse environments and conditions.
Target Separation
Target separation is the ability of a fish finder's sonar to distinguish individual fish from one another. Target separation is influenced by the sonar signal frequency, transducer power, and software algorithms.
Higher frequencies offer better target separation, as they provide more detailed information about the underwater environment. Powerful transducers also offer clearer, more accurate signals, further improving target separation.
It is measured in inches and Lowrance fish finders range from 0.5 inches to 2.5 inches. When choosing the best fish finder, choose one with smaller numbers since they translate to better performance.
Maximum Depth
A fish finder with good maximum depth is important for deep water fishing, such as the Great Lakes or saltwater anglers. Matching this rating to actual use is important.
Lower frequencies, usually less than 100kHz are better for deeper water, as they penetrate more effectively. However, if you are looking for more detailed underwater information choose Lowrance's with higher frequencies, like 200kHz or 455kHz.
Also, note that the power of the fish finder also influences its maximum depth. In my experience, the higher the wattage the more accurate the information at greater depths.
GPS and Maps
GPS and maps are essential for a good fish finder, as they add functionality such as waypoints and honey-hole marking. A GPS in a fish finder helps to locate previously found fishing spots, reducing searching efforts.
If you are unfamiliar with or fishing in a remote area, choose Lowrance's with built-in maps. Lowrance is compatible with C-Map, and C-Map+. They provide detailed information about the waterways and fishing spots in that area. However, if you fish in the same spots choose a fish finder with Genesis Live. It allows you to upload custom maps or to create your own maps using sonar data.
Frequently Asked Questions
To sum up, when it comes to finding the best Lowrance fish finder, the Hook Reveal 5 stands out as the top choice. It strikes the perfect balance between cost and quality. With its advanced features and affordable price, it offers excellent value for both beginners and experienced anglers. Its high-resolution display, GPS capabilities, and CHIRP sonar technology make it a reliable tool for locating fish and navigating waters effectively. So, if you want a reliable fish finder without breaking the bank, the Hook Reveal 5 is your best pick.