We may earn a commission through products purchased using links on this page. Products or services advertised on this page may be offered by an entity that is affiliated with us. Learn more about our process here.
Are you looking for a quality fish finder? From my experience, the Hummingbird Solix 10 is a good option as it features a high-quality touchscreen with customizable settings and views. This fish finder also adapts cutting-edge technology like Mega Down Imaging+ and Mega Side Imaging. It also features a Dual Spectrum CHIRP sonar that enhances your fishing experience. Here is a detailed review of Hummingbird Solix 10.
A Quick Look at Humminbird Solix 10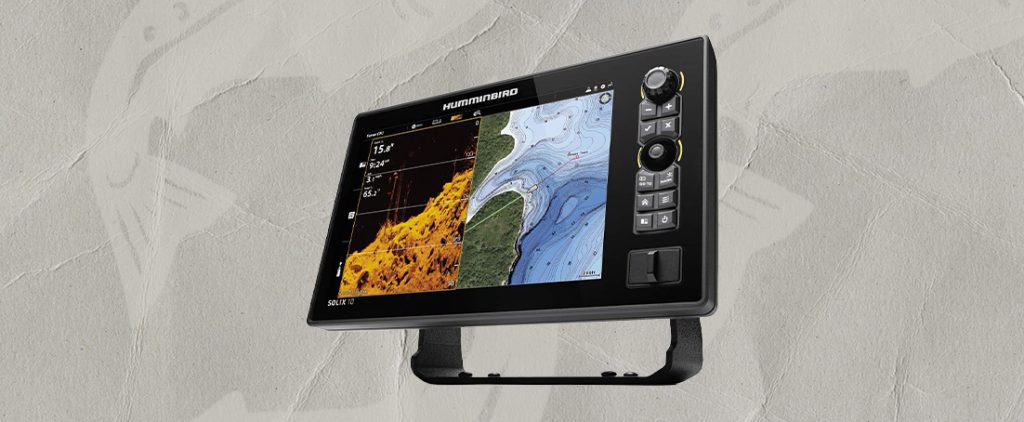 ⭐ Rating:
4.8

★★★★★

💵 Pricing:
High-End
🖥️ Screen size:
10 inches
The Humminbird Solix 10 is a quality fish finder with incredible transducer and sonar compatibility. Unlike most fish finders in the market, the Solix 10 offers great mapping features and top-tier imaging. It also provides excellent line network compatibility and clear readouts.
If you're interested in exploring fish finders with cutting-edge imaging capabilities, don't miss our guide on the best side imaging fish finders. These advanced options will take your underwater exploration to a whole new level.
Humminbird Solix 10 Features That Are Worth Mention
I've had the pleasure of testing and exploring the incredible features of the Hummingbird Solix 10, and I can confidently affirm that it belongs to the echelon of top-rated fish finders.
Cross Touch® Interface
The Hummingbird Solix 10 supports a cross-touch interface that helps you navigate the screen using different options. You can use button controls, a touchscreen, or a joystick.
With this feature, you can zoom in and out on images and maps or jump from a side imaging to a split view. You can also adjust brightness, sensitivity, or chart speed using the cross-touch interface.
Airmar® Transducer ID
This feature is essential if you want to install accessories like the 2D Airmar transducer. The Airmar transducer ID makes your work easier when setting it up.
Internal GPS and Humminbird Basemap
The Humminbird Solix 10 features an enhanced base map that shows a clear view of underwater contours and terrain.
With this feature, you can identify day markers, buoys, marinas, hazards, and depth markers. This means you can navigate through different fishing spots without any problem.
High-Definition Display Screen
The Solix 10 CHIRP Mega features a 10″ screen that is easy to view and navigate. The screen is large enough and can be viewed from different angles.
This fish finder also features an HD screen with super-sharp imaging technology. You can split the screen of Solix 10 and view four displays simultaneously.
For example, you can open the Side Imaging, Down Imaging, and the sonar graph. Additionally, there is a sidebar on every split screen where you can check additional features like temperature and depth.
The Solix 10 allows you to customize the display for different color palettes. You can adjust the color, so it's a good option for visually impaired anglers.
This fish finder adapts the CrossTouch technology that protects the screen from making false touches. This means your fish finder won't open new tabs when touched by splashing water.
AutoChart Live
The mapping feature is one of the essential features that anglers look for when choosing a fish finder.
You can bundle this fish finder with the Humminbird Basemap to access maps of over 10,000 Lakes in the US. If you can't access apps like the Hummingbird Basemap, you can use the AutoChart Live feature.
The AutoChart live feature allows you to make your map when fishing. You can also use the LiveShare feature to share your maps with your fellow anglers and download their charts. Don't forget about other Humminbird productions like Helix 7 and Helix 9 that offers the same AutoChart Live feature and comparable price.
You can also use existing charts on the fly to add more details like the contours, vegetation, and drop-offs. This feature helps you to know which day or night fishing lures you will use in that specific water body. Some mapping features on the SOLIX 10 allow you to change the overlays.
Connectivity
The SOLIX 10 connects well with your phone, tablet, and all Bluetooth-enabled devices. This device supports WiFi, Bluetooth, and Ethernet connections. It's also compatible with NMEA2000 and can connect to Johnson Outdoor devices.
The SOLIX 10 is compatible with AIS, Rada, and Fusion Radio. This means you can listen to your favorite tune when fishing.
Xtreme Depth
The Xtreme Depth technology is capable of imaging areas that are 5,000 ft. deep. This feature is essential, mainly when trolling in the water columns and deep waters.
The Xtreme depth technology scans deep areas and sends precise, accurate readings and target separation. It also offers excellent sonar capabilities, and you can set different CHIRP cones. Always set to Deepwater Mode when fishing in deeper areas for more accurate results.
What Could Be Better on Humminbird Solix 10?
The Solix 10 is one of the best Humminbird fish finders that provides high-quality screens. Although this device has advanced features, the plug has a problem. The quick-release plug was not working correctly, and we had to use the threaded connectors from the SOLIX 12.
We also noted that this device required us to use an optional transducer when accessing Xtreme Depth mode. We used a 50 kHz transducer to get data from the deepest depths.
The manufacturers could do more on the screen size. Although the screen size is big, it's not large enough, unlike its competitors, which offer 12-inch fish finders.
Who is the Humminbird Solix For?
The Humminbird Solix 10 is designed for anglers who like testing the waters. It has an incredible transducer, and sonar compatibilities allow you to fish in different depths.
This device is also a good option for tournament anglers who want the clearest readouts. This is because this device offers top-tier imaging and a user-friendly interface.