We may earn a commission through products purchased using links on this page. Products or services advertised on this page may be offered by an entity that is affiliated with us. Learn more about our process here.
The secret to a larger fish is a suitable lake trout lure. However, in my experience, the secret to a successful catch is the best fish finder. It provides anglers with more information than they could otherwise access. But the amount of information provided by various fish finders varies greatly.
One of the best fish finder manufacturers is Humminbird, a well-known name in marine electronics. But which is the best model across the range of important criteria?
If you are looking for a new fish finder, we have reviewed our top picks for the best fish finders from this brand. Whether you want the best technology or a basic device, we have highlighted the best features of some of the best Humminbird fish finders.
Best Overall Humminbird Fish Finder​
Most Affordable Humminbird Fish Finder​
High-End Humminbird Fish Finder​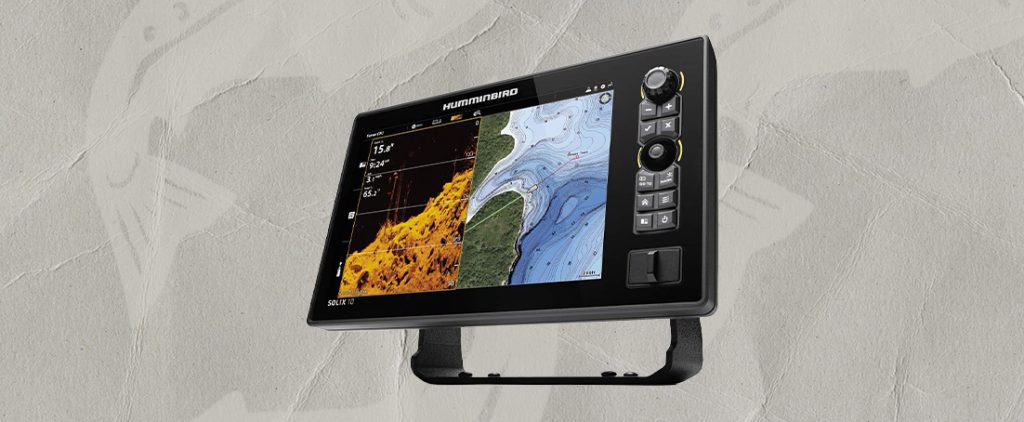 How We Choose The Best Humminbird Fish Finder
We have tested various fish finders over the years and noted the pros and cons of various of models. Our recommendations are a result of testing and talking with anglers and brand representatives.
We looked at fish finder displays, available options, and transducers. We dug deeper into sonar signals while comparing down imaging vs side imaging. We also examined navigation for accuracy and accessibility.
We found that a fish finder with the key features we need is easier to use than a more advanced model with complicated options.
Best Humminbird Fish Finder: Reviews & Recommendations
Best Overall Humminbird Fish Finder
WHY WE LIKE IT: The Humminbird Helix 7 is a fantastic fish finder that we love because it's super easy to use. Its big, clear screen shows you where the fish are, and it's simple to figure out. Whether you're new to fishing or a seasoned pro, the Helix 7 makes finding fish a breeze, helping you have a great time on the water.
Screen Size: 7 Inches
Product Dimensions: 10.54 x 5.8 x 3.68 inches
Display resolution: 800×480 pixels
Weight: 4.65 pounds
Mounting Options: Gimbal /

In-Dash

Mounting

Kit

Touchscreen: No

Display Type: Color TFT
GPS: Yes

Wi-Fi: Yes

Waterproof: No (

Fish finder are designed to be used in wet conditions, but not designed to be submerged under water)
My Experience: The price point of this Hummingbird Helix 7 is incredible. Yet it offered us a ton of innovative technologies that made it easier to catch more fish. This fish finder has Dual Spectrum CHIRP sonar, Mega Down Imaging, and Mega Side Imaging. Both the down imaging sonar and the side imaging sonar offered me a range of up to 125 feet on either side of the boat. In my experience, this makes it excellent for fishing in new seas and your home lake.
Features: This Helix 7 fish finder features CHIRP sonar for increased detail and image clarity. It also has built-in precision GPS and US lake and coastal charts, and high-speed Ethernet allows for connecting multiple fish finders and add-on technologies to create a powerful fishing system. Fish arches can alert you to the location of the fish.
Most Affordable Humminbird Fish Finder
WHY WE LIKE IT: In my experience, the cheaper the fish finder, the lower the quality. We liked the Piranhamax 4 not only for being the most budget-friendly in the Humminbird family but it also has a powerful punch. For less than $150 we got a strong and durable fish finding companion. It also has has a glare-resistant screen and swivel mount for use on open boats.
Screen Size: 4.3 Inches
Product Dimensions: 3.91 x 7.34 x 3.62 inches
Display resolution: 480×272 pixels
Weight: 2 pounds
Mounting Options: Gimbal / In-Dash Mounting Kit

Touchscreen: No

Display Type: 

Color TFT

GPS: No

Wi-Fi: No

Waterproof: Yes (IPX7)
My Experience: Opt for the Piranhamax 4 if you want an affordable Hummingbird fish finder. In my experience, this is a standard fish finder ideal for small lakes and river fishing where a compact device is needed. It's easy-to-use keypad and fish alarms are triggered whenever a fish is detected. It also has a fish ID function that can allowed us to switch on so that we could distinguish fish from vegetation easily.
Features: It offers ultimate portability and features designed to help you easily find and catch more fish. The Humminbird PiranhaMAX 4 fish finder has Down Imaging technology, which can scan underneath your kayak and give you a clear picture of what's below. The 256-color display allows users to distinguish between hard and soft bottoms easily.
High-End Humminbird Fish Finder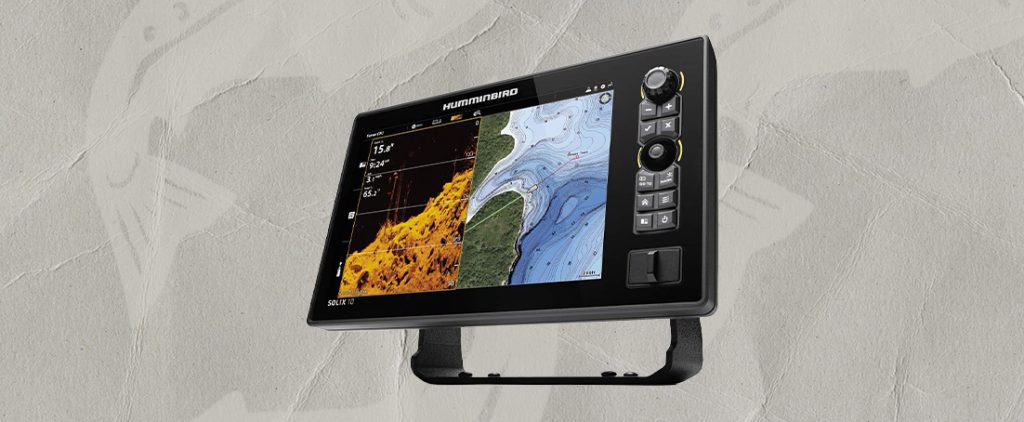 WHY WE LIKE IT: Responsiveness is one of the most important aspect of a good fish finder. The Solix's Dual Core Processor offers an ultra-responsive interface. This coupled with the upgraded processing power ensured we could switch between settings fast.
Screen Size: 10.1 Inches
Product Dimensions: 13.44 x 7.68 x 4.31 inches
Display resolution: 1280×800 pixels
Weight: from 6.3 pounds
Mounting Options: Gimbal / In-Dash Mounting Kit

Touchscreen: Yes

Display Type: Color TFT
GPS: Yes

Wi-Fi: Yes

Waterproof: Not fully
My Experience: While the SOLIX 10 CHIRP is one of the most expensive fish finders in my review the high price tag offers many features with it. It combines cutting-edge technologies to offer good value for your money. These include MEGA Imaging+, AutoChart Live, and Dual Spectrum CHIRP Sonar, and ultra-clear display. It also features built-in Wi-Fi, NMEA 2000, Bluetooth, and Ethernet connections. We were able to connect them with our One-Boat Network family of products.
Features: The One-Boat Network provides exclusive boat control capabilities. They also have unique fish-catching features to maximize time on the water. It also uses Humminbird's MEGA imaging for more detail and adjustability on the water. The LakeMaster and CoastMaster charts are accurate for finding depth contours. Solix's touch screen and intuitive menus and control make it easy to use.
9-inch Humminbird Fish Finder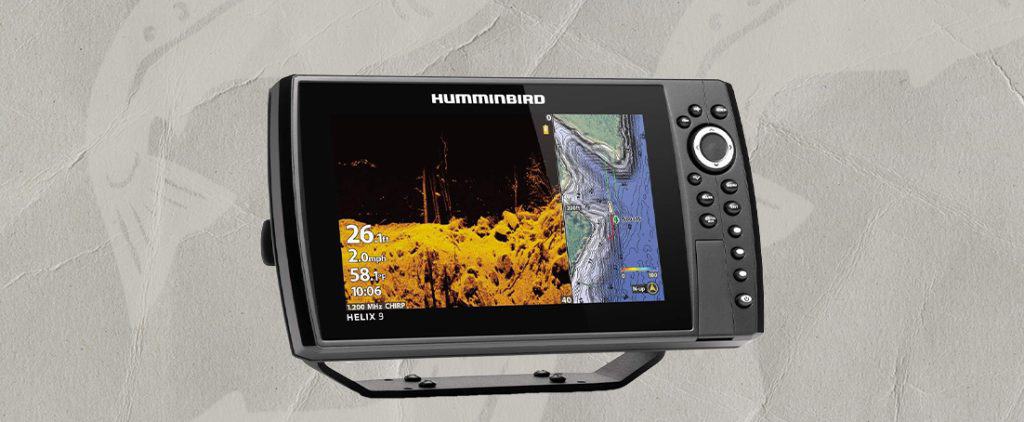 WHY WE LIKE IT: If you want more detail and crisp images, it pays to choose a quality fish finder. At 480V x 800H pixel matrix and 65,000 color grayscale, the HELIX 9 DI GPS offered us the highest resolution than most fish finders. It is also IPX7 waterproof and features an LED backlight for great readability. We could use it easily in direct sunlight and when using polarized sunglasses
Screen Size: 9 Inches
Product Dimensions: 12.13 x 7.06 x 4.2 inches
Display resolution: 800×480 pixels
Weight: from 5.5 pounds
Mounting Options: Gimbal / In-Dash Mounting Kit

Touchscreen: No

Display Type: Color TFT
GPS: Yes

Wi-Fi: Yes

Waterproof:

Not fully
My Experience: The price tag makes the Helix 9 one of the most expensive units in my review yet it delivers what you pay for. This unit features DualBeam Plus and Down Imaging sonar, using a DI-dedicated transducer. While the fish finder can have four frequencies: 83/200/455/800 kHz, we were able to use it with our 50/200 kHz transducers. We could also use the transducer to also track water temperature with its built-in temperature sensor and graph feature.
Features: The Humminbird Helix 9 is a Control Head Only Model, making it a great choice for those looking to connect to Built-in MEGA Imaging. You can also link it with accessory transducer options or share sonar data from an existing Humminbird unit Ethernet network.
5-inch Humminbird Fish Finder
WHY WE LIKE IT: The Humminbird Helix 5 fish finder is super cool because it shows really clear pictures of what's under the water, helping you find fish and stuff like rocks or plants. You can pick between two ways to look at things: super detailed or like a big picture. Plus, it comes with a built-in GPS to help you find your way on the water, and you can even draw your own maps with it. It's awesome for all kinds of anglers, whether you're just starting or have been fishing for a while.
Screen Size: 5 Inches
Product Dimensions: 7.55 x 4.64 x 3.3 inches
Display resolution: 800×480 pixels
Weight: from 2.5 pounds
Mounting Options: Gimbal / In-Dash Mounting Kit

Touchscreen: No

Display Type: Color TFT
GPS: Yes

Wi-Fi: No

Waterproof:

Not fully
My Experience: The Humminbird Helix 5, featured in my review as the most versatile 5-inch fish finder, incorporates both down and side imaging sonar. It delivers the functions of a Chartplotter or fish finder, encompassing down imaging and side imaging, along with Humminbird's outstanding maps like the Basemap. Its small size caters to kayak anglers and smaller vessels, making it a valuable investment at its price point.
Features: The Humminbird Helix 5 features a high-resolution color display, providing clear and detailed images of underwater structures and fish. Its vibrant screen ensures you can easily view your findings, even in bright sunlight.
Important Factors to Keep in Mind When Purchasing a Humminbird Fish Finder
The most important details to consider when looking for the best fish finder are the factors contributing to making up a great fish finder. These include the type of fish found, the size of the fish finder, the depth, and the type of fish found.
These factors should be considered when deciding on the best Humminbird fish finder.
Target Separation
Target separation is the ability of a fish finder's sonar to distinguish individual fish from one another. When searching for the best fish finder, choose one with a smaller number as they offer better performance.
Transducer Beam Angle
When shopping for a Hummingbird fish finder, it is important to consider the range, cone angle, beam shape, and number of beams. The beam angle is the width of the sonar signal emitted by the transducer.
Humminbird offers both narrow and wide beam angles. A narrow beam angle offers a high-resolution view of the underwater environment. They range between 9 and 20 degrees and are useful for deep water fishing or identifying fish.
In my experience, wider beam angles cover a larger area but have lower resolution. They range from 40 to 60 degrees and are useful for shallower water or quick scanning.
Maximum Depth
The depth of a fish finder is the maximum depth it can go without reducing its ability to find fish. The maximum depth of Humminbird fish finders ranges from 200 to 1500 feet.
*Good example of how it should look like. You have to mention the manufacturer's products factual specifications and what kind of advantages it creates
A fish finder should have a good maximum depth, but it should be tailored to your fishing type. For example, fishing in lakes or rivers may require a different max depth than an ocean fishing angler.
Display Size & Resolution
The screen size and display quality are important factors when buying a fish finder. Humminbird offers fish finders in different screen sizes including 5-inch, 7-inch, 9-inch, etc. A larger screen such as a 10.1 inches gives more information, but smaller screens such as 4.3 inches are more difficult to use.
Pixels determine the clarity of a screen. At the minimum, a screen should have a resolution of 240 x 160. But it may still be a blocky image at that resolution. Hence, if you are looking for suitable Humminbird fish finders for saltwater fishing or kayak fishing choose one with a higher screen resolution. These can range from 800 x 480 pixels to 1024H x 600V pixels depending on the version.
GPS and Maps
GPS and maps provide a range of functionality, such as marking waypoints and downloading pre-made maps. Some models also allow for advanced individualized cartography and navigation.
Fish finders can display maps of the body of water they are fishing in. Live mapping, which uses sonar to create a bathymetric map of the water's bottom, is a suitable option if preloaded maps are unavailable. However, live mapping requires covering enough of the lake before having a complete map.
In my experience, we advise looking for Humminbird fish finder models with Wi-Fi and Bluetooth connectivity. They offer more convenience and improve usability by allowing for easier data recording.
Frequently Asked Questions
Yes. Humminbird is renowned for its 2D Sonar, Side Imaging, LakeMaster mapping, and other fish-finding capabilities, making it a popular choice for freshwater and saltwater anglers.
Humminbird Ice Helix 9. The Lake Master and Coast Master charts combined with Navionics' navigation engine provide accurate navigation.
Humminbird Piranhamax 4. The XNT 9 DI T transducer offers dual sonar at 200 and 455 kHz, providing excellent depth and detail for kayak anglers. This is also a down imaging system that provides far greater detail than standard sonar.
To sum up, the article reviews various fish finder models. Among them, the Helix 7 stands out as the top pick. It offers a great balance between cost and quality. Its advanced features, like clear imaging and user-friendly interface, make it an ideal choice for both beginners and experienced anglers. If you're in search of a reliable fish finder that won't strain your budget, the Humminbird Helix 7 is an excellent choice.