We may earn a commission through products purchased using links on this page. Products or services advertised on this page may be offered by an entity that is affiliated with us. Learn more about our process here.
I have owned several fish finders over the years, and I highly recommend Humminbird Helix models for anglers looking for the right fish finder. The Humminbird Helix 9, in particular, is my go-to fish finder for lake fishing.
If you're as enthusiastic about Humminbird fish finders as I am, you'll definitely want to dive deeper into our comprehensive guide on Humminbird fish finders. We'll explore the range of features and capabilities that make these devices a game-changer for anglers.
In this Humminbird Helix 9 review, I'll delve into the specific features present in the device that will revolutionize your fishing experience. Get ready to uncover the tools and technology that can help you reel in more catches and make your time on the water even more enjoyable.
A Quick Look at Humminbird Helix 9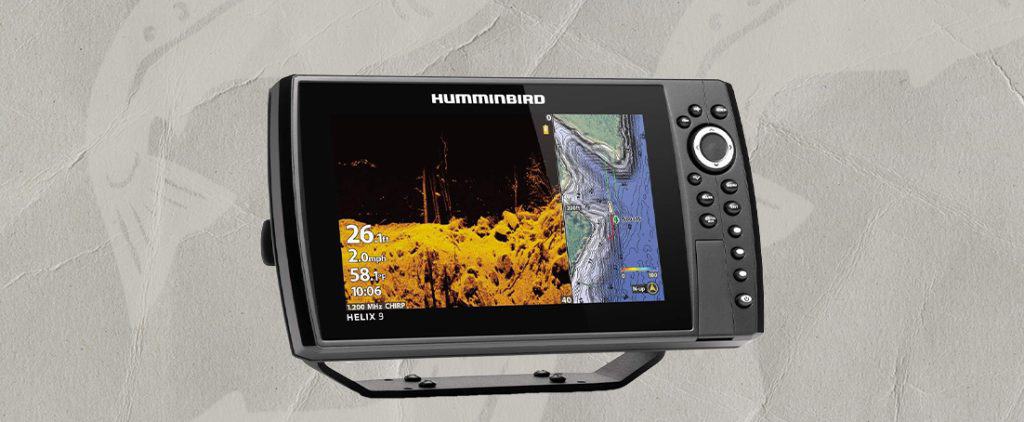 ⭐ Rating:
4.7

★★★★★

💵 Pricing:
High-End
🖥️ Screen size:
9 inches
The Humminbird Helix 9 packs impressive features such as built-in GPS, MEGA Side and Down Imaging+, AutoChart Live, SwitchFire, SmartStrike, and more. Not only does the device help you find fish, but it also has features that recommend the best fishing locations where you can catch more fish. It is one of the best rated fish finders that will impress any serious angler.
Humminbird Helix 9 Features That Are Worth Mentioning
MEGA Side Imaging+
The MEGA Side Imaging+ is an upgrade of the Side Imaging on previous Helix units. It sends 1000-1200 kHz waves to each side of the boat to produce high-definition, clear images of what lies within 200 feet of the sides of your boat. The MEGA Side Imaging+ helps identify shoals of baitfish and big fish so you can cast your lake lures at the right spots. 
If you're eager to delve deeper into the world of side imaging fish finders and discover the benefits they bring to your fishing game, don't miss our comprehensive guide on side imaging fish finders. We'll walk you through the ins and outs of this technology and help you make an informed choice for your angling adventures. With the MEGA Side Imaging+ and its remarkable capabilities, you'll be spotting shoals of baitfish and those elusive big catches with precision, ensuring your casts land in all the right spots.
MEGA Down Imaging+
Spotting and catching fish is much easier when you have a clear view of what's happening beneath the water's surface. The Helix 9 MEGA Down Imaging+ takes your underwater reconnaissance to the next level by sending high-frequency sound waves to create a clear and accurate 3D view of the bottom surface.
Now, if you're intrigued by the incredible imaging capabilities of fish finders like the Helix 9 MEGA Down Imaging+, read our down imaging fish finders guide, and it will provide you with in-depth insights into how these devices work and the advantages they bring to your fishing endeavors.
With the Helix 9 MEGA Down Imaging+, you'll not only spot fish but also gain a detailed understanding of underwater structures such as rocks, vegetation, fallen trees, and reefs. It's like having a window to the underwater world, all at depths of up to 200 feet.
Dual Spectrum CHIRP Sonar
The Humminbird Helix 9 CHIRP delivers maximum coverage, accurate structures, and fish hotspots with its Dual Spectrum CHIRP (Compressed High-Intensity Radar Pulse) Sonar.
Dual Spectrum's low-Q CHIRP transducer distinguishes between baitfish, gamefish, and vegetation with its wide range of frequencies It sends multiple frequencies, unlike traditional transducers, relaying information on what structures lie in depths of 1500-3500 ft. 
AutoChart Live
The AutoChart Live lets you map your favorite fishing spots in real-time. You only need to cruise your boat back and forth as this feature creates detailed maps of shallow water, bottom vegetation, structures, and depth contours. 
Display Screen
One of the most important features of a great fish finder is the display screen, where you view what is underneath the water's surface.
The Humminbird Helix 9 comes with a bigger HD screen than other fish finders. This screen size makes it easy to simultaneously view different features, say sonar, GPS, and the temperature graph. It also delivers detailed images even in direct sunlight or when wearing polarized glasses.
Choose between Clear Mode and Max Mode on the display. The Clear Mode is perfect in murky water since it reduces screen clutter for high-definition images, while the Max Mode surveys fish and establishes depth contours.  
Keypad Control
The Helix 9 fish finder does not have touchscreen technology. Instead, its display unit uses a keypad to navigate the software and is relatively easy to input controls. The user-friendly menu system features soft-key controls that work in all conditions. 
GPS
The Humminbird Helix 9 built-in GPS does more than pinpoint your precise location. It helps you determine boat speed to pull the lures at the recommended speed to attract your target species.
Interestingly, the Helix 9 can store 2,750 waypoints of your favorite fishing spots, 45 different routes, and 50 trails (with 20,000 points for each).
We also love that this fish finder has a basemap, charts of points of interest, marinas, depth markers, and underwater contours on 10,000 US Lakes and the US coastal map. 
Connectivity
This fish finder is compatible with ethernet connectivity, allowing you to connect with multiple fish finders. We also love that Helix 9 series includes an NMEA 2000 port to help you keep in touch with other anglers.
It is also Bluetooth-compatible, letting you connect to your smart devices. And you can connect it to the Minn Kota i-Pilot on days you don't want to navigate and watch it drive you to your preferred fishing grounds. 
What Could Be Better on Humminbird Helix 9
Some anglers are content with the keypad controls on the Helix 9, but a few would appreciate it if the fish finder had a touchscreen display. Considering that most of our daily gadgets have touchscreens, having a device with fast scrolling capability would not be too much to ask.  
Additionally, the Helix 9 often gets cluttered images while trolling with downriggers. Fortunately, you can remedy this by changing the downrigger's position to the fish finder's transducer. 
Who Is the Humminbird Helix 9 For?
The Humminbird Helix 9 CHIRP MEGA is ideal for lake fishing anglers whose boats have onboard power. This fish finder requires 2.4 Amps to function, meaning it needs a battery-powered boat. So, if you own a kayak or a boat without the power to run electronics, this fish finder is not for you. 
Also, the Helix 9 is a good fish finder for anglers looking to find fish in lakes and oceans, thanks to its MEGA Side Imaging+ and MEGA Down Imaging+. Moreover, its pre-installed Humminbird Basemap covers over 10,000 inland lakes and the US coastal line so that you can pinpoint better fishing spots. 
Award-winning in these categories: