We may earn a commission through products purchased using links on this page. Products or services advertised on this page may be offered by an entity that is affiliated with us. Learn more about our process here.
Are you fond of fishing but get bored waiting hours for a fish to bite? There are numerous fishing devices that you can use to locate fish and increase your fishing success. This includes using portable fish finders like the Deeper Sonar Pro Plus. This fish finder uses sonar technology to detect fish and underground vegetation and contours.
Based on our review, we noted that the Pro Plus has more power, best-scanning depth, and casting range. We also like how this sonar accurately mapped and scanned on the ice when fishing. To understand more about this castable fish finder, we have prepared a complete Deeper Sonar Pro Plus review.
A Quick Look at Deeper Sonar Pro Plus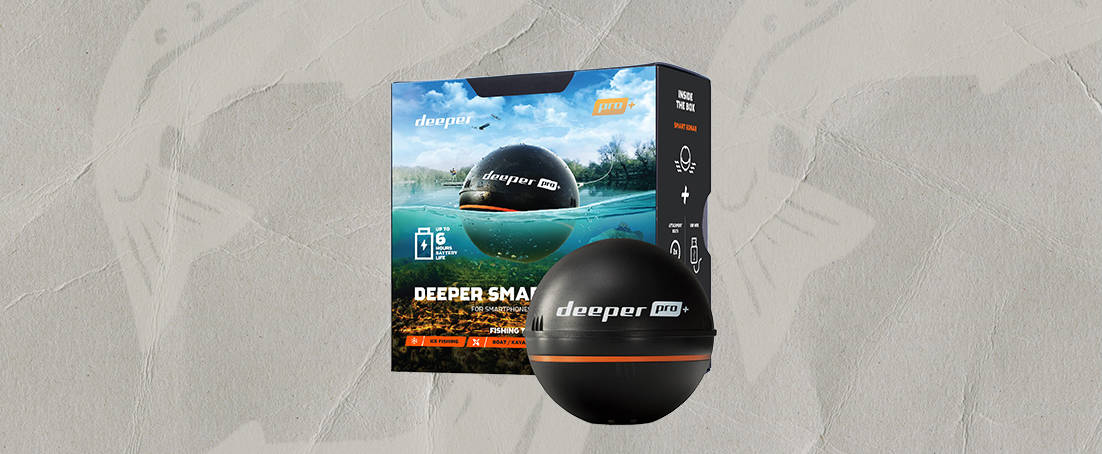 ⭐ Rating:
4.5

★★★★★

💵 Pricing:
Budget
📱Phone Support:
iOS & Android
The Deeper Sonar Pro+ has impressive features that will enhance your fishing experience. For example, it features four fishing modes, built-in GPS, 260 ft. scanning depth, and onshore mapping.
I recommend this device to shore anglers as it helps achieve excellent casting range and depth without using a boat or kayak. I should also mention that this is one of the top fish finders on a budget.
Deeper Sonar Pro+ Features That Are Worth Mention
Design and Build Quality
Deeper Sonar Pro Plus is a simple yet durable fish finder built with quality in mind. It features an ABS body that can withstand rough conditions.
This portable fish finder features a premium black finish to enhance its appearance. It weighs 3.53 ounces, an important feature that makes it ideal for ultralight fishing. The Pro Plus also features three threaded receptacles for different applications.
Sonar Technology and Performance
The deeper pro plus comes with a dual-beam sonar transducer. When set at a 15-degree cone angle, you get a frequency of 290kHz. You can also get a frequency of 90kHz when set at a 55-degree cone angle. This feature lets you switch the beam angle depending on your fishing location.
Unlike most traditional fish finders, the deeper smart sonar can perform up to 15 scans per second. This makes it a better choice for anglers who want accurate fish location.
Although the target separation ability is small, this fish finder can deliver good results in areas 6 to 8 feet deep. It still works well in areas above 150 feet, but you might get inaccurate information if you set it too deep.
GPS and Mapping Features
The Deeper pro plus has a GPS receiver that captures what is happening underwater and can identify fish locations. The GPS pairs with mapping software that creates color-coded bathymetric bottom.
This Deeper fish finder pairs well with a deeper app that displays a detailed view of the bottom. You must set the correct sensitivity setting, as a poor connection can interfere with the readings.
You can use this fish finder to differentiate baits and fish, thus saving time and increasing accuracy. It also scans well through dense vegetation, so you can successfully fish for pike.
Looking for even more advanced GPS and fish-finding capabilities? Check out our guide to the best fish finder GPS combo for the money to get the most value out of your fishing gear. With the right combo, you'll navigate and locate fish like a pro.
Wireless Connectivity and App Integration
You can connect this fish finder with a Deeper App and LakeBook software through WiFi. The Pro Plus has a wide WiFi connection range of 330 feet. This means you can use it to scan deeper water, especially when the weather is calm.
Unlike other castable fish finders, the Pro Plus has water sensors. The Deeper WiFi hotspot is automatically activated and connects directly to your mobile phone when placed in the water. The WiFi hotspot also shuts automatically when you lift this sonar from the water.
Turning off mobile data is advisable because doing so boosts WiFi connection. Also, avoid placing this fish sonar at the wake when fishing with a large boat, as it weakens the connection.
Battery Life and Charging
The Deeper Sonar Pro Plus has an 850mAh battery that can last for 5.5 hours when fully charged. This sonar comes with a charging port at the base that charges the battery quickly.
You can increase the battery life by switching the sonar off when not in use. Also, you should keep charging your smartphone, especially if you're fishing for longer periods, to maintain a stable connection.
What Could Be Better on Deeper Sonar Pro Plus
In as much as we loved how the Deeper Pro+ performed, there are some flaws we think Deeper should improve on. First, although this fish finder is small, it's heavier, especially when hanging from the end of the fishing line.
This increases the chances of your line breaking, a fishing experience no angler would like. If it's a must you use, ensure your travel fishing rod is at least 7 feet long to maximize the casting distance.
Additionally, we noted that this fish finder makes a big splash when cast. The splash can spook a fish swimming, thus minimizing the chances of inducing a bite. You can avoid making a big splash by casting with less force.
Who Is the Deeper Sonar Pro+ For?
The Deeper Sonar Pro+ is perfect for anglers who love fishing in shallow waters and use fish finder but don't own a boat or kayak. This is because it's more lightweight and can accurately scan at a higher speed.
It's also a good option for ice anglers, hikers, and travelers who want a lightweight fish finder that offer value for their money.
Award-winning in these categories: