We may earn a commission through products purchased using links on this page. Products or services advertised on this page may be offered by an entity that is affiliated with us. Learn more about our process here.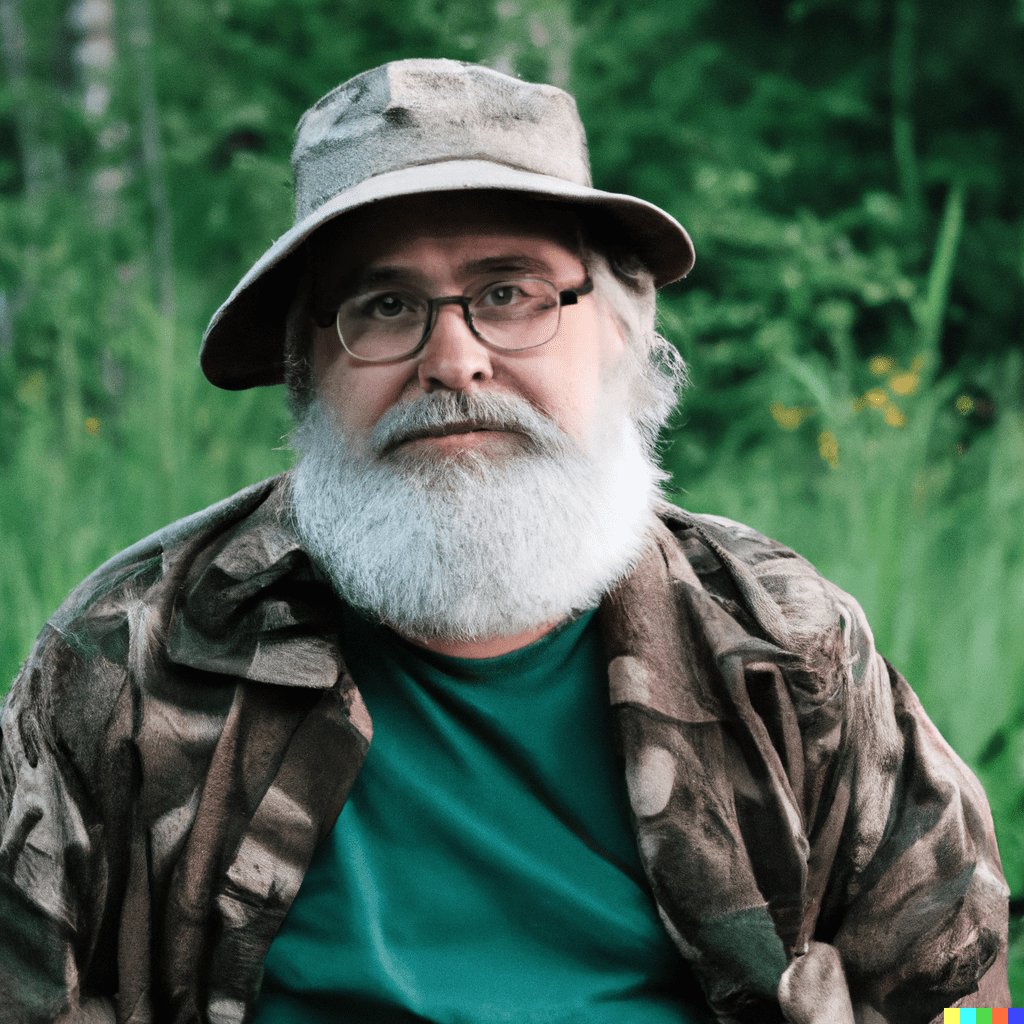 Professional fisherman, who loves to review new fishing gadgets.
Jigging is a special fishing technique that involves lifelike motions akin to prey to attract the fish. Because it requires constant movement, anglers tire quickly and cut their fishing sessions short. But there's a key to preventing fatigue, and that is having the right gear by your side.
For this reason, we have crafted a special jigging rods list containing some of the best jigging rods on the market – from heavy jigs, to fast action tip rods, there's something for everyone.
By choosing the right jigging rod, you'll be able to jig away for long hours without ever getting tired.
Editor's choice for Jigging Rods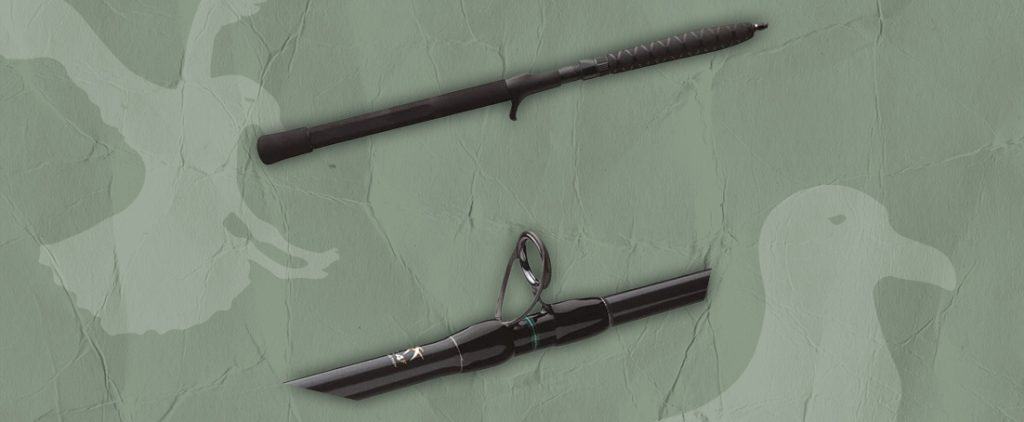 Shimano Trevala Casting Rod
KastKing Crixus Fishing Rod
Best Jigging Rod for the Money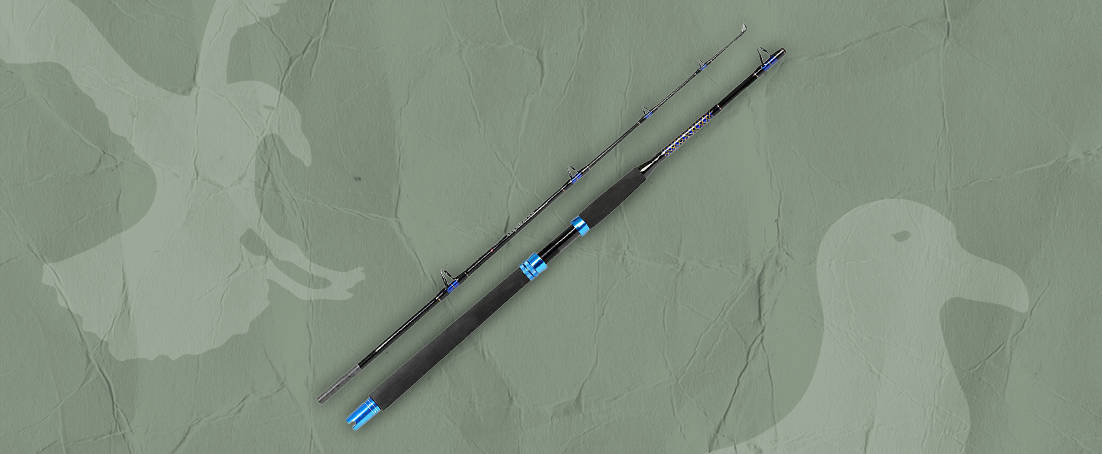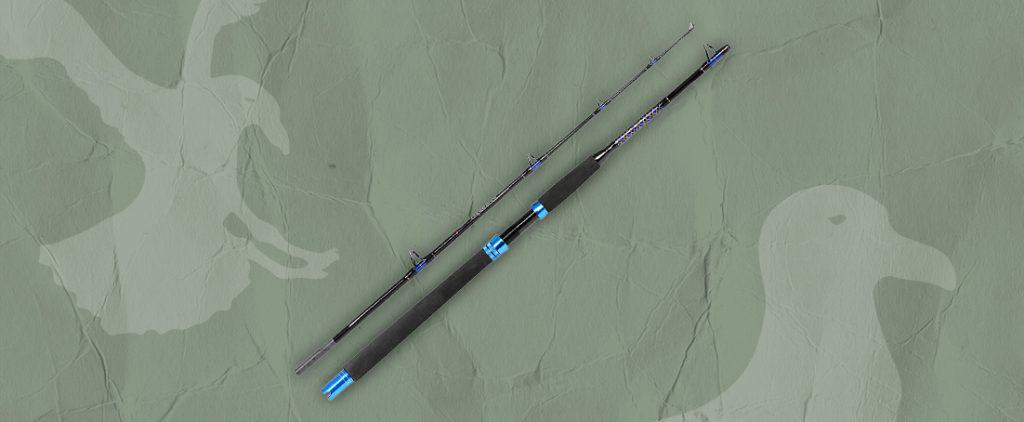 Fiblink Saltwater 1-Piece
Jigging rods are different from other fishing rods. They are made specifically for the jigging technique. They are more flexible but still strong and are shorter than other rods but with longer grips. Jigging rods should be light enough to be easily lifted, and they should come with a sensitive tip that allows for fast reactions.
How We Selected the Best Jigging Rods? Our Methodology
Action: Think about the type of action you need. Fast-action rods, which bend mainly at the tip, are perfect for quick hook sets. Slow-action rods are better suited for slow jigging, where the jig falls straight down.
Power: Opt for the lightest rod power to enhance bite detection. For vertical jigging, a medium-light power rod offers sensitivity and the strength to handle larger fish. If you plan on casting jigs, consider a medium-power rod.
Length: The optimal length for offshore jigging rods is typically between 5 and 6 feet. This length is ideal for offshore jigging, where lure handling is crucial. If you're casting into deeper waters, some anglers prefer rods that are at least 7 feet long.
Weight: Look for jigging rods that strike a balance between lightweight and powerful. This combination reduces fatigue during extended fishing sessions. Pair medium-light power rods with lightweight jigs, and consider heavier power rods for jigs up to 3/4 oz.
Material: Consider the rod's material based on your priorities. Carbon fiber offers durability, ensuring your rod can withstand tough conditions. Graphite, on the other hand, provides a lighter option, making it easier to handle.
Handle: For saltwater jigging, prioritize a non-slip handle to maintain control in wet conditions. A secure grip ensures you can execute your jigging technique effectively.
Reel Selection: Choose between overhead and spinning reels based on your personal preferences. Spinning reels are user-friendly, require less maintenance, and are easy to cast. If you need a reel with more line capacity, greater drag, and versatility for various fishing techniques, consider an overhead reel.
7 Best Jigging Rods in 2023
Editor's Choice for Saltwater Jigging Rods
Shimano Trevala Casting Rod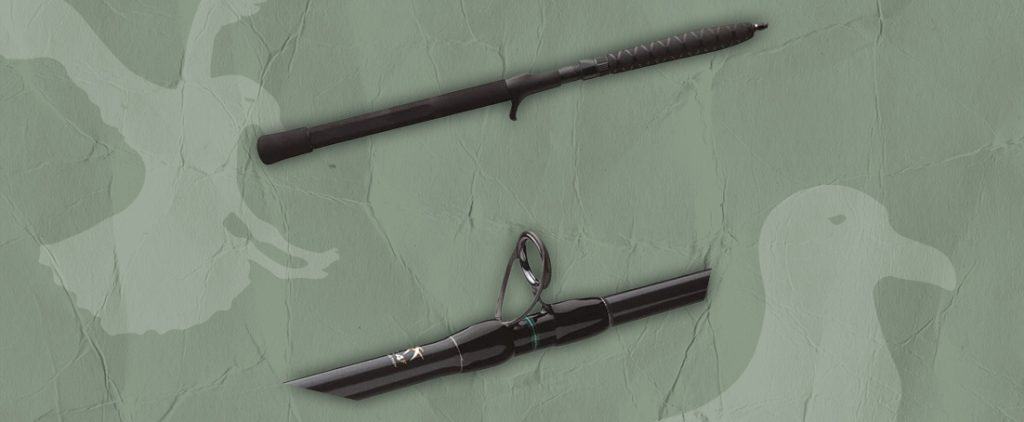 WHY WE LIKE IT: This Trevala Casting rod comes with Fuji O or Alconite guides for a smooth line and a Fuji reel seat. The custom EVA grips make this rod very comfortable on the hand, and the lightweight body works well for all-day fishing. In addition, the handle design is unique, and it won't leave marks after a full fishing day. Very suitable for saltwater jigging.
Dimensions: 1.5 x 1.5 x 78 inches
Material: Graphite
Color: Black
Fishing Technique: Casting, jigging
OUR ADVICE: Your shoulders and lower back will thank you with this lightweight rod! It showed some backbone in fusion with parabolic features. To us, that is an ideal combination for a good jigging rod. We were able to catch big aggressive fish with comfort and ease. Overall, it provides a very good balance and action.
FEATURES: The Shimano Trevala Casting rod is an innovative rod from the Trevala Jigging series ideal for the Shimano Butterfly jigs. This rod is potent yet lightweight and gives a light action. It works best with high speed and a power reel for maximum jigging success.
Best Rated & Best Versatile Jigging Rod
KastKing Crixus Jigging Rod
WHY WE LIKE IT: The KastKing Cirxus is very light and highly sensitive. It's constructed of IM6 graphite blanks that give it a great look and performance. The rod is equipped with stainless-steel guide frames that have zirconium so that this rod can take the pressure of fighting fish. These are the best jigging rods on the market.
OUR ADVICE: This rod is powerful yet pretty sensitive. We like the versatility it offers – it can be used to jig away some nice tuna in saltwater or catch a great bass in freshwater. It's definitely one of the best bass fishing rods on the market.
FEATURES: The KastKing comes with special technical compound SuperPolymer handles that have a great grip, feel and durability. The handles are non-slip, which makes them ideal for all fishing conditions.
Best Saltwater Jigging Rod for the Money
Fiblink Saltwater 1-Piece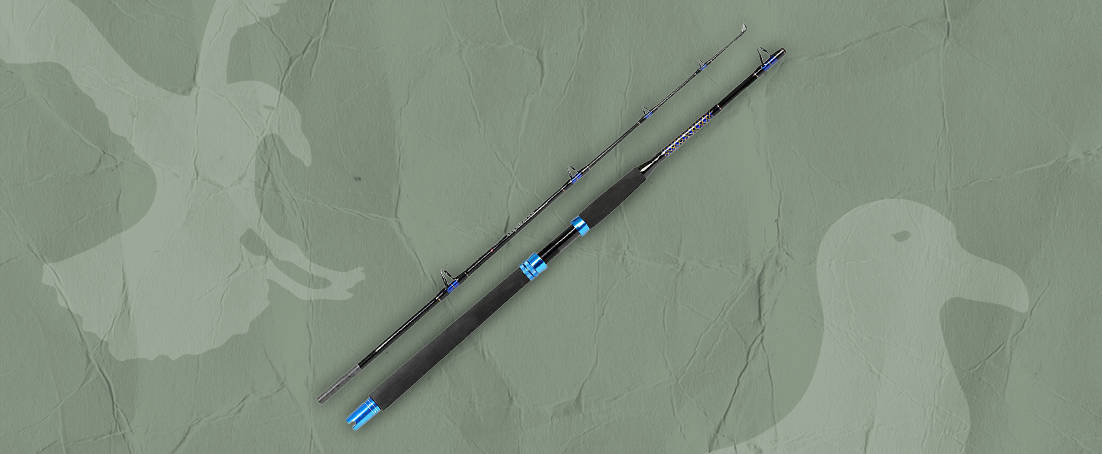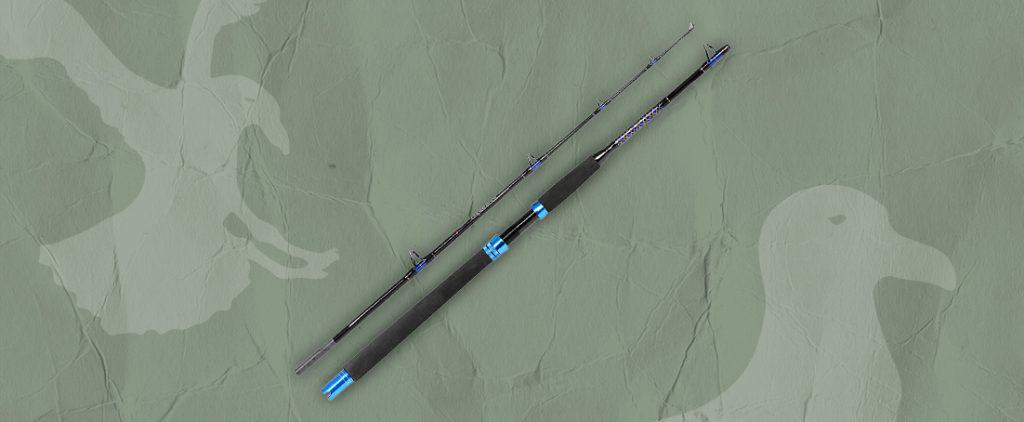 WHY WE LIKE IT: The Fiblink is a medium-heavy saltwater rod with a strong construction and a sensitive response. The carbon and glass fiber combination provides good performance and action. In addition, the guides are made of stainless steel mixed with ceramic, which gives a smooth and stuck-free line. We loved the fishing experience this jigging rod gave us.
OUR ADVICE: In our experience, this is solid gear to be used as a jigging rod, particularly in saltwater. As it's quite tough, big fish won't be an issue for this rod. We also tried it for deep-sea fishing, and it performed well. Finally, the comfortable non-slip, high-density EVA handle and foregrips make for the best saltwater jigging rod mix.
FEATURES: These Fiblink Saltwater rods come equipped with a multi-purpose hook holder. In addition, the machined aluminum reel seats on these rods have a seat cap, protecting the reel from corrosion. Overall, a great jigging rod for saltwater jigging action. Pair with some of the best saltwater fishing lures or jigs for successful jigging.
Daiwa Megaforce Jigging Rod
WHY WE LIKE IT: These quality rods are ideal for all kinds of fishing trips, whether you drive the coast or fly, and they are set at a very affordable price. The multi-part Daiwa Megaforce is easy to pack and fit as a carry-on, and it's ideal as a boat rod. It will save you space, and you don't need a rod tube if you don't like bringing it along. In addition, the rod has a nice bend.
Length: 7.38, 7.87, 8.86, 9.84ft
Material: Aluminum
Color: Black
Fishing Technique: Casting, Spinning
OUR ADVICE: This rod is an amazing travel jigging rod. It goes great distances and has fine action. We tested it out with some bucktail jigs, and it did its job well. The construction of the rod is good, and it's lightweight. It has a pretty sensitive tip.
In our opinion, this rod are the best jigging rods who prefer portability. You could also check our travel fishing rods guide, for more professional options.
FEATURES: The Daiwa Megafroce is a 4-piece fishing rod that is quite long with 8 guides that give it a nice line. These rods are light and made of thin carbon fiber. The EVA cork split grip handles give a comfortable and balanced grip.
UglyStik Tiger Elite Spinning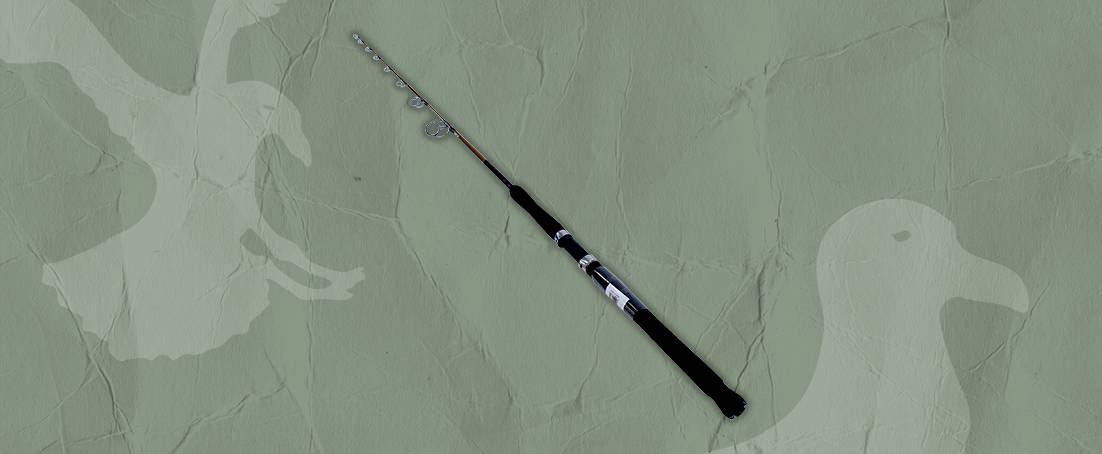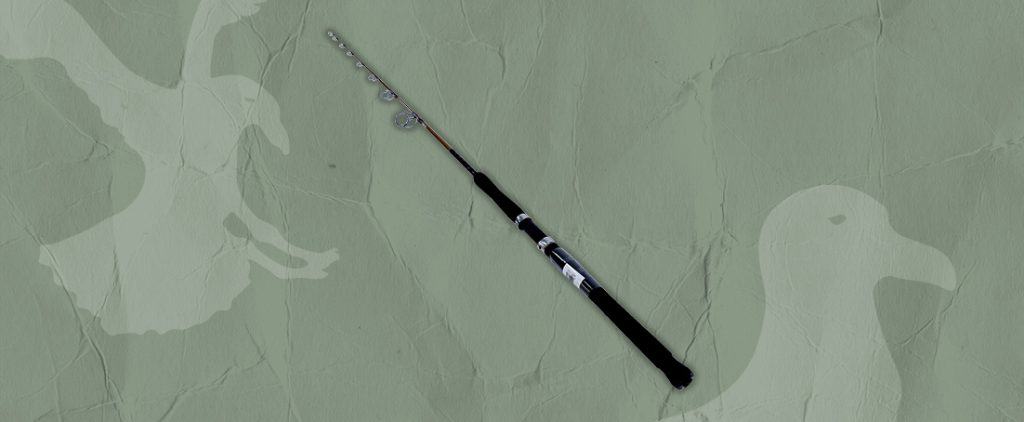 WHY WE LIKE IT: The Ugly Tech is a one-piece rod and has a lightweight graphite construction. It is made with stainless steel double-footed guides so that your line doesn't slip out. The heavy-power action on this rod is specifically crafted for jigging and bottom fishing. It has a great bend for various jigging techniques.
OUR ADVICE: This UglyStik Tiger Elite is a spinning rod with a soft tip but a heavy backbone. It goes well with a braided line. We found it to be very good as a vertical jigging rod and pretty durable. The sensitivity is on point, and so is the pulling power. It was agile enough to catch sea bass, making it one of the best bass fishing jigs.
FEATURES: The handles feature fighting-length EVA grips with additional rubber gimbals. The reel seat is made with stainless steel cushioned hoods and offers fair value for the money.
Fiblink Saltwater 3-Piece Heavy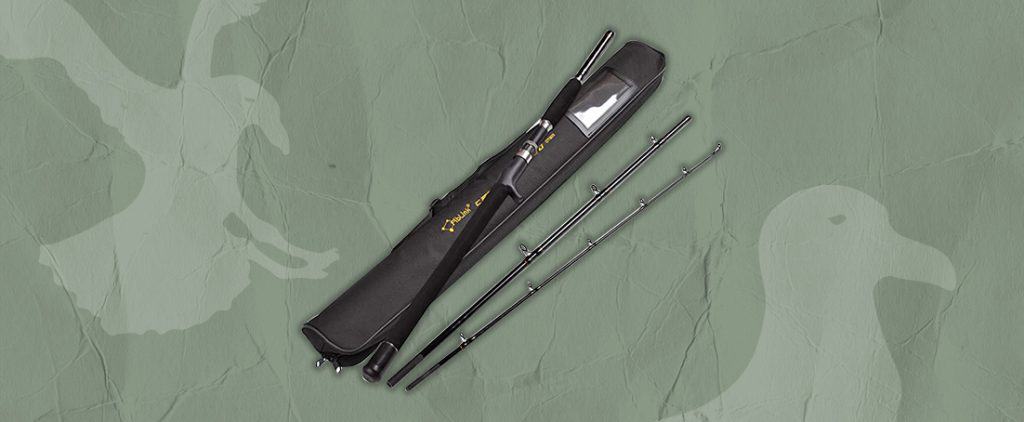 WHY WE LIKE IT: The Fiblink Saltwater is a 3-piece heavy power rod that performs great with offshore jigging action. It is constructed of high-density carbon fiber and fiberglass blank to be tough yet light.
OUR ADVICE: This rod is a very good value, as it provides power and sensitivity. We jigged some tuna fish with it, and it gave a nice action. In addition, it comes at a reasonable price, and we definitely like that!
FEATURES: The Fiblink Saltwater has a nice DPS reel seat with stainless steel hoods that do not rust. The rod has good leverage when dealing with fish that give a fight. The EVA foam handle delivers a comfortable grip and is not slippery in wet conditions. Also, the rod comes with a multi-purpose hook keeper, which is a great addition to the best jigging rods.
WHY WE LIKE IT: It's a one-piece spinning rod with an innovative nanotechnology blank that is light and powerful with the addition of a sensitive rod tip. This rod is ideal for slow jigging with medium-slow power.
OUR ADVICE: The Goofish rod is a medium-action, slow-pitch jigging rod. It gives a good backbone and a nice tip action, as far as our experience with it goes! The rod is lightweight, and we found jigging to be less tiring with the Goofish.
FEATURES: This is the best slow-jigging rod that is also ultra-light due to its nanotechnology. As a bonus, the colors and craftsmanship on the Goofish are great. The handle and the guides are very nice too, and you get a one-year warranty.
Jigging Rod Selection: A Guide on How to Choose the Best
Action
Fast-action jigging rods bend moreat the tip as opposed to a slow-action rods. A fast-action rod is useful for keeping up with the quick hook sets required for jigging. On the other hand, with slow jigging, the jig tends to fall deep in a straight line, which boosts your chances of catching fish. It's up to the angler's preference.
Power
Keep in mind that you want to use the lightest rod power possible because this will enable you to detect bites more effectively. A medium-light power is ideal for vertical jigging because it will give you the most sensitivity while remaining tough so it can handle big fish. You might want to go a little heavier and use a medium-power when casting jigs.
Length
The suggested length for offshore best jigging rods is between 5 and 6 feet. This rod length is too short for lure fishing, but it works well for offshore jigging, which doesn't require casting and focuses more on handling lures. For throwing jigs farther away and into deeper water, some anglers advise using a rod at least 7 feet long.
Weight
The best jigging rods are lightweight and powerful at the same time. With a light jigging rod, you won't tire easily and will be able to pull out long fishing hours.
As for jigs' weight, combine medium-light power rods with lightweight jigs weighing around 1/8 oz or less. You can pair heavy power with heavy lures up to 3/4 oz in weight.
Material
If you want top-notch rod action, you should also pay attention to the material. Carbon fiber or graphite with a high modulus are some of the better options. If you want durability – go for carbon fiber. If you'd rather have a lightweight rod while sacrificing some of the sturdiness – go for graphite.
Handle
The handle grip should provide comfort as well as reliability. A non-slip grip handle is best for saltwater jigging, as the wet conditions may interfere with your jigging technique if your handle slips away.
Reel Selection
The two types of reels that are used for jigging rods are overhead and spinning reels. The choice is up to the preference of the angler. A spinning reel is better if you want a reel that is simple to use, doesn't need a lot of maintenance and is easy to cast.
An overhead reel is the better option if you want a reel that can hold more line weight, has more drag, and can be used for a wider range of fishing techniques.
Frequently Asked Questions
My Verdict
The key to prolonged and successful jigging lies in choosing the perfect rod. With the right jigging rod in hand, fatigue becomes a distant concern, allowing you to jig away for hours on end.
Critical factors like action, power, length, weight, material, handle, and reel selection will maximize your chances of success on your next jigging session.