We may earn a commission through products purchased using links on this page. Products or services advertised on this page may be offered by an entity that is affiliated with us. Learn more about our process here.
You can find crappie fish in lakes and rivers in every US state, and catching them is a thrilling sport for anglers all year round. These popular panfish taste amazing and are fun to catch on a boat, kayak, or even fishing from the shore. They love hiding out in reeds and wrecks, and having a portable fish finder on board can make catching them a whole lot easier. 
Fish finders use sonar technology to pinpoint schools of crappie, including their location, size, and depth – even in murky water. They can help you pick crappie from a school of bait fish and are a must-have for avid anglers looking for a trophy catch. Keep reading for our review of some best crappie fish finders features to look out for before buying one for your boat.
Best Crappie Fish Finder For Amateurs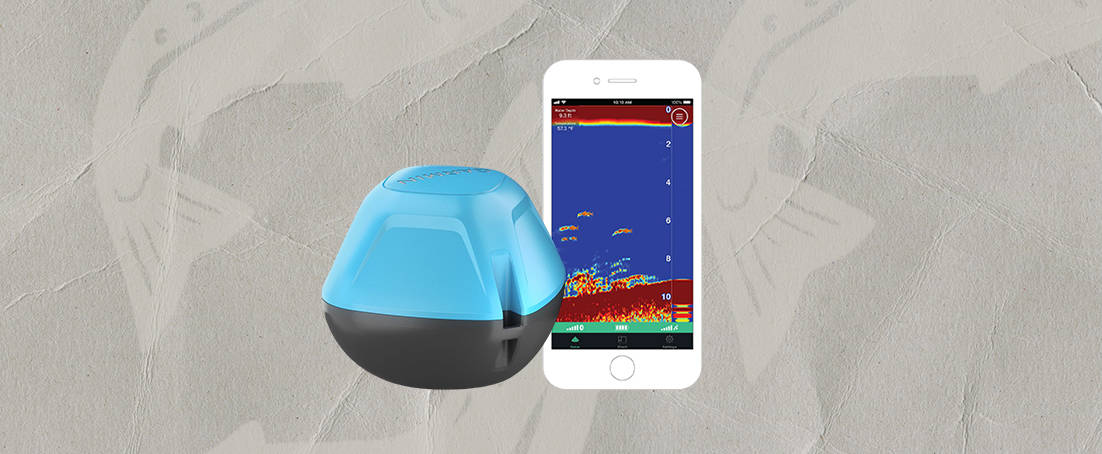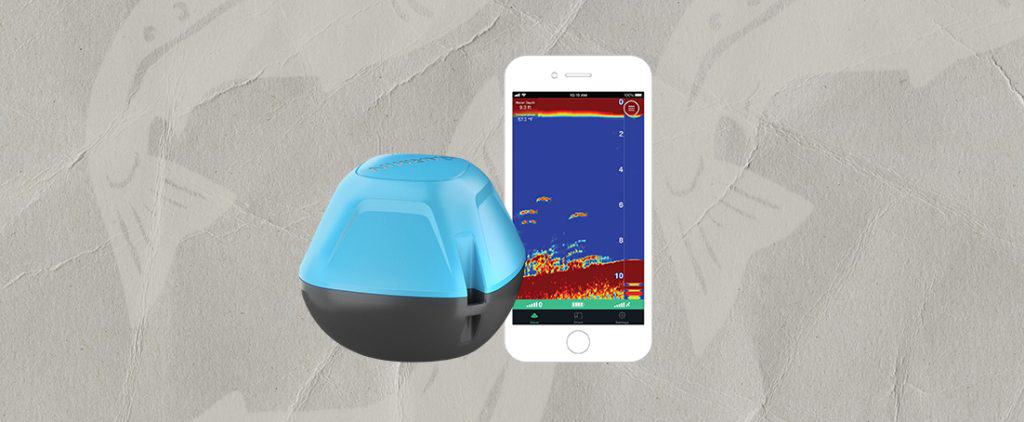 Garmin Striker Cast (GPS)
Best Easiest To Use Fish Finder For Crappie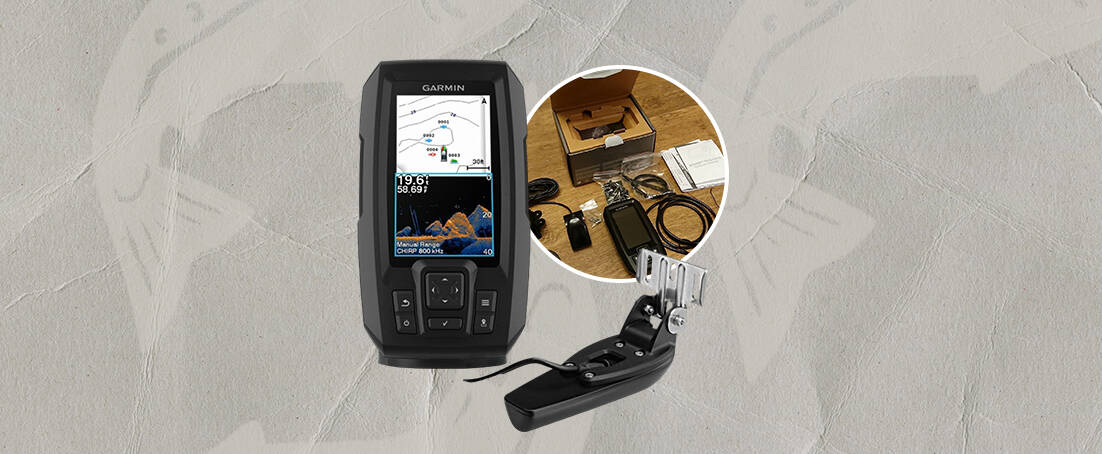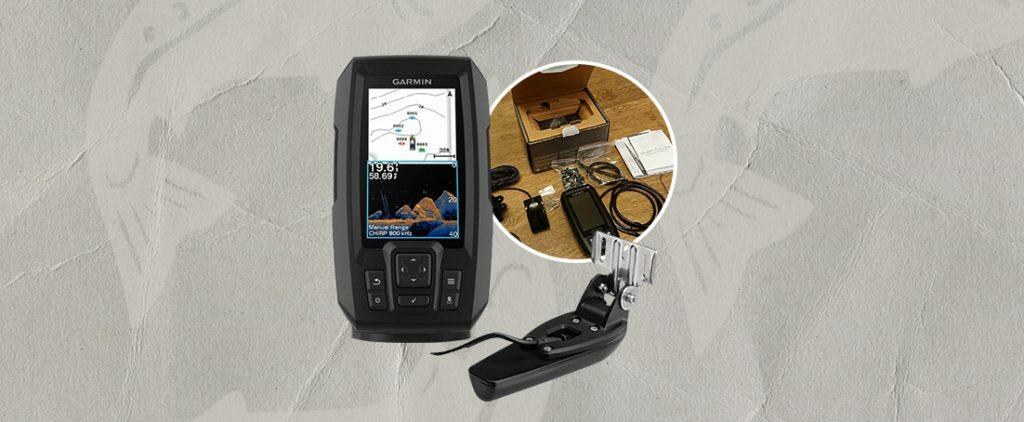 Best High-End Fish Finder For Crappie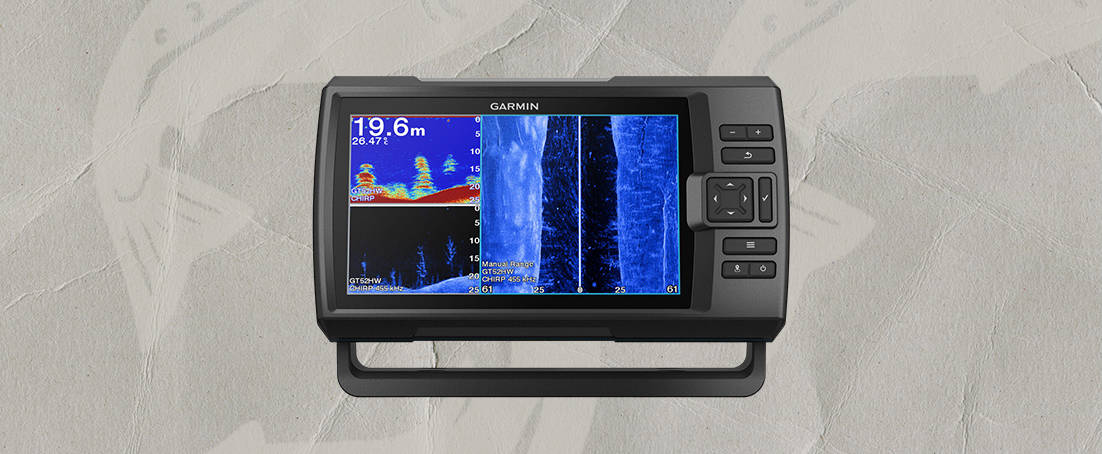 Quick Overview – Best Crappie Fish Finder
1. Garmin Striker Cast with GPS - Best Crappie Fish Finder On A Budget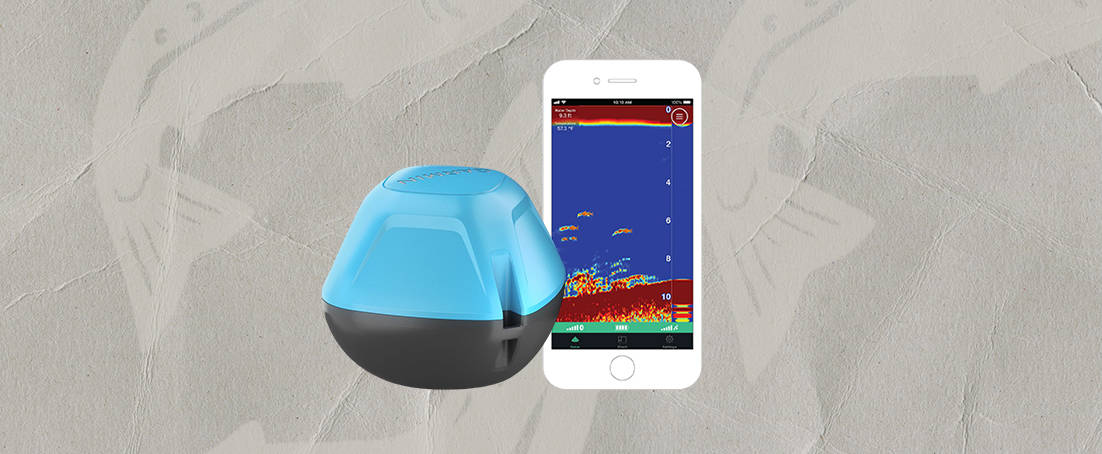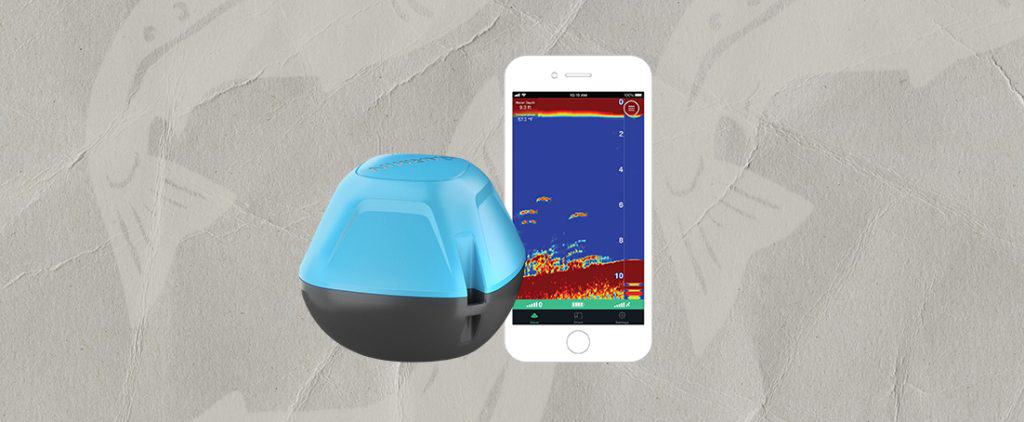 WHY WE LIKE IT: Garmin's Striker Cast is a truly portable fish finder that displays fish in an easy-to-read interface on your smartphone's screen. You can connect it to any iPhone or Android device using Bluetooth to stream sonar data up to 200 feet away. Its compact size and lightweight design are perfect for traveling anglers and those who enjoy fishing from a kayak or the shore – simply cast it out, find your fish, and reel it back in. One of the best crappie fish finder options to consider!
Display Size: N/A
Resolution: N/A
Frequencies: 260/455 kHz
Side Scanning: No
Down Imaging: No
Maximum Depth: 150 ft
Transducer Angle: 22° x 63° @260 kHz and 9° x 14°@ 455 kHz
Target Separation: 3/10
GPS: Yes
Maps: No
Easy to Use: 8/10
Other Features: 
Water temperature sensor, long-lasting battery, wireless connectivity.
Garmin Striker Cast with GPS offers over 10 hours of battery life between charges (which only takes about 90 minutes anyway), allowing you to fish all day without worrying about recharging. Its GPS functionality allows you to create your own HD maps of any body of water using Garmin's user-friendly Quickdraw Contours software. You can share your contour maps with other anglers on the app, which is a fun way to connect with the local anglers in any fishing town. 
The device is essentially a transducer with GPS functionality, and the display quality depends entirely on your smartphone's resolution. The Striker Cast's sonar capabilities are limited compared to high-tech CHIRP fish finders, although its dual-frequency 2D sonar does well in most crappie fishing environments. 
Although the 150 ft maximum depth doesn't compare with the Deeper Series' depth ratings, it is more than enough for finding crappie in most lakes and streams. It even has a built-in water temperature sensor to help you find where fish bite every season.

2. Garmin Striker Vivid 4CV Fish Finder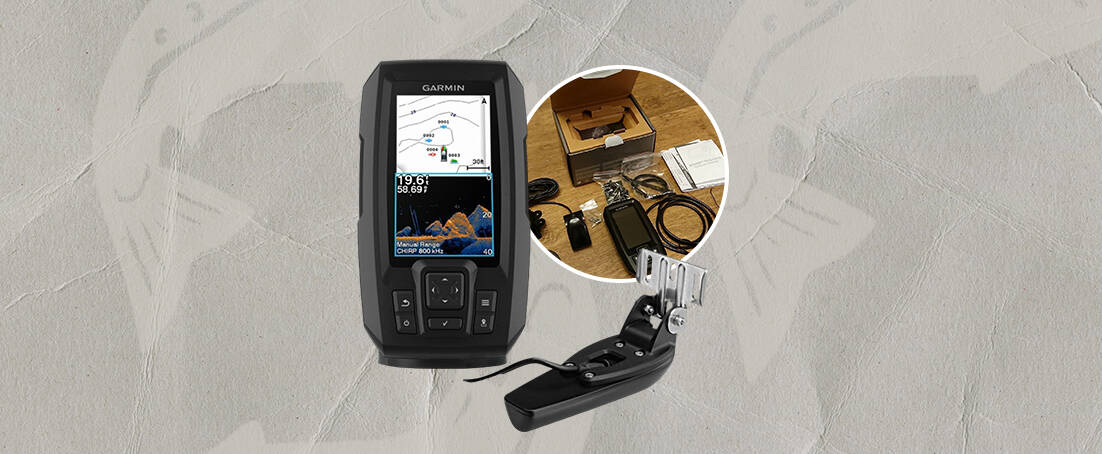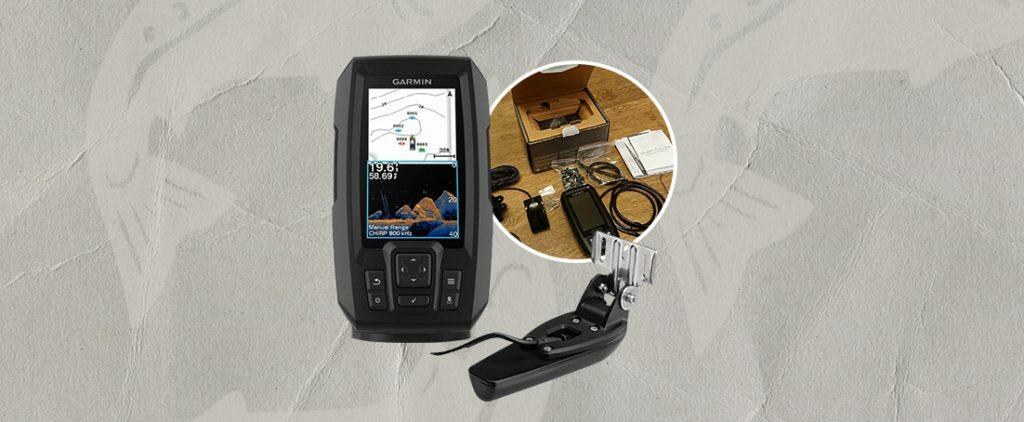 WHY WE LIKE IT: Garmin's Striker Vivid 4cv is a winner for portable fish finders at the lower marine technology price range. This impressive 4-inch fish finder includes a powerful transducer with CHIRP sonar capabilities and ClearVü down imaging for detailed views and excellent target separation. You'll be able to pick out individual crappies and other fish from the school and see them as pristine arches or fish symbols on the display.
Display Size: 2.1″ x 3.7″ (4.3″ diagonal)
Resolution: 272 X 480 pixels
Frequencies: 50/77/200 kHz CHIRP sonar + ClearVü at 260/455/800 kHz
Side Scanning: No
Down Imaging: Yes
Maximum Depth: 750 feet in salt water or 1,600 feet in freshwater
Transducer Angle: 45° @77 kHz and 15° @200 kHz
Target Separation: 8/10
GPS: Yes
Maps: No
Easy to Use: 8/10
Other Features: 
Water temperature sensor, split-screen zoom, A-scope, Ultrascroll.
Garmin's Striker Vivid 4cv has a flasher mode for ice fishing and A-scope functionality that catches fish swimming through the sonar beam in real-time. Its Ultrascroll feature allows you to scan the water while the boat moves without losing image quality. Its IPX7 water-resistant rating is higher than most budget-friendly fish finders.
The screen has seven vivid color options, so you can customize the display to suit your fishing style and any weather conditions. Its small size and easy tilt, and swivel mounting system make it perfect for kayaks and small boats with limited space on board. The Striker Vivid 4cv has the high-sensitivity GPS functionality we've come to expect from the leading navigation brand, and you can save up to 5000 waypoints and 100 routes on Quickdraw Contours.
The Striker Vivid 4cv may be small, but it packs a considerable punch when it comes to sonar imaging power. It's comparable to the Lowrance Hook range, although its maximum depth rating is not as impressive, especially for saltwater fishing. While this fish finder can go as low as 50kHz, it can only use CHIRP at mid and high frequencies, which could limit your beam angle and fishing depth.
3. Garmin Striker Vivid 9SV Fish Finder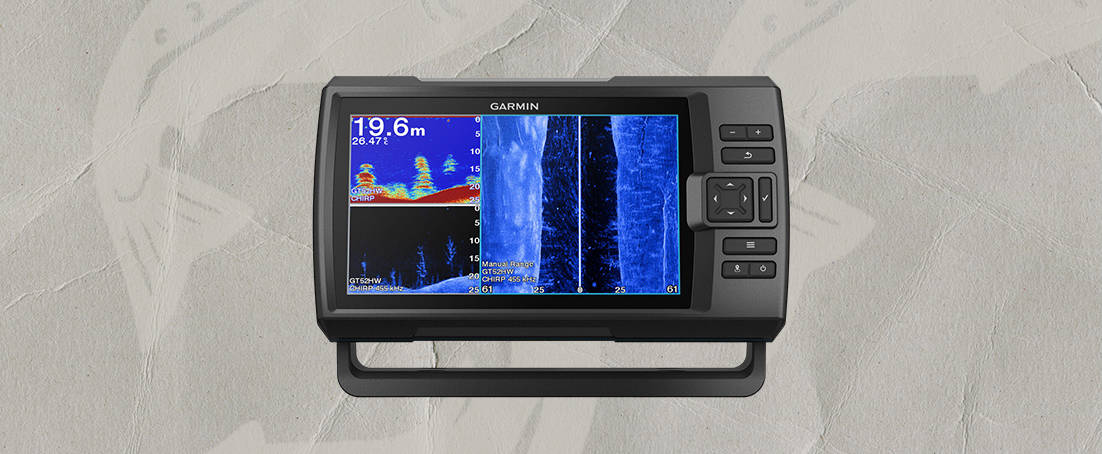 WHY WE LIKE IT: The Garmin Striker Vivid 9sv is a mid-range fish finder perfect for weekend anglers looking for a bigger screen and some extra sonar capabilities than a smaller budget model. The fish finder comes with the powerful GT52HW-TM Transducer with traditional and CHIRP sonar capability. It works at low and high frequencies ranging from 50 – 800kHZ, similar to other models in Garmin's Striker Vivid range.
Display Size: 4.4″ x 7.8″ (9″ diagonally)
Resolution: 800 x 480 pixels
Frequencies: 50/77/200 kHz CHIRP sonar + ClearVü and SideVü at 60/455/800 kHz
Side Scanning: Yes
Down Imaging: Yes
Maximum Depth: 800 feet
Transducer Angle: Traditional sonar: 24°-16°; ClearVü/SideVü: 2.0° x 50° @455 kHz and 1.0° x 30° @800 kHz
Target Separation: 8/10
GPS: Yes
Maps: No
Easy to Use: 8/10
Other Features: 
Bluetooth and wi-fi connectivity, A-scope, Ultrascroll
While the frequencies may be similar, the Striker Vivid 9sv includes powerful side imaging, or SideVü, technology to help you scan the water up to 250 feet on either side of your boat. This feature can help you locate nearby schools of fish or structures where they may be hiding from further away, saving you time spent searching unproductive waters.
The 9-inch screen features Garmin's most vibrant, crisp display with seven color settings to choose from and a great user interface that's easy to use. The unit does not have a touch screen display, which can either be frustrating or welcome, depending on your preferences as an angler. There are no pre-loaded maps or SD card slots, but it does work with the Active Captain app, allowing you to share and download user-generated maps with other anglers.
This mid-range fish finder is perfect for recreational fishing from the shore or on the water, but it won't do well at deep sea levels. If you like the size and sonar capabilities, check out the Humminbird Helix or Lowrance Elite FS range for comparable models.

4. Lowrance Hook Reveal 5 Fish Finder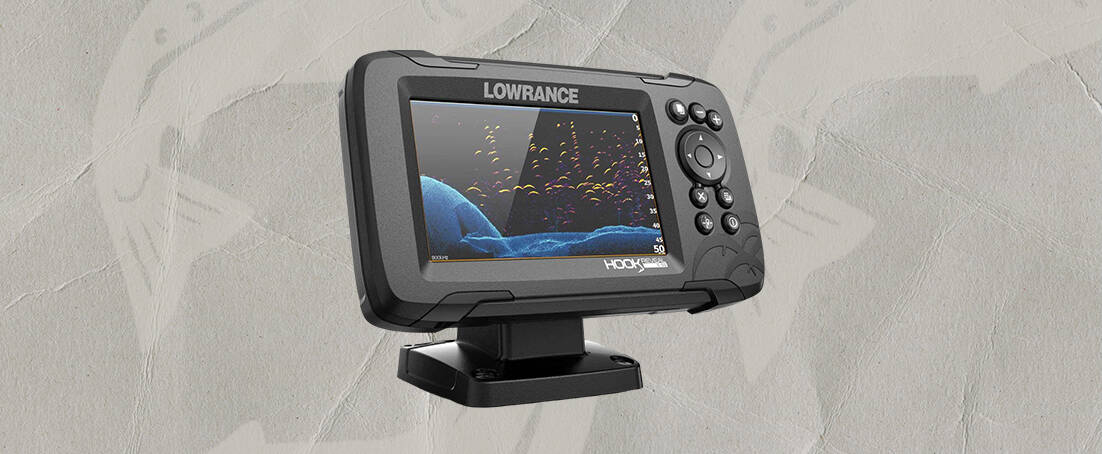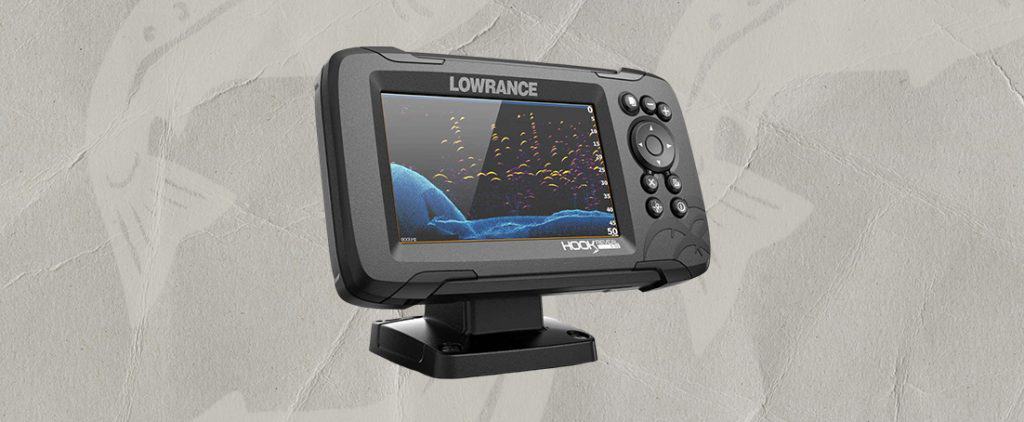 WHY WE LIKE IT: The Lowrance Hook Reveal 5 with SplitShot transducer is a powerful sonar fish finder in a compact, portable unit at an affordable price. The 5-inch display is ideal for small boats, although it can be challenging to use with multiple anglers on board. It does offer split-screen functionality, so you can compare zoomed-in areas of the water column with wider views or the 2D cone to what's directly under your boat.
Display Size: 5 inches
Resolution: 800 x 480 pixels
Frequencies: CHIRP @83/200kHz + DownScan @455/800kHz
Side Scanning: No
Down Imaging: Yes
Maximum Depth: 500 feet, 300 feet for DownScan
Transducer Angle: 5/3° @455kHz or 35/1.6° @800 kHz
Target Separation: 8/10
GPS: Yes
Maps: Yes
Easy to Use: 7/10
Other Features: 
FishReveal, anti-glare display, autotuning sonar 
The DownScan function offers a high-frequency down imagining capability that generates detailed images of shallow waters, perfect for freshwater fishing. While this model does not come with side imaging, you can upgrade your unit with the Lowrance Tripleshot transducer for extra sonar power. The impressive SolarMax screen is backlit and anti-glare for easy use in all weather conditions with a nifty night mode setting.
There is no touch screen, but there is a learning curve for the button interface. Once you've got it, it's easy to use and allows you to save up to nine custom pages on your home page. One of the best features of this device is the FishReveal feature that shows fish arches on your display in bright color when using the DownScan setting. 
It also comes with the C-Map Contour+ preloaded map pack that includes contours for over 15,000 US and 9,400 CA lakes! It's compatible with Navionics and C-maps and includes tides, currents, wayfinding, and route tracking. You can also create your own maps using Genesis Live.

5. Lowrance Hook Reveal 9 Fish Finder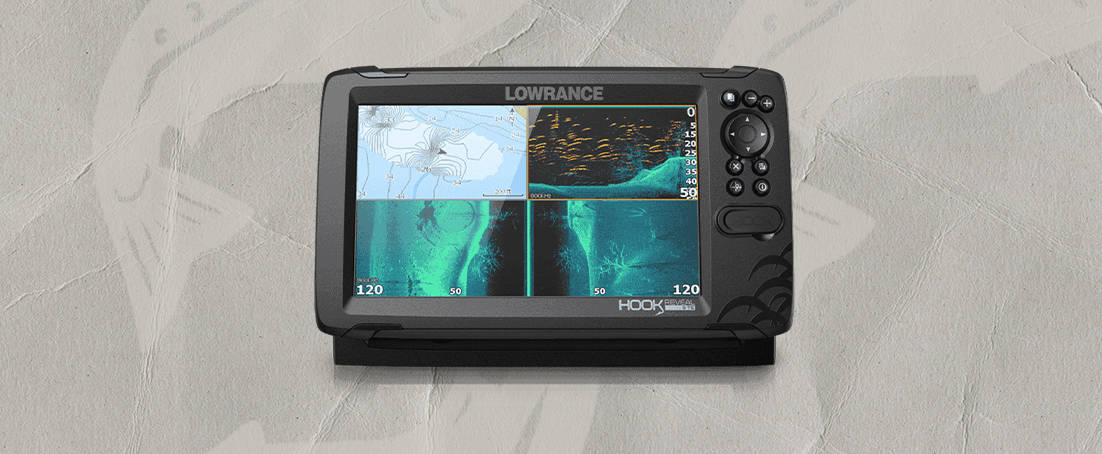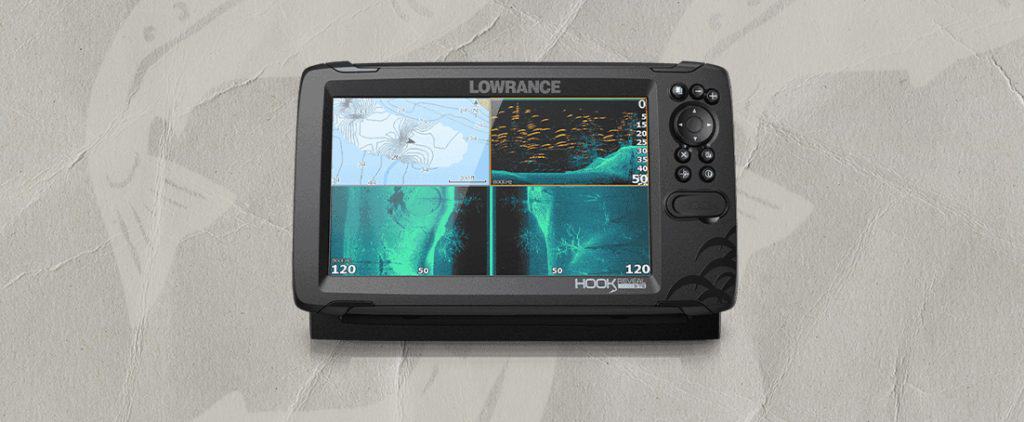 WHY WE LIKE IT: The Lowrance Hook Reveal 9 with TripleShot transducer is the brand's most powerful sonar fish finder yet, with 2D CHIRP sonar, down imaging, and side-scanning capabilities. The Hook Reveal 9 has a large display with split-screen functionality that allows you to zoom in and change views on one display. It's perfect for bigger fishing parties, and you can even save your screen settings for later! 
Display Size: 9 inches
Resolution: 800 x 480 pixels
Frequencies: CHIRP @200kHZ + DownScan and SideScan @455/800kHZ
Side Scanning: Yes
Down Imaging: Yes
Maximum Depth: 500 feet, 300 feet for DownScan
Transducer Angle: 44° @200 kHz or 55/2.5° @455 kHz and 35/1.5° @800 kHz
Target Separation: 8/10
GPS: Yes
Maps: Yes
Easy to Use:
Other Features: 
FishReveal, anti-glare display, split-screen function, autotuning sonar, temperature sensor
This fish finder comes pre-loaded with thousands of inland fishing maps for US and Canadian lakes and allows you to save your favorite fishing spots and build custom maps on Genesis Live. The FishReveal feature is excellent at highlighting fish arches on the map even when using SideScan or DownScan, and the high-performance imaging technology can quickly identify individual fish among schools and structures. 
Its 500 ft depth capacity is perfect for freshwater fishing, and the auto-tuning sonar switches frequencies seamlessly according to your depth. With this fish finder, you can quickly and comfortably view large underwater areas – the SideScan feature can map up to 300 feet on each side of your boat.
It has a transom mounting system and is relatively easy to install, making this the best all-around fish finder for crappie anglers looking for versatile sonar technology, high-quality imaging, and supreme navigation.

What We Consider When Selecting a Fish Finder for Crappie Fishing
Target Separation
The target separation value is the distance at which your fish finder recognizes two underwater objects as separate items. Lower target separation means the transducer can locate individual fish in a crowded school, which can be helpful when fishing for crappies among bait fish. Fish finders with higher target separation might display a school of fish as one large mass on the screen. 
Transducer Beam Angle
Transducers typically emit cone-shaped sonar beams that can be narrow or wide depending on the beam angle. Wider angles (>45°) allow you to see a larger area under the boat, while tighter angles (<30°) show you narrow sections of the surrounding water. 
Transducer beam angle and frequency work hand in hand to help you hunt crappie – sharp angles are best for fishing among wrecks and reeds at high frequencies. Wide beam angles pair well with lower frequencies if you're crappie fishing in open water.
Transducer Power
Transducer power is measured in watts – higher power transducers (1kW/ 1,000 watts) use multiple elements and are more sensitive than lower-power systems (600 watts). Using a 1kW transducer can help you get clearer returns and more detail at low frequencies when fishing in deep water. Most transducers have a power range that automatically adjusts to your frequency and depth, and a standard 600-watt fish finder should work well for catching crappie in shallow water.
Side Imaging Sonar
Fish finders with side imagining sonar send signals to the left and right of your boat, giving you an overview of the surrounding waters. Side imaging is good at spotting structures, weed beds, and boulders but isn't ideal for identifying individual fish. While side imaging technology can help you locate nearby schools from afar, it's more of a bonus feature and not essential for crappie fishing. 
Frequency
Low frequencies (50 – 80 kHz) penetrate the water better than high frequencies (200 – 250 kHz), helping you find fish lower down. Although low frequencies work better for fishing in deep water, they won't provide as much detail as high frequencies, which are better at reading fish size and location.
Fish finders with dual-frequency sonar emit high and low-frequency pulses simultaneously, giving you the benefits of both. CHIRP sonar (compressed high-intensity radar pulse) can send a wide range of frequencies at once for more detailed information and better fish finding at all depths.
Down Imaging
Traditional 2D sonar (including CHIRP) sends cone-shaped sonar pulses into the water, allowing you to see a circular area under your boat. Down imaging sonars, on the other hand, sends out a narrow sonar beam directly downwards, generating a detailed cross-section of the water below you. This technology is perfect for revealing crappies hiding among reeds and rocks.
Maximum Depth
Choose a fish finder with a maximum depth that matches your fishing habits. Crappies usually spawn in shallow waters around 2 – 3 feet deep and retreat deeper (20 – 40 feet) in winter. Most crappie anglers do well using a portable fish finder with a maximum depth of 100 feet, but investing in something that can scan deeper waters may be worthwhile for saltwater fishing.
Display Size and Resolution
Fish finders usually come with 5 – 12-inch digital displays that map out the water below you – larger screens are easier to read but can also be more expensive. Screen resolution is measured in pixels and refers to how much detail the fish finder can display and the quality of the picture on the screen. We recommend choosing a fish finder with a combination of high resolution and adequate screen size. Many models also have anti-glare or grease-resistant screens as an added benefit.
GPS and Maps
Getting a fish finder with GPS functionality means you can navigate with ease and save crappie honey holes on the map to revisit later. Look out for fish finders with an SD card slot, so you always have enough space to save your favorite routes and waypoints while exploring the water. If you want to save time and get straight to catching crappie, a model with preloaded maps will indicate nearby drop-offs, ledges, and cover where the fish could be hiding.
To explore a range of fish finders equipped with GPS capabilities, check out our guide on fish finders with GPS. These devices can enhance your fishing experience by helping you navigate and pinpoint the best spots for catching crappie and other fish species. 
Cost
Fish finders can be game-changing for anglers, and it's worth investing in a high-quality model that will last you a long time. The best fish finder for crappie fishing isn't necessarily the most expensive on the market. Do your research before buying to know which features are worth the splurge and which ones you can skip. A mid-range fish finder with down-imaging, GPS, and CHIRP sonar is a great place to start. Also check, our best fish finder for the money guide to get a list of over 20 fish finders by the most popular brands.
Frequently asked questions about best fish finder for crappie