We may earn a commission through products purchased using links on this page. Products or services advertised on this page may be offered by an entity that is affiliated with us. Learn more about our process here.
The walleye is part of the cunning perch family of fish species. That's why the excitement associated with ice fishing for walleyes is irresistible. However, you need the right rod to catch this fish.
Deciding which one is the best ice fishing rod can sometimes be quite difficult. You'll have to keep an eye on the length, quality, action, materials, etc.
In this article, you'll learn about the best walleye ice fishing rods you can find on the angling market, how to use them effectively and enjoy your icy walleye adventure.
Top 3 Best Ice Fishing Rods for Walleye
Best Overall Ice Fishing Rod for Walleye
13 Fishing – Microtec Walleye
2nd Runner-Up for Walleye Ice Fishing Rod
Abu Garcia Vendetta Ice Spinning Rod
Best Walleye Ice Fishing Rod Combo
Shakespeare Ugly Stik GX2 Ice Fishing
Quicklist of the Best Walleye Ice Fishing Rods for the Money
Walleye Ice Fishing Rod Recommendations (Tried & Tested)
13 Fishing - Microtec Walleye Ice Fishing Rod
WHY WE LIKE IT: This Microtec Walleye Ice Fishing Rod is famous for its stainless steel guides and carbon fiber materials, giving anglers a unique combination of performance and durability. It's highly effective with braid, mono, and fluoro fishing lines.
Colors: Green/Gold
Length: 28 inches
Materials: Aluminium, Fiberglass, Stainless Steel
Weight: 10 ounces
BUYING ADVICE: When looking for an extra high-quality rod that has stellar features for a good price, the 13 Fishing – Microtec Walleye should do the trick. We've been fishing with this rod for a while, particularly with the medium-heavy power one, and we routinely pull in bigger walleye.
FEATURES: The 13 Fishing – Microtec Walleye rod has a 3BB reel, soft-touch handle knob, and stainless steel guides, making it light and comfortable for the hands. The rod also has an aluminum spool, solid fiberglass blanks, and a custom handle design for various walleye applications, such as full grip, dead stick, and split grip.
Add to this the affordable price, and you have everything you need to make your next fishing trip a success. Get out there and catch some big walleye.
Abu Garcia Vendetta Ice Spinning Rod for Walleye
WHY WE LIKE IT: The Abu Garcia Vendetta is unique because it enables excellent sensitivity and exquisite spinning actions. It's very comfortable for walleye ice fishing, and the length of 25 inches makes it an ideal choice as a medium-light rod.
Colors: Multicolored (black)
Length: 25 inches
Materials: Solid carbon, high-density EVA, and stainless steel
Item Dimensions: 2 x 1.25 x 20.5 inches
BUYING ADVICE: If you're considering a rod that's good for spinning and catching walleye particularly, then you won't be wrong for choosing this one. The Abu Garcia Vendetta Ice Spinning Rod allowed us to enjoy some of the best ice fishing moments mainly because of the precision design and EVA handles.
It is also quite affordable and durable – we've tested it in several water areas and weather conditions, including many-a sketchy ice holes.
FEATURES: The Abu Garcia Vendetta Ice Spinning Rod has a solid carbon blank for sensitivity. As for durability, it has stainless steel guides with stainless steel inserts. The EVA handles add even more to your casting's comfort.
Best Combo Walleye Ice Fishing Combo - Shakespeare Ugly Stik GX2 Ice Fishing
WHY WE LIKE IT: The Shakespeare Ugly Stik GX2 is ideal for walleye ice fishing because of its outstanding design with an upgraded graphite body and a cold-forged aluminum spool. It is also quite powerful and performs great at spinning. The rod tip is also hard and very durable for all ice fishing conditions.
BUYING ADVICE: A highly versatile and good-quality rod will give you the chance to catch tons of walleye. The Shakespeare Ugly Stick GX2 has all the necessary boxes checked so you can have a fruitful fishing trip. However, this rod is not for fishermen that plan on reeling in a heavy catch.
We managed to get walleyes down the icy lakes and ponds. But we also caught other fish species, including panfish and bass.
FEATURES: Shakespeare designed the 20-spinning reel with one ball bearing and twist lock reel seat, making it great for ice applications. The EVA handles contribute more to uninterrupted and comfortable ice fishing.
Fenwick HMG Ice Spinning Rod
WHY WE LIKE IT: The Fenwick HMGIf is the best ice fishing rod for blank contact and lighter jig-fishing action. This ice-spinning rod has a solid backbone to land you plenty of big walleyes.
Colors: Black, Cork
Item Dimensions: 3 x 2.8 x 71 inches
Materials: Premium cork, stainless steel, solid carbon
BUYING ADVICE: If you want medium-light power and fast rod action that is perfect for catching bigger fish, you shouldn't hesitate to buy the Fenwick HMG Ice Spinning Rod. The rod is quite affordable and made from quality materials that are durable and provide incredible sensitivity.
We've been fishing with the HMG Ice Spinning Rod for years and caught many big walleyes without any breakages or damage to the rod.
FEATURES: The Fenwick HMG Ice Spinning Rod has a premium cork handle with TAC trim and solid carbon blanks for greater sensitivity. The stainless steel guides are quite light, allowing the rod to be sensitive but still powerful.
St. Croix Rods Custom Ice Fishing Rod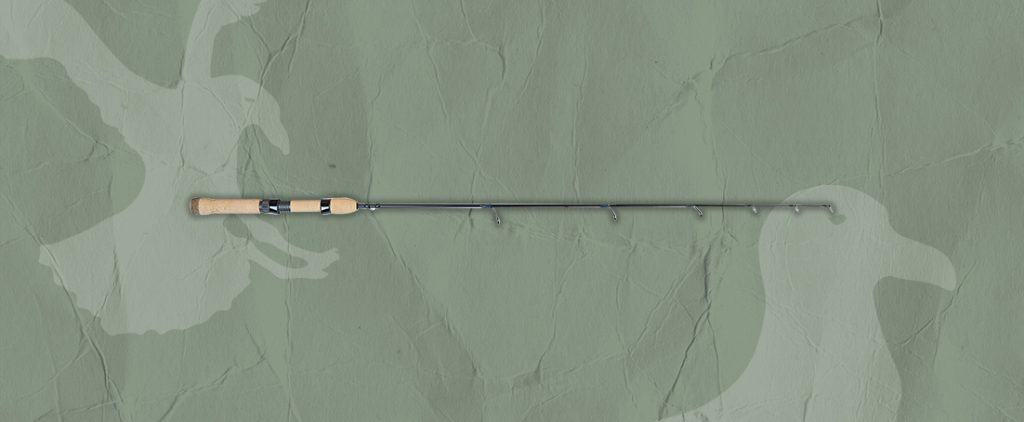 WHY WE LIKE IT: The rod's fine-tuned performance and durable materials make the St.Croix Custom Ice Fishing Rod one of the best fishing gear we've had. It has recoil guides for a smooth return to position and split-grip cork handles for all-day comfort.
Colors: Black, Cork
Style: 7 available, including Medium/X-fast, Medium-light/Fast, and Medium/Moderate
Size: 5 available, including 28-inch, 30-inch, 32-inch, and 36-inch
Materials: Carbon, cork, recoil
BUYING ADVICE: If a customizable rod (to some extent) is what you need, then the St.Croix Custom Ice Fishing Rod is a good place to start. It might seem expensive, but the durable carbon blanks and the cork handles will last you for years. Furthermore, we've witnessed how delicately the rod is designed and how you can use the hi-vis tip to detect even the tiniest movement of the lure.
FEATURES: The manufacturers used solid glass and carbon materials and applied two slow coats of Flex-Coat cure finish. Added to this is the in-built proprietary blank technology giving more extreme performance.
Best Budget Ice Fishing Rod for Walleye - Plusinno Ice Fishing Combo
WHY WE LIKE IT: The Plussinno Ice Fishing Combo rod is quite versatile. It comes in 3 sizes with three available rod powers. This gives you the freedom to choose – all for an affordable price. Moreover, this rod is highly sensitive and has a smooth reel and super-smooth guides.
Colors: Black/Red
Size: 3 available, including 27" Medium Light Power and 26" Light Power
Material: Fiberglass
BUYING ADVICE: When on a budget but still looking to get a good quality rod, the Plusinno Ice Fishing Combo is one of the best. It's ultra-light but sensitive and strong.
We've felt the quality of the super smooth guides and soft Eva grips firsthand. The Plussino Ice Fishing Combo Rod is comfortable, durable, and provides great action when coupled with some of the best ice fishing lures.
FEATURES: This rod comes with fast action tip and is made from highly durable fiberglass, giving it enough sensitivity and power for any ice fishing trip. But what makes this rod unique is the fact it comes as a full ice fishing kit. Instead of purchasing the rod and lures separately, you can get everything at once, including a reel line and lure set.
Criteria to Consider When Choosing an Ice Fishing Rod for Walleye
Type Of Rod
The first thing you should keep in mind is choosing the right type of ice fishing rod. Different ice rod types apply to different species. For example, if you target fish like panfish, walleye, trout, and perch, then you should buy light or medium power ice fishing rods. On the other hand, you can use heavy power rods for catching pike and musky.
Materials
The materials are another criterion when considering which walleye rod to buy. For example, most of our listed rods have carbon, stainless steel, EVA, and cork design. The quality of the materials is crucial to avoiding corrosion and damage while improving comfort and durability.
Length
The length is also crucial in picking the right walleye ice fishing rod. Most professional anglers recommend a walleye rod between 25 and 27 inches. However, you can adjust the length according to your preferences – whether you want to catch bigger or smaller fish.
Action
The action can be defined depending on where the rod bends. For instance, if the ice rod bends at the tip, you have an ultra-fast action rod. On the other hand, if the rod bends to the bottom of the handle, you have a slow-action rod.
Power
Power is another of the key criteria for choosing the most suitable walleye rod. Anglers relate the rod power to the amount of force for bending the blank. For ice fishing, there are 4 rod powers: ultra-light, light, medium, and heavy.
Rod Handles 
The ice fishing rod handles are also important in choosing the right rod. The foam and plastic handles are the least sensitive and don't help you catch walleyes on a cold winter day. That being said, cork and soft EVA handles are incredibly effective for sensitivity and fast noticing of the slightest rod movements.
Types of Walleye Ice Fishing Rods 
There are 4 main used types for walleye ice fishing rods that include:
Jigging Rods
Spinning Rods
Rigging Rods
Trolling Rods
Frequently asked questions