We may earn a commission through products purchased using links on this page. Products or services advertised on this page may be offered by an entity that is affiliated with us. Learn more about our process here.
The ultimate angler's satisfaction is calling it a day after catching a one or two-pounder. Take it from us — if you want to make sure you've pulled all the stops to catch a bass, stick to the basics — use smaller lures to catch smaller bass and go for the bigger lures to lure in some heavy-weights.
With all the lure options on the market today, newbie anglers might easily become frustrated not knowing what lures to use for largemouth bass. But most fishing enthusiasts we know become baffled when it comes to largemouths or bass in general.
You won't want to miss this article — scroll down for the ultimate list of the best lures for largemouth bass and find out what is the best largemouth bass lure.
Top 3 Largemouth Bass Lures
Editor's Choice Largemouth Bass Lure
Best Rated Largemouth Bass Lure
Best Value Largemouth Bass Lure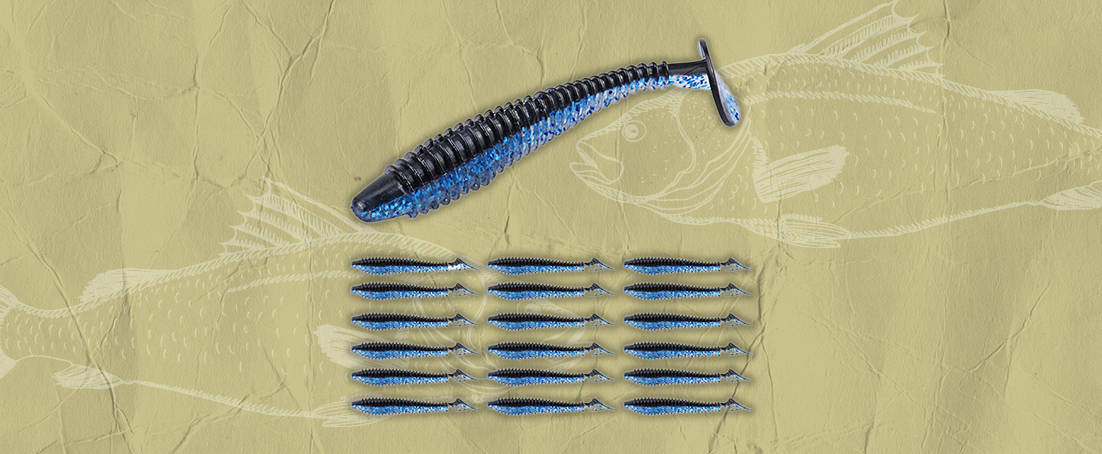 9 Best Largemouth Bass Lures
WHY WE LIKE IT: The Booyah blade is the perfect combo of bubble trail, vibration, gleam, and sound — all of it makes it the ultimate bass catcher and the best largemouth bass lures for most anglers.. The Booyah Blade is a super durable lure and comes with a lasting skirt made of silicone. Plus, the nice-looking metal plates will gleam through the water and call on to bass in no time.
Color: 12 options (Perch, Gold Shiner, Wounded Shad, etc.)
Material: silicone, stainless steel
Weight: 0.04 pounds
Fishing technique: spinning
OVERVIEW: This is the best largemouth bass lure as your go-to choice if you enjoy bass fishing early in the morning when the water is still cool. If you prefer the spotted bass, go for the all-white lure or a white, glittery one. It will call to the sleepy bass down below in an instant. Due to its easy-to-use design and feel, female anglers are also no strangers to the Booyah Blade — one of the best bass fishing lures on the market today.
FEATURES: Since it's super easy to use, the Booyah Blade is a good fit for every skill level. Even if it's super lightweight, it can still reel in some large catches and is perfect for milky waters. The skirt made of silicone is super durable, but you can trim some of it if you like your spinnerbait shorter.
Reaction Tackle Tungsten Football Jig
WHY WE LIKE IT: First up on our list is the football jug made of tungsten. It's an excellent option for off-ledge fishing and fishing in rocky areas. The variety of colors makes it easy to choose the right lure equipped with weed protection to catch nothing but bass. Thanks to the material used, you can easily sense the traction. This is also the best largemouth bass lures from user reviews.
Color: 11 options (Candy Craw, Tennessee Shad, Bluegill, etc.)
Material: Tungsten
Weight: 0.031 pounds
OVERVIEW: Every pro angler should have the tungsten football jig in their tackle box. Considering the price, this jig is one of those lures that'll give the most bang for your buck. It's super responsive, so you will easily maneuver it across different bodies of water that makes it the best largemouth bass lure.
FEATURES: The fact that the tungsten football jig is made from tungsten makes the lure pretty tactile and responsive. You can feel it gliding through every rock and gravel at the bottom of the river. Plus, its variety of colors is perfect for choosing the exact lure for a largemouth, a smallmouth, spotted bass, and so on.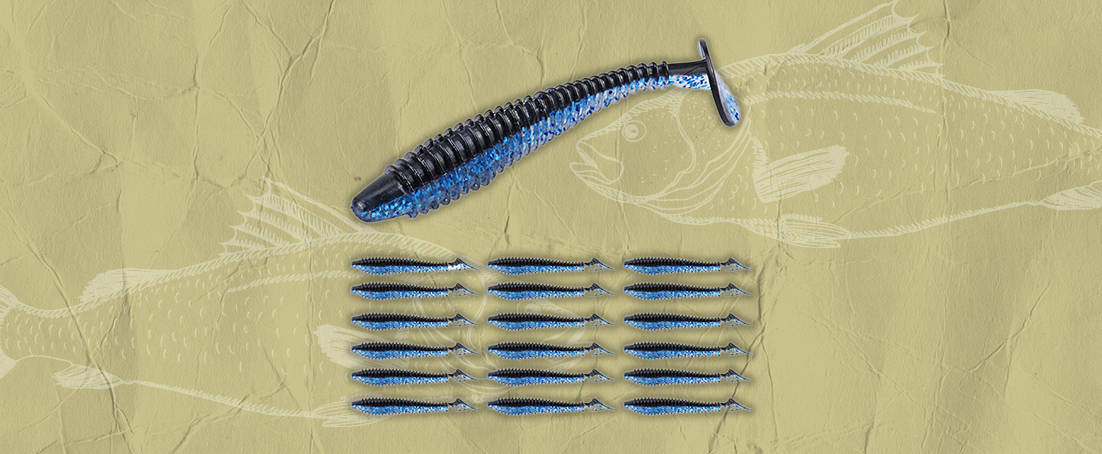 WHY WE LIKE IT: Seasoned anglers appreciate a nice swimbait because it comes with a natural rolling action. Plus, the lifelike design mimics natural bass food, attracting both largemouth bass and smallmouth bass.
Color: 20 (black-blue, brown jelly, Mist Shiner, etc.)
Material: Plastic
Fishing technique: casting
OVERVIEW: Bring a few of these swimbaits in your tackle box if you set out for largemouth bass fishing. Large fish can destroy the bait, so you need to replace it. Plus, since the RUNCL Swimbaits come in bundle packs, you'll always have a backup nearby.
FEATURES: As opposed to skirted baits, the RUNCL Swimbaits come with a paddle tail that won't get stuck in weeds or twigs, so there's practically no snag. If you want a variety of colors, than this is the best largemouth bass lure out there.
Strike King Pro Model Series 8
WHY WE LIKE IT: Here's a bass lure perfect for deep diving and catching massive bass. It goes as deep as 20 feet and is super fast – making it the best largemouth bass lure out there. The pro model comes as chip-resistant, so don't worry about replacing it any time soon. The design of the crankbait allows for awesome wobbles that will attract lots of curious bass.
Color: 3 options (Natural, Green Gizzard Shad, Summer Sexy)
Material: Synthetic
Weight: 0.09 pounds
OVERVIEW: If you're anything like us and enjoy fishing in milky waters, you'll pick the citrus shad or the powder blue-black chartreuse — these are awesome for low-visibility waters. However, rookie bass fishermen should probably start with another lure. Those who see this lure as slightly heavy on the budget should know you'll really get your money's worth with this little stinger. This is also the best largemouth bass lure for deep diving.
FEATURES: Since colors and patterns are huge in largemouth bass fishing, you won't have an issue with the paint chipping or the color fading. The wobbles this lure makes will awaken even the sleepiest of muskies. If you're after catching largemouth bass later at night, the Strike King PRO is one of the best bass lures you can get.
WHY WE LIKE IT: The Rapala jerkbait is easily among the top largemouth bass lures  because of the quality. It'll do its magic in small bodies of water. Plus, you won't believe how aggressively you can use it. Cast it off and see if it goes as deep as 8 feet. I bet you rookie anglers won't be able to tell this bait apart from live bait. Plus, pro anglers consider the Rapala X-Rap 08 perfect for catching bass.
Color: 7 options (Hot Steel, Glass Ghosts, Rainbow Trout, etc.)
Material: blend
Fishing technique: casting
OVERVIEW: When fishing with this lure, make sure you do it in clear water with not too many stumps and rocks. You've found a sweet deal if you can find it under $10. Largemouth bass doesn't resist the Rapala X Rap, especially the Hot Steel color.
FEATURES: The Rapala is one of those lures attracting diverse fish. As small as it is, it has a nice buoyancy as it rests, but it dives deep on the retrieve. The seven color options are enough to allow you to catch bass like a pro.
BOOYAH Counter Strike Buzz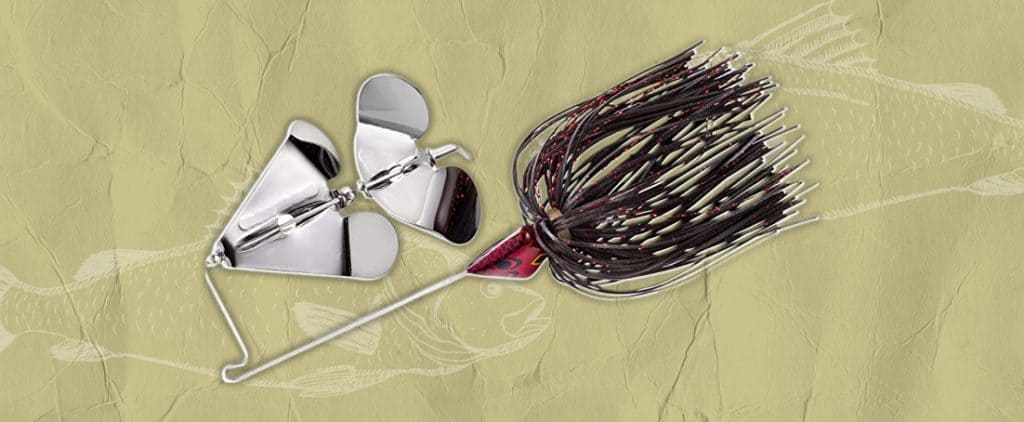 WHY WE LIKE IT: The Booyah Counter Strike is one of those super stable buzzbaits with amazingly realistic features. Pair that with the distinctive sound it makes, and you get a fast-attracting buzzbait. Largemouth bass won't resist the sweet music these bass lures make.
Color: 4 options (Luna, Alpine, Limesicle, Glowbee)
Material: silicone
Fishing technique: spinning
OVERVIEW: We deem it one of the best buzzbaits for bass. If you rather fish in shallow bodies of water, this is your go-to lure. The variety of color options makes it a good largemouth bass lure fit for largemouth bass fishing at any time of day.
FEATURES: The Booyah Counter Strike is easily one of the most distinctive lures out there. Even though there are only 4 color options to choose from, they are enough to trigger strikes. Spin this silicone baby and brace yourself to fight a musky.
WHY WE LIKE IT: Pro anglers that enjoy a nice fishing challenge will choose animated lures to enlarge their catch portfolio. An animated lure is excellent for catching largemouth bass, even if the giant lounges deep in the water. Animated lures are electronically programmed to mimic real fish and life-like swims.
Color: 30 skin options (Green Dart, Baby Toad, Black Dart, etc.)
Material: ABS, anti-corrosion stainless steel
Fishing technique: trolling, casting
OVERVIEW: If you're a pro angler looking to explore more bass lure options, try the automated lure. Cast it off like a bullet and see it work its magic. The high-quality build will make up for the price if you find it on the upside.
FEATURES: This bass lure is incredible for creating massive vibrations, and its glowing, flashing LED eyes make it an excellent option for bass fishing in muddy eaters and covers. It has a USB cable for charging, so always top it off before casting.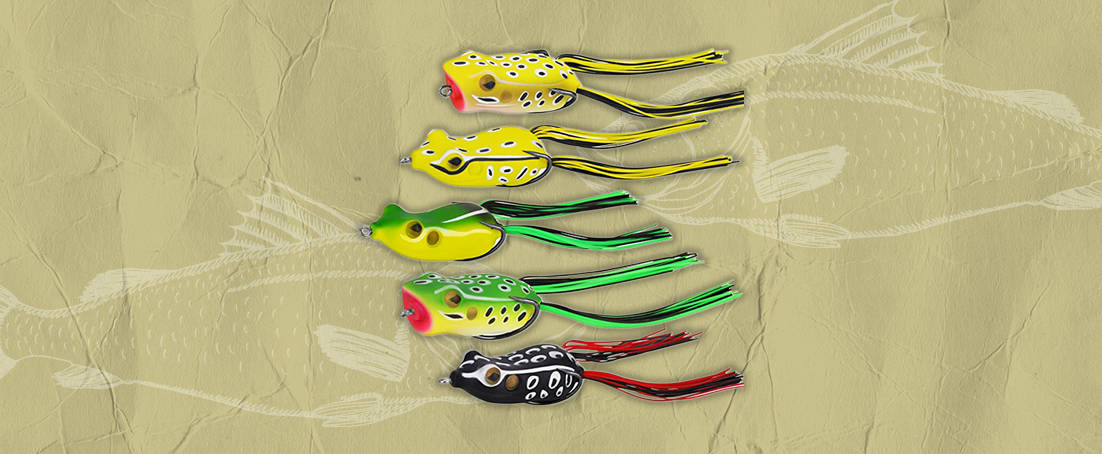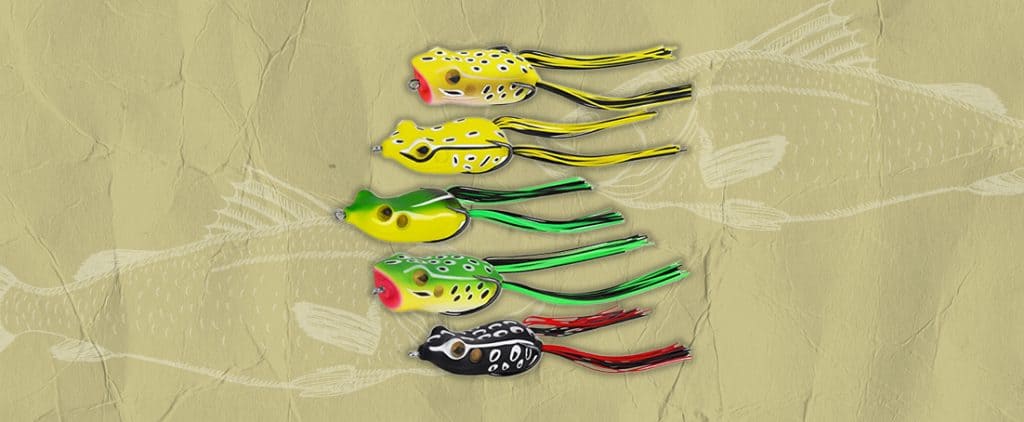 WHY WE LIKE IT: As the best topwater lure on this list, the MadBite will easily glide left and right on the water's surface to attract that curious bass. You don't have to be a pro to work with this bass lure — cast it off and see it swirl.
Color: 10 options (Green Dart, Baby Toad, Black Dart, etc.)
Material: Silicone, Wood, Polyvinyl Chloride
Fishing technique: spinning, casting
OVERVIEW: Some might find it a bit overpriced, but those who know its features will find the MadBite topwater lure a great value for the money. Our fellow anglers have used it around lily pads and attracted quite a few bites.
FEATURES: The lightness of the lure makes the MadBite a great bait for topwater fishing. Plus, with a design that makes this lure wiggle like crazy, you can be sure to catch some massive largemouths.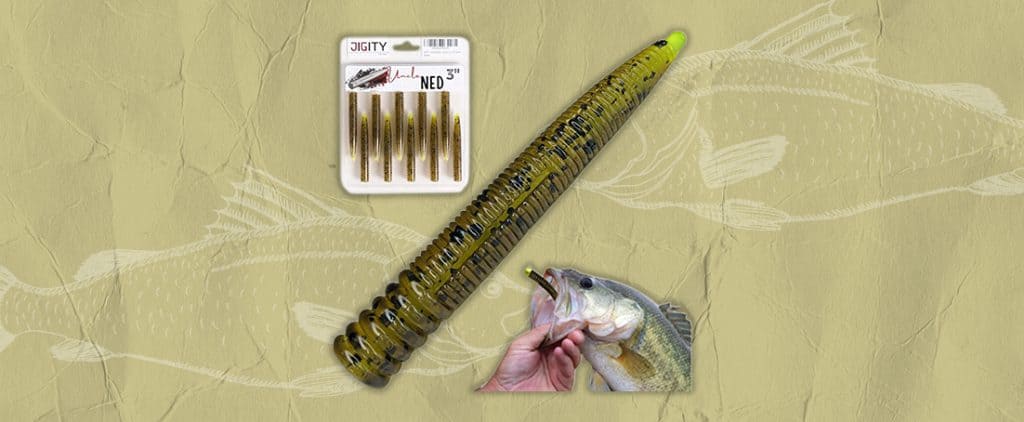 WHY WE LIKE IT: The Jigity ned rig bait is a fantastic choice during late summer and early fall when fishing can be a bit of a pickle. Ned rig is a finesse technique that suits the Jigity bait perfectly.
Color: 13 color variations (Black Blue Flk, Door Hinge, Ghost Spark, etc.)
Material: Plastic
Fishing technique: spinning, casting
OVERVIEW: Whether you are a pro or a rookie looking to reel in a musky or a spotted bass, give this squishy worm a go. You won't be disappointed by its price — for a pack of 10 baits, it's super affordable and for this reason we think that this is the best largemouth bass lure for beginners who are on a tight budget.
FEATURES: The Jigity Ned rig bait comes in various colors and will accommodate your wildest angler dreams. Choose your fave color, add a scent of preference, or use it as-is. It's one of those best big mouth bass lures that you can use in top water every day.
Artificial Largemouth Bass Lures Types
Jigs
The most noticeable trait of a jig is the weighted head on one side and a pointy hook on the other. Jigs can come with silicone skirts or plastic grubs that float nicely on the water's surface.
In general, among experienced anglers, jigs are deemed one of the most sought-after fishing lures. The fact that the jig weight ranges from 1/64, 3/8, 1/2, 1/32, 1/8, 1/16, 1/4, and 3/4 ounces makes it sink perfectly. Thus, the jig is an awesome choice for bass and other fishes that feed deeper underwater.
Crankbaits
Otherwise known as plugs, the crankbaits are lures made of sturdy plastic that take the form and color of bait fish and other prey bass feed on. Crankbaits can be made from a solid piece of plastic or a hollow one.
In addition, the front of the bait usually contains a slight blade-like piece of plastic or metal — called a lip. You can adjust the lip to swing the bait back and forth in some crankbaits. You can use this artificial bait in shallow grass waters and expect to lure in more fish.
Crankbaits come with a couple of treble hooks, and, depending on the design, these baits can either sink, dive, float, or hover. A crankbait (or a lipless crankbait) attracts bass no matter the season or the fishing situation.
Spinnerbaits
What separates spinnerbaits from the other types is the ability to move in the water in a horizontal direction. You can find a variety of spinnerbait colors and shapes, depending on the depth you're looking to fish in and the type of species you seek.
The design of a spinnerbait is that of a skirted hook on one of the sides and one or two metal blade-like sheets that rotate on the opposing side. When the blades spin, they create massive, bass-attracting vibrations that can awaken even the sleepiest of bass.
Plus, depending on the blades' color, a reflection in the water appeals to largemouth bass even more. Spinnerbaits are great at mimicking minnows and the rest of the bait fish.
Swimbaits
Swimbaits are another type of artificial lure that imitates fish perfectly. The usual design of swimbaits comes with a paddle-like tail that moves just like that of an actual fish. Swimbaits are super realistic, especially while moving through the water. For some anglers, swimbaits are irreplaceable lures allowing a super easy catch-and-release.
The anglers we've gone fishing with say that 8 times out of 10, they hook a large bass on the lip.
Craw
A craw is a lifelike soft plastic lure designed to attract bass, panfish, and other fish alike. It's perfect for local lakes with warm water, and this particular bait is ideal for pitching and flipping. Today, you can find these lures in various colors. The one you choose should depend on the conditions in which you're eager to fish.
Jerkbaits
Jerkbaits are hard-floating baits equipped with three treble hooks. Design-wise, the jerkbaits are slender and long, with a small lip the size of a pea. When a jerkbait is cast, it mimics the movement of batfish if it were trying to escape a predator.
How to Select Largemouth Bass?
Type
The type of largemouth bass lure renders the effectiveness of the catch. In other words, the type of lure you choose will work in particular bodies of water and under distinctive weather conditions. For example, jugs will deliver excellent results when used in both shallow and deep waters.
Action
The lure's action depends on the initial function the lure was designed to curry. Wide wobble, tight wiggle, and rolling are some common lure actions.
Vibration
The level of vibration a lure causes defines how easy or hard a bass will be to hook. For instance, the faster you retrieve your lure, the more vigorous vibrations it will create.
Color
When it comes to the colors of the lure, you have to know that each color affects different weather conditions and bodies of water. Plus, some fish, like bass, only react to specific colors. For instance, if you rather fish in deep, milky waters, choose a white or glittery-white lure instead of a colorful one. — those are the best lure colors for muddy water.
Frequently Asked Questions