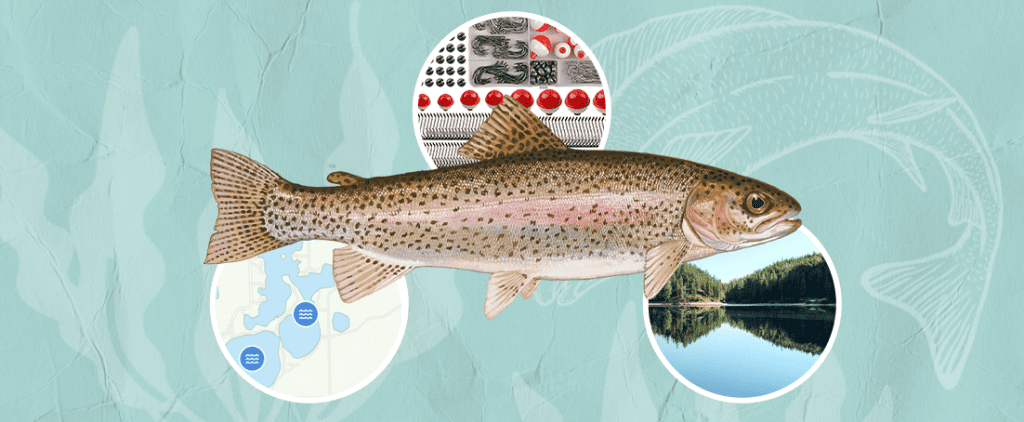 Are you a beginner and want to try out trout fishing? Trout fishing is a popular fishing activity where anglers target trout either for food sources or for recreational purposes. Trout are sensitive fish species, and knowing how to catch them is essential.
Whether you're looking to fish wild trout or stocked trout, you can catch over ten species depending on the waters you're fishing at. This trout fishing guide will discuss everything you need to know about trout. You will also learn popular spots you can find trout and the expert tips and tricks of trout fishing.
Trout species are found on almost all continents. They like residing in streams, rivers, and lakes with clear water, unpolluted by industry and human activities.
Although trout can be found in most areas, there are places you can find native trout. Here is a list of regions famous for trout fishing.
Alaska
Alaska rivers and streams are stocked with trout because they are usually clear and unpolluted. Areas with the healthiest streams and rivers in Alaska include Katmai National Park, Bristol Bat, Wood Tikchik State Park, and Lake Iliamna.
Remember, some of these areas can only be accessed by plane. Other rivers with large rainbow trout include Upper Nushagak, Copper, Kvichak, and Kulik.
Argentina
Argentina is another country with rivers that are stocked with different trout species. The most popular rivers with trout include Rio Pico, Rio Traful, Rio Grande, Limay, and the Chimehuin River.
Canada
Canada is a great trout fishing destination as it supports world-class trout fisheries. Most water bodies here have an incredible population of steelhead trout.
Some rivers with a healthy trout population here include Albany, Old Man, Elk, Tree, Wigwam, and Bow River.
Iceland
Iceland is a good trout fishing destination that supports trophy brown trout. However, unlike other countries like the US, where the rivers are for public use, most streams and rivers here are accessed privately.
You need to acquire a license with the landowner, but the experience you get is worth the trouble.
Russia
Kamchatka is a popular trout fishing destination located in eastern Russia. Some rivers you can find trout include the Ozernaya River, Two Yurt River, Sedanka River, and the Upper Zhupanova River.
America
There are legendary trout rivers and streams that support a healthy trout population. For example, areas like the Upper Connecticut River and Nesowadnehunk Stream have plenty of brown and brook trout.
Other streams and rivers you can go trout fishing include Beaver Kill, Nantahala River, Au Sable River, Bois Brule River, White River, South Platte River, Fryingpan River, and Madison River.
When Should I Fish for Trout?
When looking to fish trout, it's advisable to know important trout fishing tips, like when is the best time to catch them. Here, we have outlined the best season to catch trout.
Trout are sensitive, and it gets harder to catch them during summer or winter. If you're looking for trout during summer, try moving upstream where the water is cooler. Also, go fishing at night when the moon is bright and many insects are moving.
The best time to go trout fishing is early in the morning. Most trout species are active just before sunrise and feed until two hours after sunrise.
You can also go trout fishing in the late afternoon, just a few hours before sunset. Trout have reduced light vision and see better in reduced light.
Whether to look for trout in the morning or evening depends on the season and food availability. However, fishing in the morning increases your chances of catching trout as they are hungry and looking for food in reduced light.
Trout are active early morning and mid-to-late afternoon during the early fall months. During the late fall, look for trout mid to late afternoon and mid-to-late morning. You can also try your luck early in the morning.
During winter, most waterbodies are frozen, and you can go ice fishing for trout mid-to-late morning. You can also try your luck in the late afternoon.
The Best Gear for Trout Fishing
Spin Fishing Gear
You must carry the right spinning gear if you choose to fish for trout using spin fishing. The best way to catch trout is by using the best trout spinning rod and reel that matches your fishing condition.
If casting using artificial lures, some of the vital fishing gear to carry include:
A 6'6″ to 7′ medium-weight or ultralight spinning rod.

A 4-15 pound test clear or dark green monofilament line.

A bait. Ensure the bait you use matches the one in the river you are fishing in. Some of the best trout lures include crankbaits, plugs, shad, minnow, cisco pattern, and salmon eggs. If fishing in a stream, choose small spinners and jigs that mimic sculpins, shrimp, and small crayfish. You can use the brown trout lures, like crankbaits and inline spinners if you specifically target brown trout.
If doing vertical jigging, the fishing gear to carry includes:
A 7′ medium rod

A 10-20 pound braided line. Using braided lines over monofilaments is advisable as they work best when jigging baits in deeper areas.

Baits that work best for vertical jigging include spinners, furry jigs, spoons, and jig heads. You can add wax worms and minnows at the tip of the bait. Anglers targeting speckled trout and looking for the best speckled trout lures should choose the shrimp lures as they are effective and sink slowly.
Fly Fishing Gear
When fly fishing for trout, you need to use a fly fishing line, a fly rod and flies. As a beginner, you should start with a 5-weight fly rod because it's versatile.
Since fly rods don't have a reel, you should pair them with the best trout reels that match your preferred fly rod for trout fishing. A fly line for trout tends to have three parts: the tippet, the leader line, and the fly line.
You will also need a rig that has a strike indicator to notify you when the trout takes your fly. Other fly fishing accessories include tippet holders, clamps, and fly boxes.
You can also bring a rubber landing net to help you safely carry your trout. A net is necessary, especially if you're doing catch-and-release fishing.
Spin Fishing
There are different techniques for trout fishing, and spin fishing is among the best ways to catch trout. This technique, also known as bait fishing, requires you to use a spinning reel and lures to attract fish.
The bait you use depends on the type of trout you're catching and their diet. However, most trout species, like the brook trout, have a variety of diets, and choosing a bait will be easy.
For example, most trout species, like brook trout, like feeding on bugs and insects like crickets which are readily available. There are numerous trout baits that you can use to attract trout.
You can use natural trout baits, like worms, or artificial baits, like crankbaits. Some anglers like using the trout trolling lures because you can retrieve and keep them for future use.
Spin fishing can be done using boats especially if you're fishing in lakes or wide rivers. However, spin fishing works best in still water, and most anglers prefer this method in lakes and ponds.
Fly Fishing
Fly fishing is a common trout fishing method. However, this fishing technique is complicated and only ideal for experienced anglers. Fly fishing involves using a small lure known as a fly.
You can either use a wet fly or a dry fly. A dry Fly is one that sits on top of the water, while a wet fly is one that dips into the water.
The lures used for fly fishing should mimic the natural movement of insect larvae or any other insect trout love eating. This technique requires a lot of line manipulation so the flies move realistically.
Fly fishing is usually done in a river or streams. Since this fishing technique requires a lot of movement and space, it's best done when standing on the river bank.
It's hard to do fly fishing when using a boat because this method requires a lot of manipulation that you can't manage when using a boat.
You can land a large brown trout when you set the fly rod correctly. If you're a beginner and want to know how to catch trout using this method, use beginner-friendly fly rods, reels, and the recommended weights.
Trout Fishing Terminology
If it's your first time going fishing, you will be surprised to hear experienced anglers using a language you need help understanding. To make your work easier, we have explained the most common terms used in trout fishing.
Action: This term usually describes how fast or slow a rod bends. It's the physical property of a rod. A fast action rod beds quickly at the tip and becomes rigid easily as you shift down the rod. On the other hand, a slow action rod beds from the tip to the end of the rod.

Barbed/Barbless: These terms are used to define how the hook looks like. When a hook has pointed spurs at the tip, it's a barbed hook. This type of hook sticks in the fish's mouth. A barbless hook has no pointed spurs. Barbless hooks are used by anglers doing catch-and-release fishing because they don't damage the fish's mouth.

Bobber refers to a small floating object that suspends the bait or lures to a specific depth. Most bobbers are usually white or red and are also used as an indicator in fly fishing.

Creel Limit: A creel is a traditional basket used to store fish. The creel limit is the number of fish you can keep after fishing. The creel limit varies depending on your fishing area and the fish species you target.

Fly: A fly is a small, lightweight lure that resembles a prey animal. A fly is mainly used by anglers doing fly fishing.

Drag: The drag consists of washers and pads located between the reel's frame and the spool. The drag allows the fish to pull out the line and can be adjusted depending on the size of the fish and how hard the fish is fighting. The drag can be adjusted using the lever, a knob, or a star.

Guides: The guides are found on the fishing rod. The guides are a section where the line runs through the rod.

Landing Net: This is a net that anglers use to bring a hooked fish to the shoreline safely.

Leader: This is a piece of line heavier than the main line. A leader is used to connect the hook or lure to the main fishing line. A leader is mainly used in fly fishing, but you can also use it for spin fishing to prevent bite-offs from species with sharp teeth or reduce visibility

Sinker: These are small weights added to the fishing line to ensure your lure sinks deeper. They are also known as weights and are ideal for anglers fishing in deep waters.

Strike: Anglers use this term to refer to when the fish bite your bait or lure.
Trout Fishing Regulations
Regardless of the area you're fishing at, there are local rules and regulations that you must follow. These regulations are implemented to ensure there are healthy and sustainable fisheries.
Authorities in most states have put in saltwater and freshwater bag and size limit. The size limit is set to ensure that all fish species complete their cycle, while the bag limit ensures everyone gets a share of the species without overfishing them.
Moreover, all anglers should have a valid trout fishing license. However, those fishing in private water bodies don't need to have a license. For recreational purposes, trout fishing regulations only allow the usage of specific lures and fishing equipment.
Your fishing license should also have a trout stamp that shows you're explicitly targeting trout species. Remember, the fishing license requirement for trout fishing varies depending on the state you're fishing at.
Nowadays, the internet makes it easier for anglers to check the regulations of the water body they're fishing at. If you don't understand something, don't hesitate to ask the lake guards or dealers at the tackle shops.
There are specific waterbodies that allow you to keep your catch, while others only allow catch-and-release fishing. If doing catch and release in a trout stream, you're not supposed to use barbed hooks as they can get stuck in the mouth and damage the fish.
Some local authorities mark areas where they only allow the catching and releasing of trout. If you need more clarification on the regulations, check the local trout maps to determine whether you should keep your catch or release it back in the water.