We may earn a commission through products purchased using links on this page. Products or services advertised on this page may be offered by an entity that is affiliated with us. Learn more about our process here.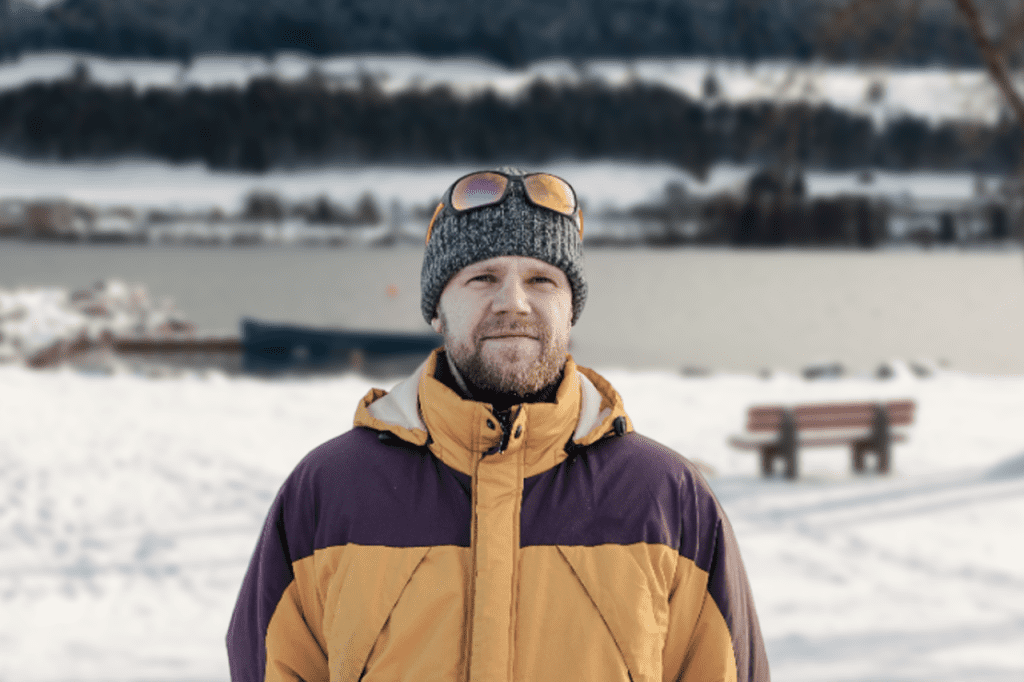 I love to test new fishing gadgets and share my opinion.
From my personal experience, I would agree that trout can be elusive, so if you want a good catch, the first thing you need to do is choose the perfect lure. We know that the options are nearly endless and trying them out one by one can be a waste of time and money. And precisely for that reason, we've made a selection of the best trout lures that help to answer the question of what lures to use for trout.
Most Realistic Lure For Trout Fishing
Best Metal Spinnerbait For Trout Fishing
Best For Saltwater Trout Fishing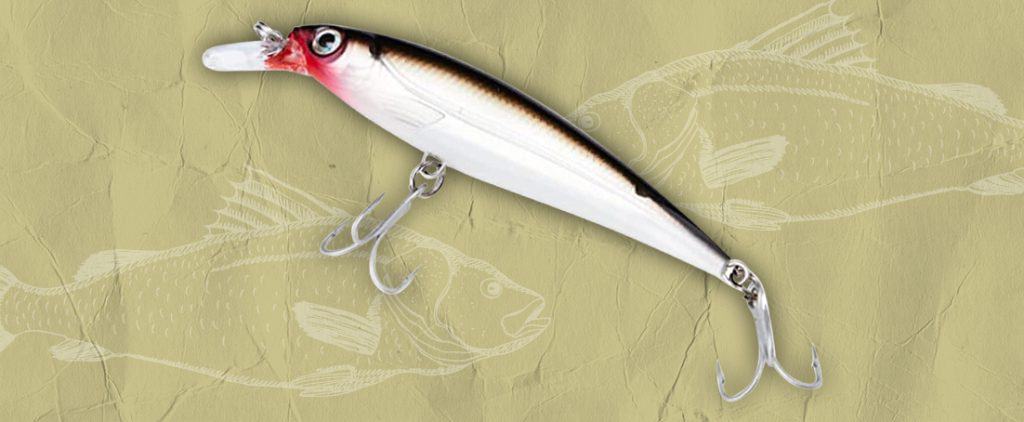 Most Realistic Trout Lures
WHY WE LIKE IT: Among trout lures, for me, this one stands out with its realistic appearance. The 3D eyes and the laser-printed body make this look like a real fish, while the stainless steel treble hooks are responsible for the metallic flash and the vibrations. This crankbait is a great trolling lure for trout as well.
BUYING ADVICE: The bright color of the PROBEROS baits will attract even wary trout and the treble hook will ensure that the trout gets back to you.
Based on our experience, we have to tell you that these baits are suitable for deeper water, so you should use them in larger rivers or lakes. And if you're fishing among weeds, go for a steady retrieve – that way, you're getting the most out of this lure.
FEATURES: The realistic-looking body, 3D eyes, treble hook set, and the fact it's odor-free, make PROBEROS the superb crankbait for trout fishing. It comes with 6 lures per package, so you can use it in different conditions and species.
WHY WE LIKE IT: This is an entire tackle box of hard metal spinner baits that we tested with my buddy Larry Stark. In fact, when you order this, you get two boxes containing 5 baits each. They come in bright colors and are equipped with a sharp treble hook.
BUYING ADVICE: If you want a tackle box full of spinnerbaits, then Tbuymax is the way to go. We were satisfied that we received ten spinnerbaits, neatly packed in two boxes – so the variety is great. They also work well as trout lures, seeing as they caught quite a lot of fish. Just be careful when casting – you probably won't be able to cast it too far.
FEATURES: The main features of these trout lures are the metal, brightly-colored body, the treble hooks, and the strike-attractor sleeves. The Rooster tail makes these lures suitable for both saltwater and freshwater fishing and the bright color is bound to catch the trout's attention.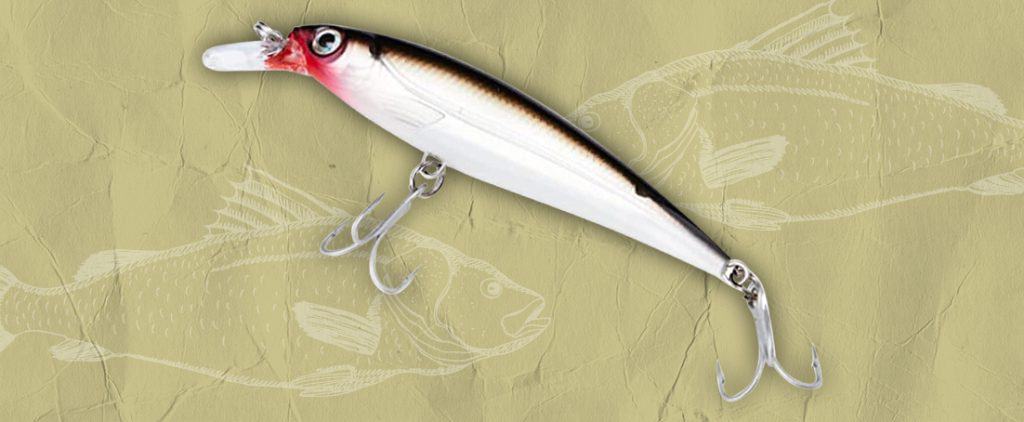 WHY WE LIKE IT: The Rapala X-Rap stands out with its rattle, which I use when fishing trout in saltwater. It's quite strong, so it can withstand the pressure of large trout and it's great for long casting.
Length: 4 inches
Weight: 0.03 pounds
Color: 6 color options (Blue Sardine, Glass Ghost, Grey, Silver, Multi color, Olive Green)
My Experience: Many anglers that prefer saltwater fishing have trouble finding the right trout lure – that's where Rapala comes in. Designed to attract large fish in saltwater, it's very strong and can withstand pressure.
Our own experience with this lure was great; it does exactly what it's designed for and you'll certainly end the day with a decent catch. It works excellent for trout, especially brown trout. It did bend the rod tip a little, so make sure you're using the right leader to avoid this. If you're looking for other amazing lures for brown trout, be sure to check our dedicated article.
FEATURES: Strong and durable, with an attractive rattle and a strong hook set, it tops the list of best trout lures for saltwater fishing.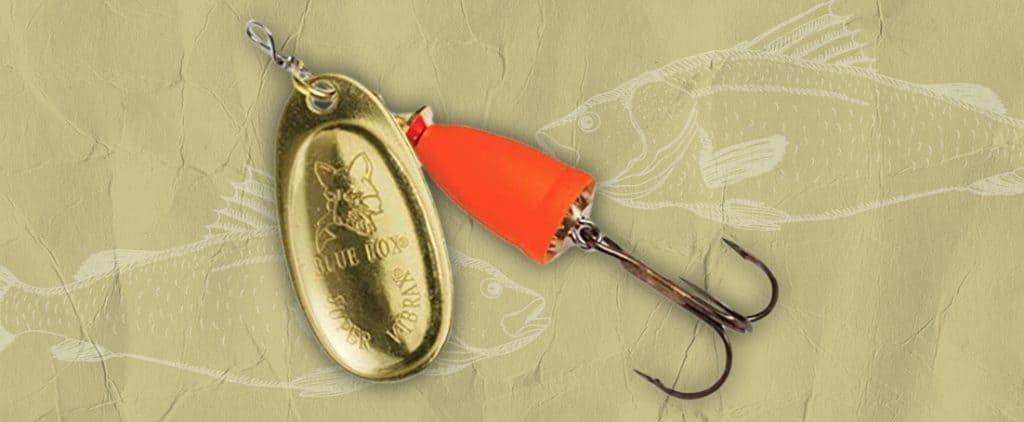 WHY WE LIKE IT: The Blue Fox has a two-part body that produces low-frequency vibrations that attract fish, especially trout. By the way, we tested this classic-style lure that has a mid-depth blade and made sure that can run between 2 and 4 feet, making it a very effective spinner.
My Experience: When you're looking to buy an inline spinner, the Blue Fox Classic Vibrax is your best option. The bullet-shaped body ensures a good sink rate, while the sharp hooks don't allow the trout to escape.
We were quite impressed with this trout lure – as soon as we cast it, it sank below the surface and a few moments later, the trout started hooking on. The spinning blade does exactly what it's supposed to do – trout anglers, you won't be disappointed.
FEATURES: Two-part, bullet-shaped body, solid and sharp hooks, and a spinning blade create the spinner effect we want out of spinning lures. The sound vibrations that it emits to attract fish, truly separate it from the other lures of this type. It's an excellent.
Berkley PowerBait Power Swimmer
WHY WE LIKE IT: If you want a strong and durable power swimmer, the Berkley PowerBait packs all the essentials. The ribbed body produces vibrations, while the paddle tail will grab the attention of the most reluctant trout. Plus, we noticed that it works well with a variety of rigs, giving you a lot more versatility. 
My Experience: The action it produces with the vibrations and the swimming tail is attractive to all types of fish, so you may catch something other than trout, too.
With had a good time using this speckled trout lure – the action is great and the two hook slots ensure that the fish will hook and remain hooked while reeling them in. We had a good day and we can confidently recommend this power swimmer.
FEATURES: Paddle tail, ribbed body, top and bottom hook slots – these are the key features that make this lure a great power swimmer. In addition to being very easy to rig, it's also compatible with different styles, so it's a very versatile lure.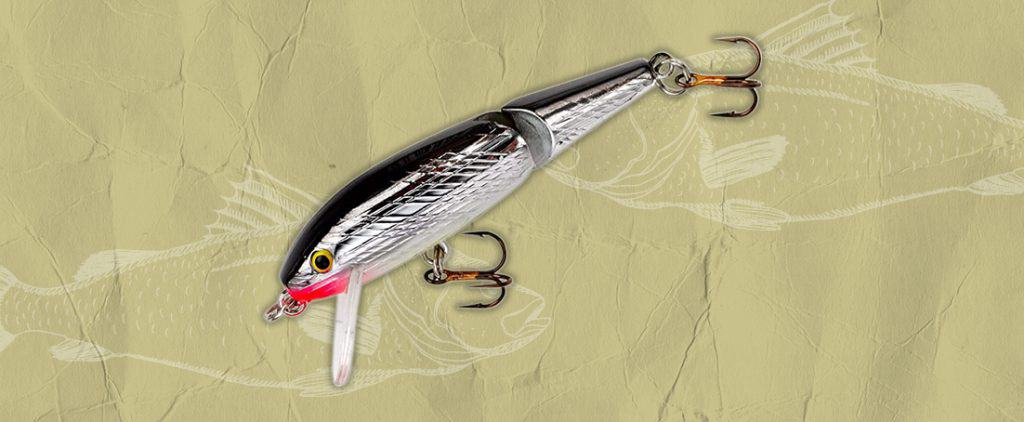 WHY WE LIKE IT: The Rebel Jointed Minnow has a jointed tail that's responsible for much of the action. Designed to impersonate wounded fish on which trout feed. It can be used as a traditional jerkbait with an erratic wobble, or it can be retrieved steadily to the surface.
Length: 1.87 inches
Weight: 0.02 pounds
Color: 5 different options (Gold/Black, Rainbow Trout, Silver/Black, Silver/Blue, Tennessee Shad)
My Experience: Among jerkbaits, this is the best choice for trout fishing. Made from quality materials and adaptable to different fishing styles, many anglers have had great success with the Rebel Jointed Minnow.
We were very happy with what this lure had to offer. The action was excellent and the lure was successful in catching trout, so we advise you to take it on your next fishing trip and give it a go.
FEATURES: Key features include a hard plastic body, jointed tail, and two treble hooks, making this a great jerkbait, especially for big trout. Because of its jointed tail, it has more movement than solid body lures and it is able to move around like an injured baitfish, which greatly attracts trout.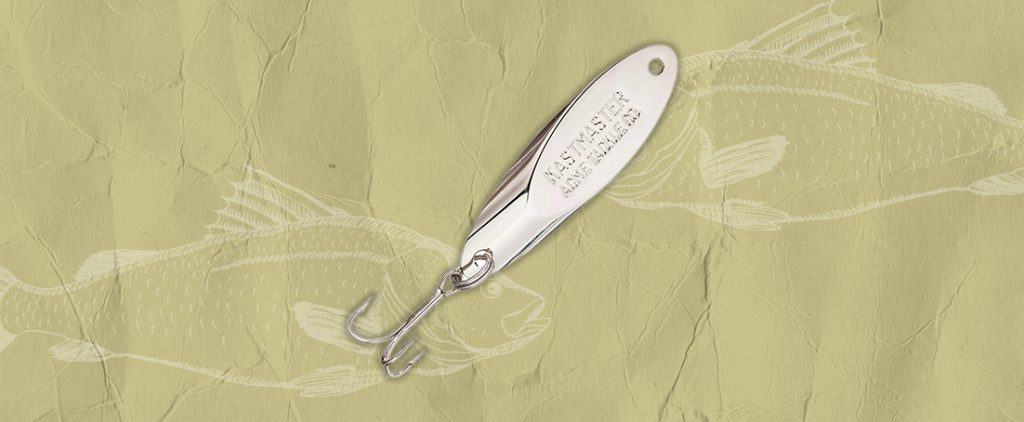 WHY WE LIKE IT: Made from a quality blend of metals, the Acme Kastmaster is extremely strong and doesn't bend even after long exposures to salt water. It's particularly effective for larger trout and it's well-balanced, so you don't have to worry about a line twist.
Length: 1 inch
Weight: 0.06 pounds
Color: 15 color options (Copper, Gold, Chrome, Neon Blue, Green, etc.)
My Experience: If you're on the hunt for trout lures that work just as well in freshwater as they do in salt water, then you should look no further than the Kastmaster. The great quality and durability are the reason that trout anglers keep coming back to this lure.
We tested this in salt water and had an excellent time with it. It does catch fish, particularly trout and the balance is truly superior to many of the lures used for big fish, so you'll have no trouble with tangled lines.
FEATURES: Solid metal construction with a strong hook and a split ring, it has a perfect balance and can be cast at great distances. Made from solid brass, it's durable and strong and still retains its shine even after prolonged exposure to saltwater.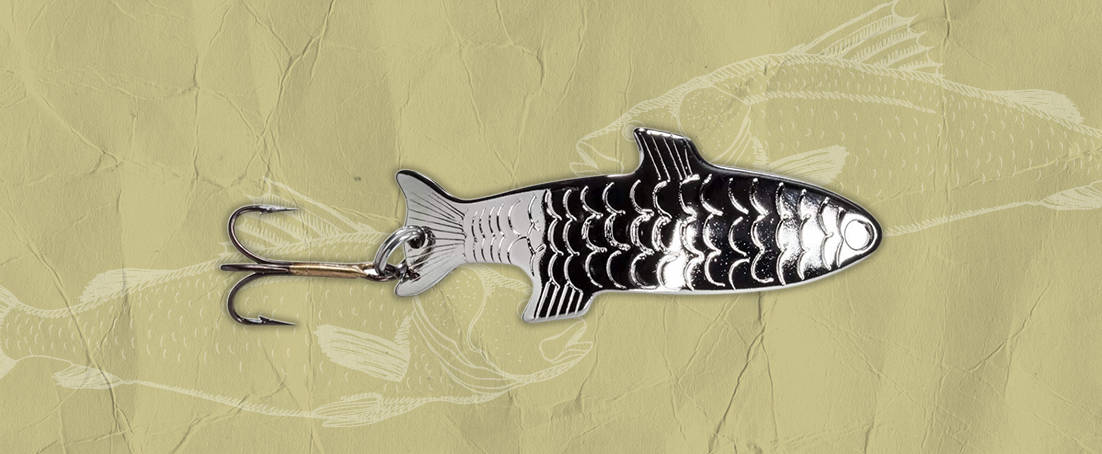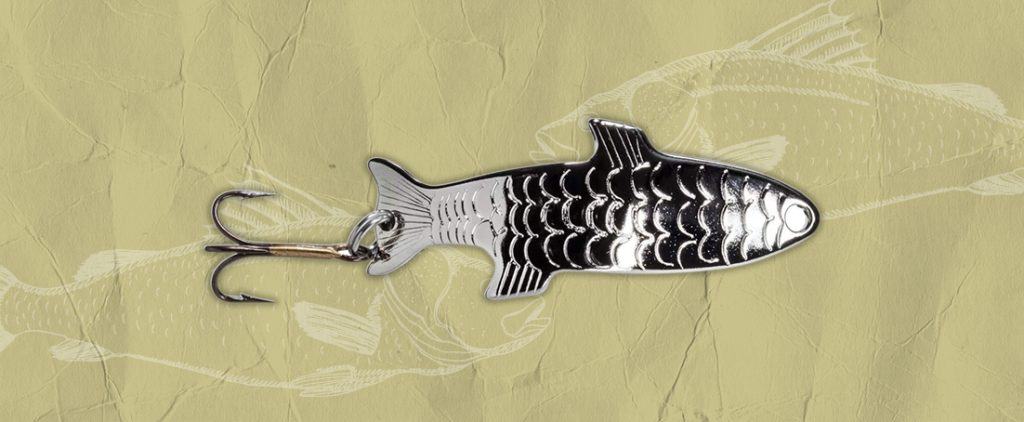 WHY WE LIKE IT: Made from solid copper, the Acme Phoebe creates the illusion of a full-bodied baitfish. It's a great spinning lure and can be used for fishing in different bodies of water and at different depths. It works well for casting, jigging, and trolling. It might not work the best for fly fishing, but if you're into it check our article for the best fly rods for trout fishing.
Length: 1.18 inches
Weight: 1/4 oz
Color: 7 color options (Rainbow Trout, Copper, Silver, Silver-Blue, etc.)
My Experience: Most anglers on the prowl for brown trout won't go wrong with this lure. It's better for catching small fish, as it's lightweight and large trout can't stay hooked for long. It also works well in cold weather and can be used for ice fishing.
Using this lure was a great experience. It has a perfect spin and fish seem to love it. But what appreciate most is the versatility; whether you're at one of the great lakes or casting in small streams, you're bound to catch trout.
FEATURES: The copper body and the strong hook are the two key features of this spinning lure, creating a simple, yet effective look. The innovative hydrodynamic curve also makes this bait look like a real fish, making it irresistible for trout.
WHY WE LIKE IT: The Thomas spoon has a superior erratic wobble and works well with a light line, making it suitable for catching all kinds of large trout. It's made from durable materials, and the hook is quite strong, so you won't have to witness trout unhooking once they've caught on.
My Experience: Many anglers want to fish erratic style – for them, the Thomas Buoyant is a perfect choice. With its darting and wobbling motions, this lure is excellent in attracting and catching trout, especially big trout.
We have to admit – we were quite surprised by this lure. It might not look like much, but it works extremely well and does catch trout. However, be sure to use it with a very light line, as it doesn't work well with a heavier line.
FEATURES: The strong metal body that creates a wobbling movement, the durable colors, and the solid hook set are the top features that make this a great spoon. The wobbling action is one of the best for such lures, making it irresistible to fish especially trout, salmon, pike, and bass.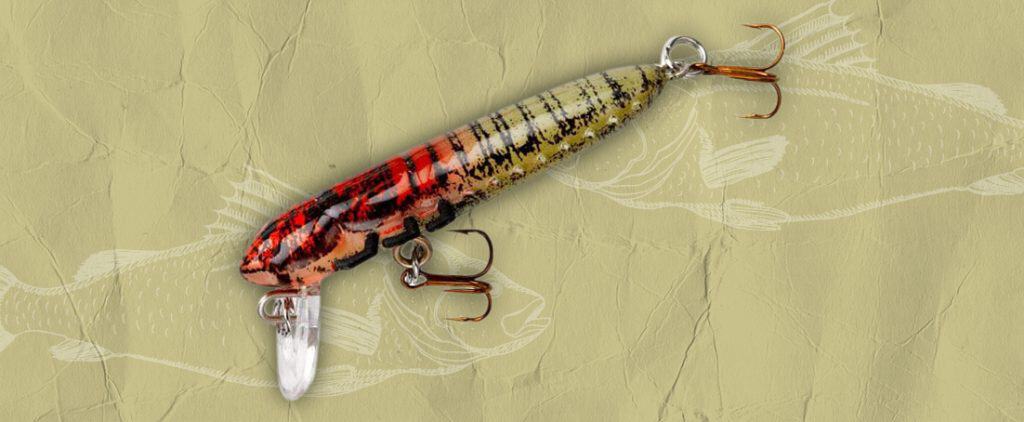 WHY WE LIKE IT: The Hellgrammite is superior among soft plastics by being extra light, but still very durable. Sporting a wobble and equipped with two hooks, not only does it attract trout, but it also keeps them hooked.
My Experience: If you plan on fishing streams, lakes, or ponds, this lure should become your go-to. It will attract the best trout in the water and keep it steadily hooked until you reel it out.
We tried it out in one of the larger streams and can confirm very soon it caught the attention of the biggest trout in that particular stream. The trout was easily hooked and it held on surprisingly well, seeing as this is one of the lightest trout lures we've used.
FEATURES: A soft plastic body, two hooks, and natural colors are the key features of this go-to lure for boat fishing. It's ultralight and has a realistic wobbling action with lifelike patterns, that are irresistible to fish.
Elements to keep in mind when choosing trout lures
Type of water
When choosing among the best trout lures, the first thing to keep in mind is what type of water you plan to fish in. On lakes, rivers, and streams you can use almost any kind of lure, but saltwater requires specific lures that won't be damaged by salt.
Color
The color is another thing to consider. Do you want that metallic flash or do you want bright colors that will attract more fish? In general, the best colors are gold, silver, black, and orange. However, you may want to use colors, such as red in low-light conditions, or match the natural forage in clear water.
Action
The lure's action is what grabs the trout's attention, so you'll need to choose a lure that offers good action. If you're fishing in clear water, you can choose a trout lure with minimal action, but if you're in muddy waters, you'll want a lure with strong vibrations or at least, a solid rattle.
Trout Feeding Behavior
Different trout prefer to feed on differently-sized fish. If you know what trout you'd like to hook and what it feeds on, make sure the lure's appearance matches the trout's natural food. However, if you're not sure, start out with a smaller bait and progress to larger bait.
Trout Senses
Some trout are attracted to scent – if that's the case, get scent-infused soft plastic baits. Other trout are on the hunt for wounded fish, so your best bet will be to get a jointed tail bait. Do some research on what trout like in the water where you plan on fishing and choose a lure that appeals to their senses.
Water Depth
Depth plays a key role In shallow water, so in small streams or lakes, you'll need to use smaller lures that don't sink as deep. For shallow waters, choose a light lure with a small float, while for deeper water, such as big rivers or large lakes, pick a heavier lure that will sink deep and attract fish from deep below the surface.
Hook and Lure Size
The size of the lure and the hooks should match the size of the fish you're trying to catch. Small trout won't be attracted to large lures, and even if they are, they won't be able to hook. First, assess the size of the fish in the body of water where you're casting and then adjust the size of the lure, and consequentially, the hooks.
Frequently Asked Questions
Determining the right color is done based on the conditions, but in most cases, silver, gold, black, and bright colors, such as red, orange, and yellow, are the best choice for trout fishing.
Spinners are one of the best trout lures because the spinning motion will attract both active and inactive trout. Additionally, the flash from the spinning blade is great for catching the trout's attention and getting them hooked.