We may earn a commission through products purchased using links on this page. Products or services advertised on this page may be offered by an entity that is affiliated with us. Learn more about our process here.
Soft plastic lures are the staple of bass fishing; you can catch plenty of fish throughout the year with these lures – all you have to do is choose the right one.
This might be easier said than done, so to help you make the right choice and catch as much bass as you can, we compiled a list of the best soft plastics for bass and tips how to fish soft plastics for bass.
Best Soft Plastics for Bass
Most Durable Soft Plastic Baits for Bass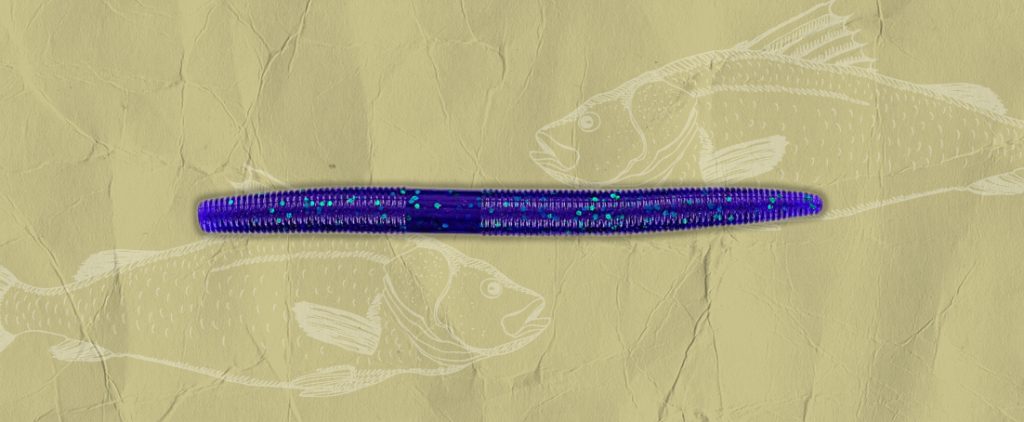 Best Rated Soft Plastic Baits for Bass
Best Soft Plastic Baits for Cold Water Bass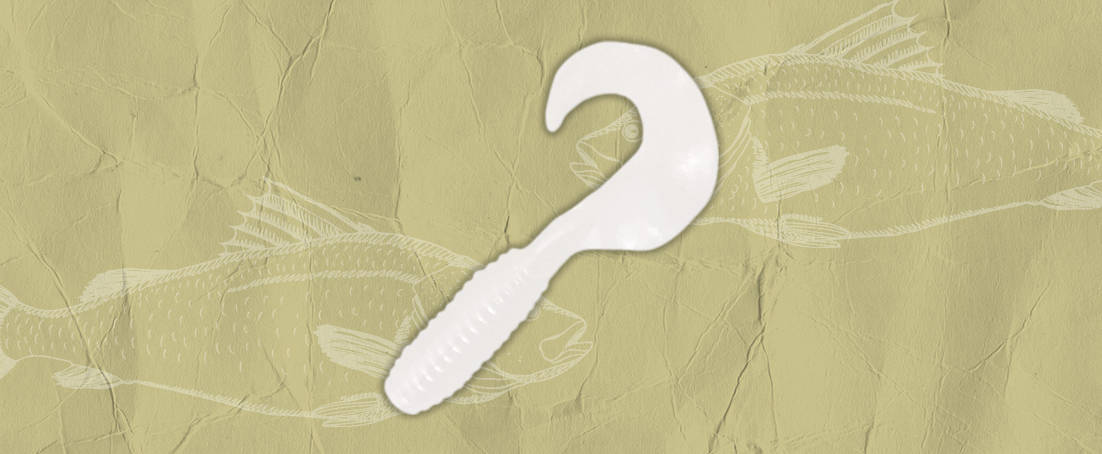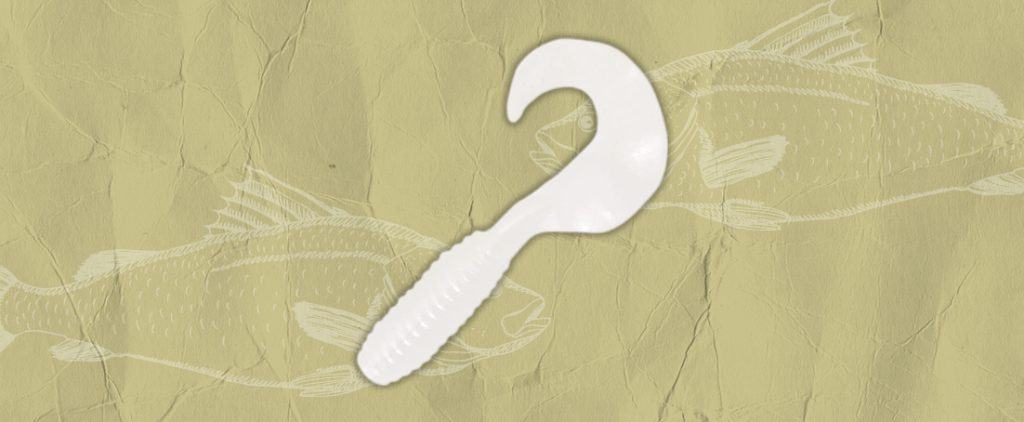 What are Soft Plastic Lures?
Soft plastic baits or lures are fishing lures made from various soft plastic materials, which makes them flexible and more life-like. They come in various shapes and sizes, but they're usually made to look like worms, frogs, craws, and other small animals that can be easily found in the water.
Things to Consider Before Buying Soft Plastic Baits
Size
Soft plastic baits come in various sizes, usually ranging between 3 and 7 inches. You can pick the size according to where you're fishing and the type of fish you're trying to catch.
Action
The best soft plastic baits for bass are great at imitating swimming, making them resemble live fish. Before you settle on your plastic worms or other soft jerkbaits, make sure that they can replicate real-life action.
Color
You can always choose a soft plastic bait by color; luckily, all of the best soft plastic baits for bass manufacturers offer the same bait in several different colors, so you can experiment with what works best. Green pumpkin is a popular choice for bass fishing.
Water conditions
Muddy water and thick cover require soft jerkbait that will blend in with the environment but still be noticeable to the fish. Clear waters usually require a different color plastic worm or some other shape of soft baits. You can always get a versatile lure that works well in different conditions.
If you want to make your own soft plastic bait, we have a separate guide here: How to Make Soft Plastic Lures.
Tips for Catching More Bass on Soft Plastics
Experiment with different colors
You never know what color might seem attractive to bass, so it's a good idea to get the same soft plastic bait in different colors and patterns and see how bass react to it.
Fish the right structure
Another important thing to keep in mind is the structure you've chosen. If you're bass fishing in ponds or lakes with heavy cover, you'll need weedless soft plastic bait that won't get tangled up and lost. Also, if you're out at sea and after saltwater fish, you'll need a bait suitable for this structure.
Fish at the right time
Once it's cool enough, you can go bass fishing, and it's best if you go at night. Bass tend to eat more at night, so they're more likely to catch on to your bait. However, keep in mind that if you're fishing in cold water, the bass might be more reluctant to bite.
6 Best Soft Plastic Baits for Bass
Most Durable Soft Plastic Bait
Yamamoto Baits 5" Senko Soft Plastic Worm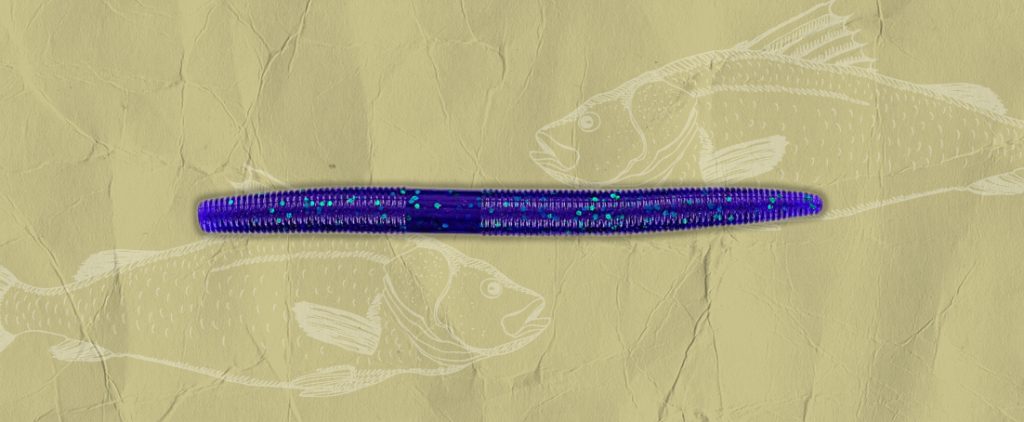 WHY WE LIKE IT: The Senko soft plastic worms are made from quality plastic and is very durable. This design is very simple, so anyone, even novice anglers can use it without any difficulty. You can choose from a plethora of different colors and use them with a variety of different rigs. These soft worms are the best soft plastic baits for bass you can find today!
Length: 5 inches
Weight: 0.02 pounds
Color: over 70 color options including Black Blue Flake, Multi Green Pumpkin, and June Bug Purple
OVERVIEW: If you want to target all types of bass and switch up your rig game, then the Yamamoto Senko plastic worm baits are the perfect fit, seeing as you can hook them up to any rig and the attractive colors really do attract bass.
After thoroughly testing the 5-inch Yamamoto bait, we have to say that this is our absolute favorite among soft plastics. It's extremely soft and easy to rig, and fish seem to love it – at the end of the day, we had a big catch to prove it.
FEATURES: Medium-sized, soft plastic bait that's easy to rig and fit to use for longer periods of time.
Best Rated Soft Plastic Bait
Strike King Rage Craw Soft Plastic Swimbaits
WHY WE LIKE IT: The soft plastic craw boasts two long, realistic pinchers that might make it seem intimidating to us but very yummy to the fish. This rage tail craw can be used with a Texas rig, a Carolina rig, and a wacky rig, but you can also use it as a jig trailer.
Length: 3 – 4 inches
Weight: 0.06 pounds
Color: 24 color options, including Green Pumpkin, Candy Craw, and June Bug
OVERVIEW: If you'd like to fish with a craw, then the Strike King swimbaits are the ultimate choice among soft plastic craws. Made from quality, versatile soft plastic, this swimbait lure can be used with many different rigs. Whether it's a Texas rig, spinning rods, a wacky rig, or something else, you can easily hook it up and start catching bass.
When we tested it out, we found out that it was superior to other soft plastic jerkbaits, mainly due to the extremely realistic design and ease of use. In our experience, this is a better bait than plastic lizards, or even a hollow body frog, seeing as it manages to get more bass more quickly. Buy this if you're after a winning soft plastic jerkbait.
FEATURES: The Strike King rage tail craw has two pinchers and is excellent in noise production. Boasting a simple but effective design, it's the most superior craw on the market.
Best for Winter Bass Fishing Kalin's Lunker Grub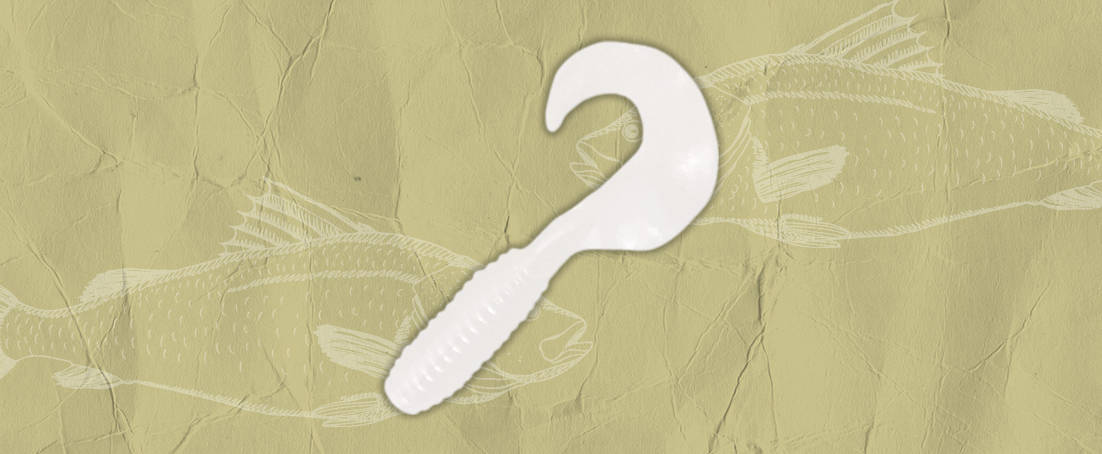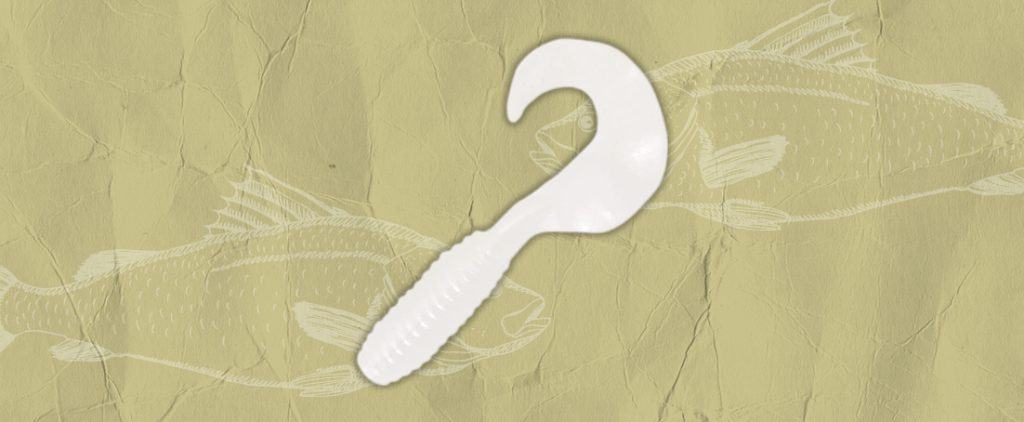 WHY WE LIKE IT: This particular lure is designed to perform at extremely low speed; the tail can flick and spin, providing just the right amount of action to grab the bass' attention. You can easily attach a jig head to serve as the hook point, so you don't have to worry about tearing the Lunker Grub.
Length: 3 – 5 inches
Weight: 0.06 pounds
Color: 40 color options, including White, Avocado Green, Cotton Candy, and Mardi Gras
OVERVIEW: Kalin's Lunker Grub was designed for cold water, so anglers that like to go bass fishing in winter will find that this is a reliable lure to take on their next fishing trip. It's easy to rig and use, so there's nothing stopping you.
The tests we conducted with this bait proved that it does attract more fish than usual during the winter months. This is one of the main reasons this soft plastic stick bait is one of the best winter bass lures. The action is realistic but very slow, so you have to be careful with your retrieve; don't go too fast if you want to reel in the fish.
If you're fishing in winter – don't look past this rig.
FEATURES: The soft yet resilient body combined with the actionable tail and slow movement ensures that the Lunker Grub is the perfect bait for wintertime fishing.
Best for Muddy Water: Zoom Brush Hog
WHY WE LIKE IT: The strong colors, double tail, and the vibrations it produces when it hits the water make the Zoom Brush Hog the go-to bait for muddy water. It pairs perfectly with a Texas rig, although it works well with a Carolina rig, too.
Length: 5.5 inches
Weight: 0.02 pounds per package
Color: 4 color options including Plum Apple, Blue Gill, and Blue Watermelon
OVERVIEW: Anglers that like to fish in muddy waters won't regret this purchase. The Zoom Brush is bound to attract the bass' attention even in the murkiest of waters, while its large head ensures the bait is stable on your rig.
Testing out this bait, we discovered that it does exactly what it sets out to do – attract bass in muddy water. The vibrations it produces have an amazing effect on fish and we had a really good hook rate in a murky pond. Therefore this is one of the best soft plastic baits for bass when fishing in the muddy water.
FEATURES: The sturdy head and wing-like arms, plus the attractive colors and vibration effect, make these Zoom baits an essential addition to every angler's tackle box.
WATERBOY Goby Ultra Realistic Soft Plastic Baits
WHY WE LIKE IT: This soft plastic fish has a very realistic appearance; it appeals to both largemouth and smallmouth bass and pairs particularly well with the drop shot rigs. The bulging eyes and the translucent tail are the main features that catch the attention of bass in small bodies of water.
Weight: 0.06 pounds
Color: 6 color options, including Nature, Pearl White, and Pink
Length: 3 inches
OVERVIEW: If ponds are your fishing ground, then you'll find that the Waterboy Goby can help you catch bass in larger quantities. It's slightly larger than other soft plastics, but that only makes it look more like the real deal.
Trying out this lure in a pond, we can vouch that it lives up to the hype – it immediately attracts bass and is no doubt one of the best bass lures for pond fishing. For the best result, we suggest using a drop shot rig, but we have to warn you that the material might be a bit tougher than you're used to. However, if you've ever used hard plastic bait, you should have no trouble hooking this up.
FEATURES: A high-quality plastic body, realistic, bulging eyes, see-through tail, and natural colors and patterns are what make this soft plastic lure look like a real Goby fish.
Keitech Fat Swing Impact Soft Plastic Bait
WHY WE LIKE IT: The combination of several salt-impregnated soft plastics and the centered rigging line make the Keitech swimbaits a superb tool for bass fishing. It maintains perfect balance and you can retrieve at any speed without worrying about a slack line.
Length: 2.8 inches
Weight: 0.1 pounds
Color: 41 color options, including Alewife, Arkansas Shiner, Electric Bluegill, and Light Hitch
OVERVIEW: For those on the prowl for bait that's best with a swimbait jig, the Keitech Fat Swing is one of the best soft plastic baits for bass you can find on the market. The realistic motion and the good balance make it stand out from other soft baits, and it's definitely one of the most effective bass lures in general.
We had to test it and see for ourselves whether it performs as advertised and we're pleased to report that it really does. The ribbon tail is centered and doesn't let out under any amount of fishing pressure. If you want to catch big bass and you like soft plastic baits, then definitely take these swimbaits out for a spin.
FEATURES: Salted soft plastic, a rigging line across the center, and life-like movement classify this as one of the superior baits for bass.
Final Thoughts
When selecting soft plastic lures for your next fishing expedition, it's essential to keep several crucial factors in mind. Firstly, consider the size of the lure. Soft plastic baits come in a range of sizes, typically spanning from 3 to 7 inches. The choice of size should align with your fishing location and the specific type of fish you're targeting. Larger baits may be suitable for bigger, more aggressive species, while smaller ones might entice finesse-oriented fish.
Secondly, pay attention to the action of the soft plastic bait. The best soft plastic baits excel at imitating the natural swimming movements of live fish. This realistic action can be the key to enticing your target catch. Before settling on a particular type of plastic worm or soft jerkbait, ensure it can replicate the lifelike movements that fish find irresistible. By considering size and action along with other factors like color and water conditions, you can enhance your chances of a successful fishing outing.