We may earn a commission through products purchased using links on this page. Products or services advertised on this page may be offered by an entity that is affiliated with us. Learn more about our process here.
Popers are one of the most iconic topwater lures for bass fishing. The topwater poppers – with the simulation of the movements of a distressed prey – can be effective in alluring both large and smallmouth bass.
In this article, we'll tell you all about the best poppers for bass on the fishing market. Moreover, you'll learn how to use them and the key differences between various poppers.
Best Entry-level Popper for Bass
Most Versatile Bass Popper
Best Overall Bass Popper Lure
WHY WE LIKE IT: Rebel Pop R lures are among the anglers' favorites and truly one of the best bass poppers on the market. They set the standards for evaluating other poppers are evaluated. The way it catches fish speaks for itself and is especially effective during the spring season. You can slowly chug the Rebel Pop R across the water's surface or make a quick retrieve.
Weight: 0.008 – 0.031 pounds
Length: 2 – 3.125 inches
Colors: Baby Bass, Blue Darter, Clear, Fire Tirger, Foxy Shad, Silver Black, Purple Shad, Silver/Blue, etc.
OVERVIEW: The simple fact that the Rebel Pop R is among America's favorite topwater lures should prompt you to buy it! However, other reasons include the high-quality blended materials, G-finish decoration, different shapes and sizes for different fishing conditions, etc.
Each of these qualities made us also witness the effective light reflections of the Rebel Pop R.
FEATURES: The Rebel Pop R's can produce two distinct actions and sounds depending on the angler's movements and can have premium components, such as the XCalibur Tx3 rotating hooks.
Most Unique Design Bass Popper
WHY WE LIKE IT: The Arbogast Hula Topwater bass fishing lure has been on the market for over 60 years. It has a pulsating skirt that instantly allures the bass strike. Moreover, the Arbogast Hula popper enables anglers with multiple movements and actions.
OVERVIEW: You should consider buying this product because of its tested quality and seductive sounds and bubbles to attract the bass. Furthermore, you should consider having this popper because the slower you fish, the more bass you'll allure at the water's surface.
FEATURES: The product's specifications outmaneuver the competition's specifications, single treble hooks, and the popping noise.
Low Light Popper for Bass
WHY WE LIKE IT: Contrary to other poppers, the Arbogast Jitterbug topwater bait produces a gargling rhythm that effectively allures all bass sizes and types. Additionally, the Arbogast Jitterbug is known as a long-casting bait that you can retrieve before the bass launches its strike.
Length: 0.5 inches
Weight: 0.023 pounds
Colors: Yellow, Green, Black, White, Orange, Red, Silver
OVERVIEW: There're many reasons to buy the Arbogast Hula Popper. The most alluring ones are its efficiency for night fishing, easy and effective retrieves, and seductive bubbling sounds. We've used it in small ponds and lakes and almost always witnessed a strike.
FEATURES: The Arbogast Hula Popper tackles its competition with the strike occurrence and how it attracts big bass.
Best Loud Sounding Bass Popper
WHY WE LIKE IT: The uniqueness of the Heddon Chung 'N Spook is that it creates loud and thrilling sounds igniting the bass to strike. Anglers prefer this product for saltwater fishing and alluring rattling water disturbance.
Length: 4.875 inches
Weight: 0.0625 pounds

Color: Baby Bass, Black Shiner, Bone, Bone/Orange Belly, Okie Shad, Red Head Shad, and more
OVERVIEW: You can consider buying this lure because it has been undoubtedly one of the fines walk-the-dog poppers. Furthermore, the popper offered us two lures in one and is proven highly efficient in attracting saltwater bass strikes.
FEATURES: The Heddon Chung 'N Spook is a high-quality material popper that is easy to use and can produce wide zig-zag patterns.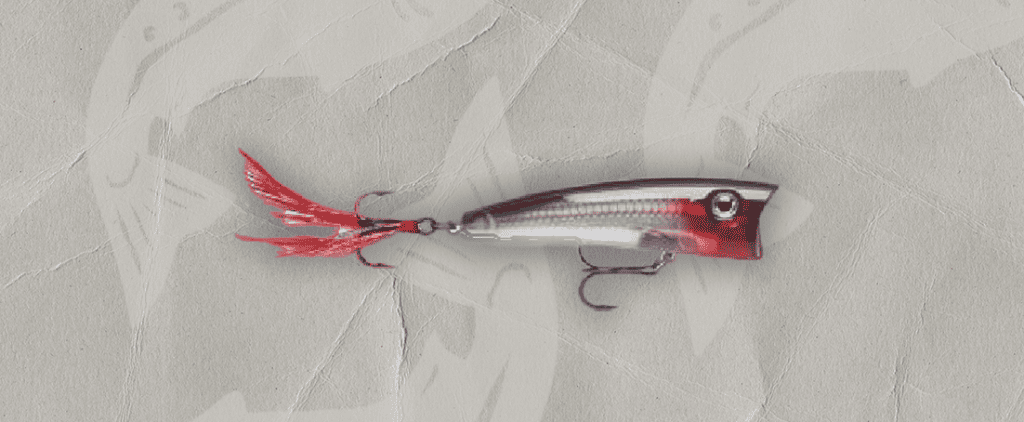 WHY WE LIKE IT: The Rapala X-Rap Pop 07 entered our competitions because of its loud pops and splashes with every snap. Additionally, the Rapala X-Rap Pop 07 has some unique holographic foil, 3D eyes, and a naturally arched body.
Length: 2.6 inches
Weight: 0.023 pounds
Color: Chartreuse Ghost, Clown, Pearl Grey Shiner, Silver, Yellow Perch
OVERVIEW: We advise you to buy this popper because it's easy to cast and walks perfectly on the surface. You can use it for fresh and saltwater fishing while it catches and spits water to initiate a strike.
FEATURES: The Rapala X-Rap Pop 07 has scales, fins, and gins textured from the inside and a flash-feathered tail that teases the salt and freshwater bass.
Gill System Popper for Bass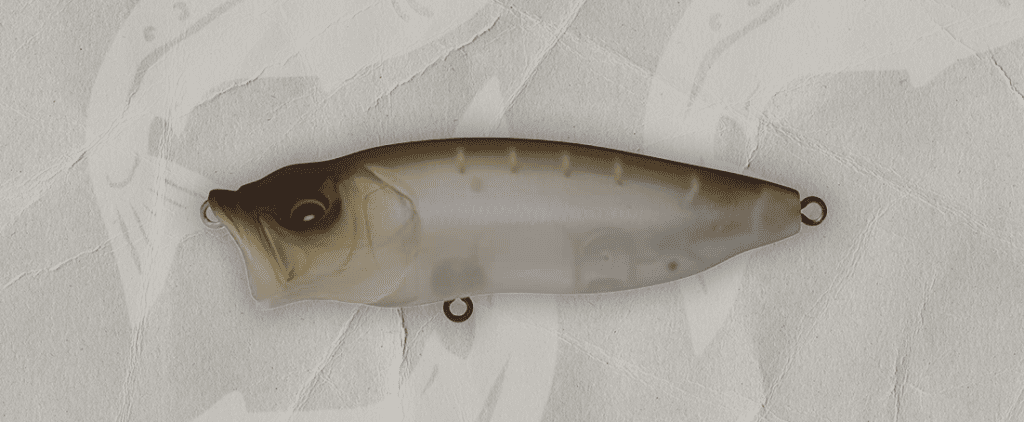 WHY WE LIKE IT: Available in many colors, the Megabass Pop Max offers a unique gill design that includes six water intakes and a single water chamber. This way, the Megabass Pop Max creates natural bubbles and a chugging action.
Length: 3 inches

Weight: 0.03 pounds
Color: White, Mat Shad, Bahama Milk Pearl, US GG Bass, Black, Silver, and more
OVERVIEW: If you're buying a Pop Max, keep in mind that it's super easy to cast, has quality hooks, and has high-tech features which will allure almost any bass. Out of our experience, the Pop Max doesn't seem to keep, and the will system always produces natural bubbles.
FEATURES: You can use it to combine two techniques: dog-walk and popper fishing. Moreover, once the water flows out of Pop Max, it raises its head as real bait.
What Is Bass Popper Lure?
Poppers are topwater lures that many anglers use to catch various types of fish in both salt and fresh water. The popper design simulates the surface movements of injured or distressed prey for different types of fish. Simply put, a popper is a fishing lure that floats on the surface.
The primary use of poppers is to catch bass in various weather, temperature, and water conditions. You can also use this water lure to combine it with popular angling techniques, such as fly and spin fishing.
In the old times, anglers carved poppers from wood. Nowadays, these topwater baits usually contain top-notch plastic and other high-quality materials.
The poppers' design is quite simple – the bait has a concave face that produces various sounds or vibrations to provoke the fish. The line tie of almost any popper is near the center of the concave face.
If you jerk the topwater poppers forward in the waters, you'll produce a popping because the lure will throw air and water in multiple directions.
There's a wide assortment of poppers regarding their size, weight, length, luring system, etc. As one of the oldest lures, poppers have been adapted to mimic various bass prey like baitfish, blizzards, frogs, or insects.
With these topwater lures, you can catch all bass types, including largemouth. You can also use one of the best lures for striped bass or smallmouth bass.
Bass Popper Lure Types
Chuggers
These poppers aim to produce a splashing sound with their indented faces. Simply said, the chuggers are lures that make a popping or "chugging" sound that attracts the bass to the lure. It's much larger than a standard popper, and you should cast close to the cover before giving the initial jerk.
Spitters
Spitters are another type of topwater bait that you can use to attract big fish. However, the spitters work on a slightly different principle. When you move your fishing rod, the spitter makes the water spit away from its hard plastic head.
You should work it at different speeds before you find the best place and movements.
Bass Poppers Buyer's Guide
The type of action you get with a particular popper is crucial when looking for the best one. The standard topwater popper will enable you to do one action: skipping them across the water.
However, some poppers offer multiple movements and actions – walk-the-dog, pop-and-stop, and much more. Look for the ones that enable you to do multiple movements and actions!
Sound
The sounds the popper make are also crucial for the number of strikes in a single angling trip. Some lures produce a single popping sound, while others can produce two, three, or more life-like sounds depending on the movements and actions of the angler.
Weight
The poppers' weight is another key factor in determining the efficiency and quality of the lure. The ideal popper weight should range somewhere between 80 and 150 grams. However, you can adjust the popper's weight depending on the size of the bass and the water conditions.
Treble Hooks
This hook is famous for the triple points. It provides greater coverage and can initiate frequent strikes. They have higher efficiency because of the effective hooking of the fish, no matter the lure's position.
When you buy a popper, choose the one with a treble hook to make fishing more accessible and more attractive.
Color Variations
The colors are also important in determining which popper to buy. They can come in multiple sizes, weights, and colors. Nevertheless, you should choose the right color for a particular type of fish. You should choose a yellow, white, dark green, or black popper for bass fishing.
How to Fish Bass with Popper Lures?
When fishing for bass, there's an art in when to speed up or slow down the retrieve. When using a popper, you should start retrieving it once it hits the water's surface. Expert anglers advise starting with a slow, steady retrieve and gradually speeding up.
When the conditions are hot, calm, and clear, you should experiment with faster retrieves, while slow retrieves are more efficient in cold, cloudy, dirty, and windy conditions.
You can use your popper to initiate strikes around structures at any given time and place. However, you must use a popper that makes enough noise for the bass to notice and strike the bait.
Frequently Asked Questions