We may earn a commission through products purchased using links on this page. Products or services advertised on this page may be offered by an entity that is affiliated with us. Learn more about our process here.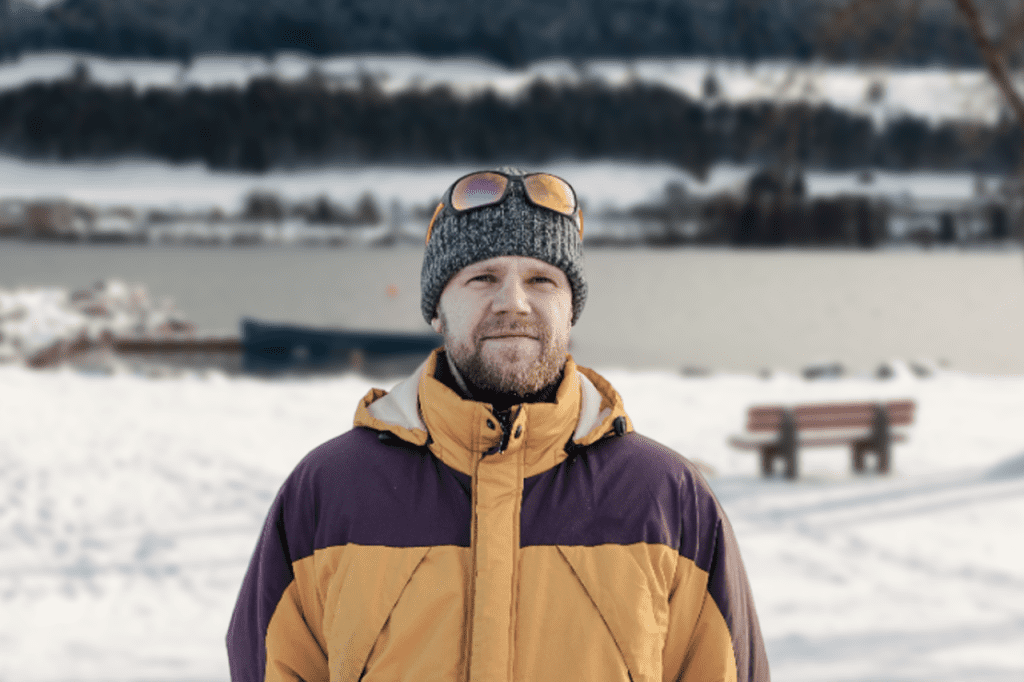 I love to test new fishing gadgets and share my opinion.
To be able to embrace, or at least withstand, cold and occasionally harsh weather conditions that come along with frozen lakes is not a characteristic you see in the everyday fishing world. Finding the ideal ice rod is one of the most important things to consider before your next big outdoor adventure.
If you want your product to perform well and detect the first signs of a strike, take a look at some of the best ice fishing lures that stand out from their rivals.
Editor's choice for Ice Fishing Rod
Best Rated Ice Fishing Rod
Fenwick HMG Ice Spinning Rod
Best Budget Ice Fishing Rod
Shakespeare Ugly Stik GX2 Ice Fishing
How Do I Choose Ice Fishing Rod?
Size
The size of the ice rod you use is directly connected with the target ice fishing species you're pursuing, the depth of the water, and your personal preferences. Shorter rods are easier to pull, while longer rods offer greater sensitivity and distance. Twenty-eight inches is considered a standard size for an ice rod.
Action
Always consider the fishing technique your target will require. While slow-action rods are used better for finesse techniques, fast-action rods bring a higher sensitivity level and can be more effective for larger fish. However, there are also medium-action ice rods, a more balanced option between the two.
Power
Power is associated with how you land your strikes, depending on your target. Light power rods are most effective for small fish like any panfish. And larger fish are more likely to be caught with heavy power rods. However, medium power is the most flexible option for ice anglers.
Rod Type
If you want to know what type of ice rod you need, it's essential to consider the fishing technique you intend to pursue your outdoor enjoyment. Pick a tip-up rod for tip-up action, a deadstick rod for live bait, and a jigging rod for vertical jigging. Each type of rod is specifically designed for unique fishing purposes.
Species
Sunfish, yellow perch, walleye, bass and lake trout are the most common ice-fishing species. Muskellunge or musky are considered trophy fish because they can grow up to 6 ft and have very sharp teeth. Pick a rod with adequate length, power, and action to successfully detect the fishing bites you're after.
Length
The rod length mainly varies from 24 to 28 inches, depending on your fishing purposes and target species. It is essential to consider longevity when buying your ice lure because it is directly connected with the goal you aim towards with your performance. Shorter rods are more precise, while longer rods can cast a mile and offer greater sensitivity. If you want lightweight rods, than definetly check out our list of backpacking rods.
Sensitivity
Ice rods with sensitive tips usually include high-quality material and features. Carbon fiber or graphite rods with light weight are frequently the most sensitive, while for the heavier ones is harder to detect small bites in water. You can increase the sensitivity of your ice rod by adding a spring bobber.
Quality
Ice rods with complex construction and materials are top for overcoming challenges during ice fishing. Look for sturdy parts and comfortable handles with durable designs, able to overcome extreme cold weather.
WHY WE LIKE IT: Due to the lightweight, durable carbon ice blank and body, the Eagle Claw EC2.5 Ice Rod is one of the most sensitive ice lures, making it easy to detect the first signs of even the tiniest strikes. Many ice fishing enthusiasts use the Eagle Claw EC2.5 Ice Rod because this fishing lure is capable of handling different target species such as panfish, trout, and walleye.
OVERVIEW: At our first encounter with this rod, we were skeptical of its durability and sturdiness. But, we found that it has high-quality features, a good combination of rod and reel, and a very reasonable price. Hence, this ice fishing rod is the most suitable option if you are currently on a tight budget.
FEATURES: EC2.5 is considered one of the best ice fishing rods on the market thanks to its impressive balance of sensitivity, versatility, and durability. The rod's structure includes stainless steel guides and a cork handle, which is the perfect combo for a smooth casting performance.
Fenwick HMG Ice Spinning Rod
WHY WE LIKE IT: The Fenwick HG Ice Spinning rod with medium power and its premium cork handle makes any fish bites easy to land. Plus, the robust graphite rod provides a greater and faster response when using lighter jigs, ensuring this ice-spinning rod is all you need.
OVERVIEW: What we can say from personal experience is how amazed we were by the long-term durability of this fishing rod. Hence, if you cannot find a rod that will resist weather demands and brutal bite strikes, make no mistake and try this rod.
FEATURES: The aluminum oxide inserts in this ice fishing rod's lightweight construction allow the line to flow freely, making it simple to use for casting. The solid material can handle any weather conditions, and the highly sensitive tip helps detect any fishing bite.
Shakespeare Ugly Stik GX2 Ice Fishing
WHY WE LIKE IT: The Shakespeare Ugly Stik GX2 Ice fishing rod has a balanced construction, balancing strength and sensitivity. These features are essential for ice fishermen because the fish are often less active and may not bite as aggressively as they would in warmer water.
OVERVIEW: The spinning reel of these ice fishing rods is one of the main reasons any ice angler should consider purchasing this product. It is an excellent combo for beginners who are looking to explore ice fishing.
FEATURES: Despite its high-quality design and variety of sizes, the Shakespeare Ugly Stik GX2 Ice Fishing Rod is relatively inexpensive compared to other ice fishing rods on the market. This makes it an excellent choice for ice anglers looking for a valuable and sturdy rod without spending a fortune.
Best Conventional Reel Overall
Abu Garcia Vendetta Ice Spinning Rod
WHY WE LIKE IT: For fishermen looking for a strong, delicate, and adaptable ice fishing rod with a spinning technique, the Abu Garcia Vendetta is a fantastic choice popular amongst ice anglers. The comfortable grip ensures consistent results, even in the most challenging weather conditions during seasonal trips, making it one of the best ice fishing rods.
Length: 25 in
Power: Light, Medium Light, Medium, Medium Heavy
Material: Carbon
Handle: EVA
Color: Multi
OVERVIEW: The spinning technique of this ice fishing rod brought consistent results during our fishing trip, but jigging and live bait fishing can also be effective. Consider purchasing this product for rod and reel combos because it's not easy to find rods that offer a range of tactics.
FEATURES: The high-quality material of the blanks indicates that this spinning rod is quite durable and can be used for extended periods. High-density EVA handles improve your ability to detect bites, and the stainless-steel guides with inserts, increase your likelihood of landing fish with tiny bites.
CLAM Corporation 15587 Ice Fishing Rod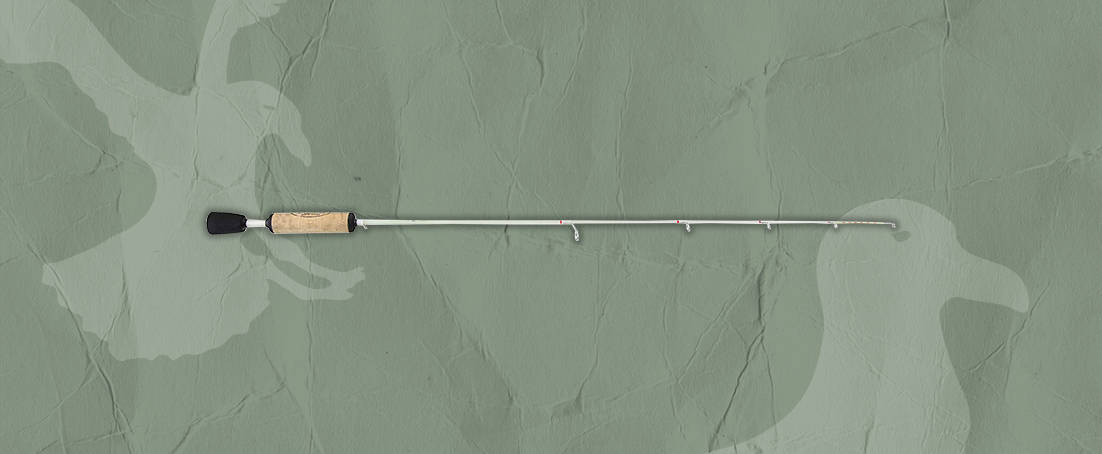 WHY WE LIKE IT: Ice fishing anglers are quickly drawn to the CLAM Corporation 15587 due to its ability to withstand any weather demands. The length makes it ideal for stand-up fishing. And it has a rugged fiberglass blank that provides a strong backbone that can take the pressure from larger fish attacks.
OVERVIEW: We tried this rod in harsh weather conditions, and the line didn't freeze even after an extended period on the ice. The oversized guides ensure a great ice fishing experience. So, feel free to purchase this product because otherwise, you will miss out on outstanding quality material.
FEATURES: The CLAM Corporation 15587 is known to be amongst the best ice fishing rods in the fishing industry due to its medium rod power for landing different target species like panfish. The cork handle and the comfortable, secure grip will make your ice-fishing days much more productive and fun.
HT Enterprise Ice Blue Ice Fishing Rod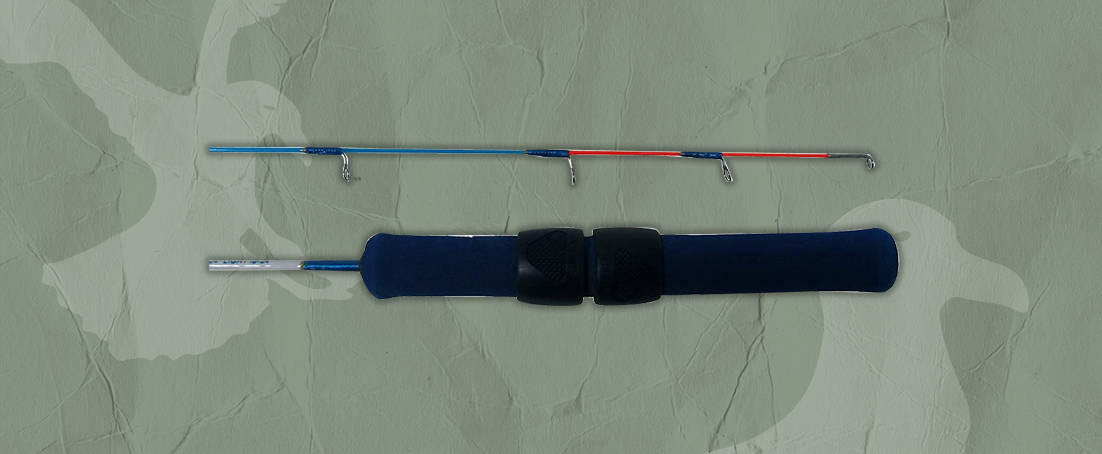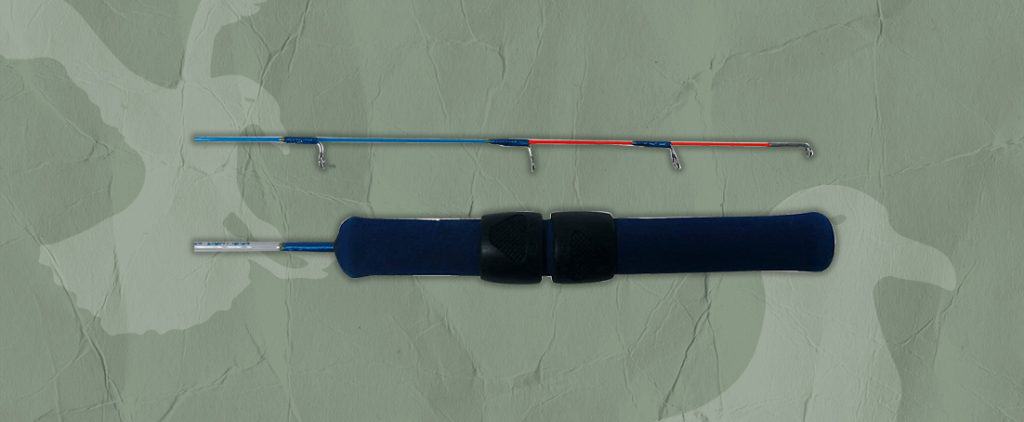 WHY WE LIKE IT: HT Enterprise Ice Blue Rod is exceptionally sturdy and can take on big fish without breaking a sweat. This feature is crucial for ice anglers, who may encounter bites from larger and more difficult-to-reel-in fish like lake trout. It has high sensitivity, so there is no need to use a spring bobber with it.
OVERVIEW: Due to the size options, we needed help to pick which one fits best for our ice fishing purposes. Before buying your blue ice fishing rod, consider your height, the length of your arms, and the size of the fishing line you'll employ.
FEATURES: The HT Enterprise Ice Blue Rod is a top-notch ice fishing rod with a particular focus on efficiency and comfort. It is made of high-quality materials, making it a suitable choice for anglers of all skill levels due to its sturdy fiberglass, lightweight construction, Corkalon handle, and high sensitivity.
St. Croix Rods Custom Ice Fishing Rod
WHY WE LIKE IT: The impressive adaptability of the Croix custom ice fishing rod offers ice anglers the ability to target various species, including panfish, walleye, trout, and more, depending on the customization option. As a result, it makes a great all-purpose rod to land larger and smaller ice-fishing species.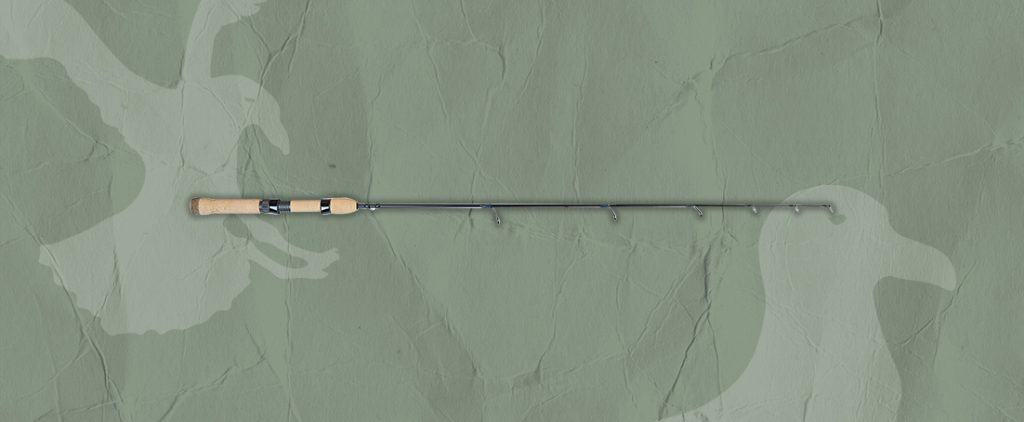 Length: 20 in, 24 in, 28 in, 30 in, 32 in, 36 in, 38 in, and 42 in
Power: Light to Heavy
Material: Carbon
Handle: Cork
Color: Black, Cork
OVERVIEW: Trying out this ice fishing rod before buying it can make you more confident about whether or not you should purchase it. So, consider asking a fellow fisherman to lend you their rod to gain a sense of its smooth comfort and sensitivity. It's best used for targeting panfish and small trout.
FEATURES: This rod's light weight makes it easy to hold and use while fishing for extended periods. The plush feeling of premium components increases the likelihood of landing any target species.
13 Fishing - Microtec Walleye Spinning Rod
WHY WE LIKE IT: The name indicates that this ice fishing rod is probably chosen as one of the best walleye rods on the market. With the 13 Fishing- Microtec Walleye and its highly sensitive tips, you can rest assured you will detect the tiniest bites in water.
OVERVIEW: Fishing for walleye is tough, but from personal experience, this ice fishing rod makes it much simpler for anglers of any skill level. If you are an ice fisherman who enjoys catching the subtlest of walleye bites, consider trying one of the best ice fishing rods on your next fishing adventure.
FEATURES: Thanks to the stainless-steel guides and the custom handle design tailor-made for catching walleye, this ice fishing rod stands out from its rivals on the fishing market. Plus, the carbon fiber material proves its long-standing durability, making it one of the most high-quality materials you may utilize in ice fishing rods.
Frequently asked questions